Description
Want a new challenge?

Looking for a new and exciting project?

Want to talk directly with employers (not recruitment agents)?
You need to join us for the next Find a Tech Job event!!
If you're looking for a new role, our events give you a chance to:
find out about interesting projects and roles

meet face to face with members of a company's technical team

learn more about a company's practices and technical processes before applying for a role
Attending a Find a Tech Job event gives you the chance to hear from 15 different companies, both large and small, who are all looking for great tech talent to join them.
For employers, our events provide a platform to go beyond the job spec and present your companies to prospective candidates.
A huge thank you to ANDigital for sponsoring and hosting us!
**Our Promise: No recruitment agencies will be present at any of our events.
**NB: For security, we need EVERYONE to sign up for a ticket. No ticket, no entry!

FORMAT
6:30pm - Register, make a badge, grab a beer and start networking
7:10pm - Words from our sponsors, followed by 2-minute presentations from companies on their background and the roles they have available
7:50-ish - More drinks and networking until we close at around 9 pm
**Unfortunately recruitment companies are not permitted to attend this event.
BADGING
When you arrive, pick a badge to show whether you're hiring (direct employer) or looking to be hired (candidate). Then use our Skillset Stickers to show which skillsets you have, or which you're looking for. The coloured badges and iconic stickers make it easy to spot whom you want to talk to, even across a roomful of people. One matching sticker is usually enough to start a conversation.
Find A Tech Job event in London is being sponsored by ANDigital - our thanks to them.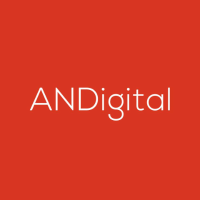 AND Digital is a fast growing, tech consultancy.
We work on large-scale, multi-industry, eCommerce and enterprise-level software development projects with best practice agile ways of working at the heart.

We are passionate about doing great work with interesting clients who we can take on a digital transformation journey.
Joining AND Digital means that you will be part of one of our clubs based in London in which you will learn, work and socialise with - so as we grow you will continue to benefit from the small company feel as a close knit community. Learning to us is paramount, so with continual emphasis on skill development your career can come on leaps and bounds with us. With challenging and rewarding roles in a range of industries, we match your skills to suit you and our clients to help develop incredible digital products together.
So, if and are looking to work AND play hard amongst the best and brightest, we want to hear from you!