Description
Financing Strategies for Growth
hosted by
The Austin CFO Leadership Council
Thursday, March 8 2018
7:30 AM to 8:00 AM Networking | 8:00 AM to 9:40 AM Program
Capital: The lifeblood of every company, from private start-ups to mature public companies. Businesses need it to operate – but not every organization generates enough cash to concisely fund operations. So, how do you keep your business up and running? What financing vehicles are available? What connections do you need? What process should you expect? What are the potential costs involved?
Join our panel of experts as they discuss the various options in front of you. You'll come away armed with everything you need to know about securing capital for your next growth initiative.
---
Who Should Attend
CFOs and other senior finance executives who are looking for ways to raise capital to grow their business.

---
Learning Objectives
Attendees will learn how to:

Understand the key elements of distinct vehicles for raising capital

Gain perspective of important considerations before choosing the vehicle that meets your company's strategic objectives

Explore the pros & cons of each funding option
---
Speakers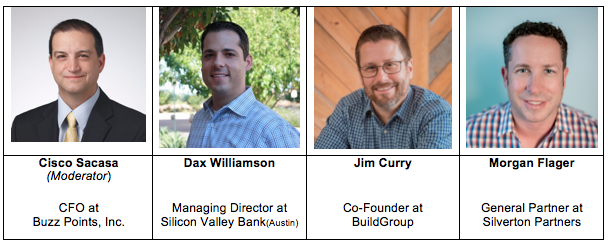 ---

Click here to learn more about CFO Leadership Council.
Registration
All current CFO Leadership Council members may attend this program for free. Non-member senior financial executives who are CFOs, Vice Presidents of Finance, Directors of Finance and Controllers (or the like) are welcome to attend this program for $60.

Please note that service providers or any executives who are not senior financial executives cannot attend this event. The CFO Leadership Council reserves the right to decline any registration.
---
More Information
For more information about this program or The CFO Leadership Council, please contact Jeanene Orlando, Southwest Regional Director, The CFO Leadership Council, at jeanene@cfolc.com or Erin Gardner, Southwest Marketing Director, The CFO Leadership Council, at erin@cfolc.com.

---
Cancellation Policy
If you would like to cancel your ticket or request a refund, please contact Jeanene Orlando at email above. Refunds are available up to 48 hours prior to the program.

---
CPE Information
Pending Approval
---
About our Speakers
Cisco Sacasa, CPA, CFO at Buzz Points, Inc. (Moderator)

Francisco (Cisco) Sacasa is currently the CFO at Buzz Points, Inc, an incentive-based customer engagement and revenue platform that connects consumers, local businesses, and community financial institutions. He has extensive experience in managing all aspects of the business life cycle, including business restructuring, accelerations, new business development, divestment, strategic partnerships, and M&A.
Cisco holds a Bachelors of Accounting and a Masters in Accounting from Florida International University, an MBA from the Stephen M. Ross School of Business at the University of Michigan and is a licensed Certified Public Accountant in Georgia. In his spare time, Cisco enjoys traveling and spending time with his family.
Dax Williamson, CFA, Managing Director at Silicon Valley Bank - Austin
Dax is the Managing Director for Silicon Valley Bank (SVB) in Austin, leading the bank's efforts to unite and empower innovators across TX, and help their ideas become a force for change in the world. SVB is the premier global financial institution, providing capital strategies and insights exclusively to growing innovation companies, as well as the investors that back them. Prior to joining SVB to serve the entrepreneurial community eight years ago, Dax was an investment manager, overseeing more than $1Bn of client funds in public equities.
Dax is passionate about driving the growth of the innovation economy and the sustainable ecosystem that Austin has developed, helping to make the region one of the premier emerging tech ecosystems globally.
Dax holds an undergraduate degree in Finance from TCU. He spends his time actively supporting organizations and activities that bring focus to the Austin area as a technology hub, including serving on the Steering Committee of Austin's CFO Leadership Council. When not at work, you can find him golfing, at his kid's sporting activities or making an effort at becoming more than a novice wine connoisseur.
Jim Curry, Co-Founder at BuildGroup
Jim Curry is a co-founder of BuildGroup, a private investment company based in Austin that makes growth equity investments in software companies. BuildGroup's model is based on a long-term investment approach that helps companies scale their current business while building the foundation for significant future growth. Prior to BuildGroup, he spent nearly a decade at Rackspace as a Senior Vice President.
In 2010, Jim co-founded the OpenStack project and lead Rackspace's stewardship of the project until its transition to a foundation in 2012, at which point he served on the board. Prior to Rackspace Jim had leadership roles at Dell, Bowstreet and Tivoli (both acquired by IBM).
Jim earned his MBA at Harvard and his undergraduate degree at the University of Texas.
Morgan Flager, General Partner at Silverton Partners
Morgan joined Silverton in 2006. He currently serves on the boards of Aceable, Alert Media, Convey, Outbound Engine, Rollick, SourceDay, Trendkite, Turnkey Vacation Rentals, The Zebra. Morgan also led Silverton's investments in BlackLocus (acquired by Home Depot), Crimson Services (acquired by The Advisory Board), UnboundID (acquired by Vista Equity), and 360pi (acquired by Market Track).
Prior to Silverton, Morgan worked with FTV Capital in San Francisco, where he focused on growth investments in technology and financial services. Morgan started his career running Corporate Development for Ingrian Networks (acquired by SafeNet) and as a Director of Product Management at Kintana (acquired by Mercury Interactive Corp.).
Morgan grew up in Santa Cruz, California, and received his BS from Stanford University.