Financing Commercial Real Estate Forum: Accessing Capital in a Changing Wor...
Description
Join the finance industry's most active players as they discuss the status of global capital flow; how traditional lenders are reshuffling the capital deck; a look at the state of the alternative lending; and a year-end temperature check on the CMBS market.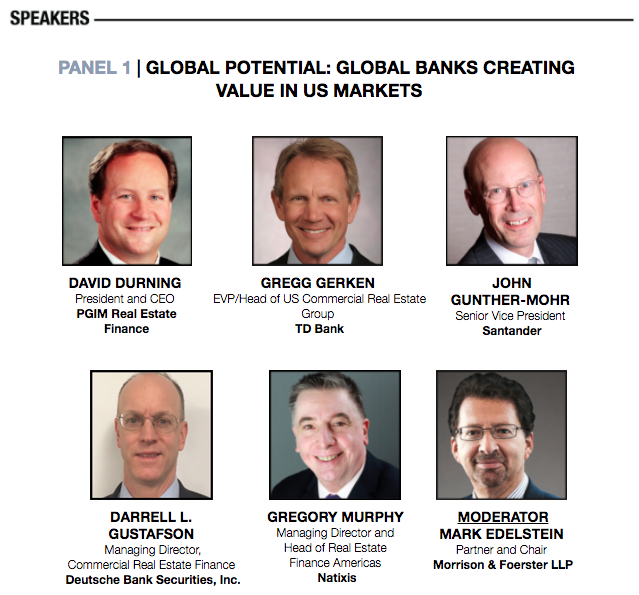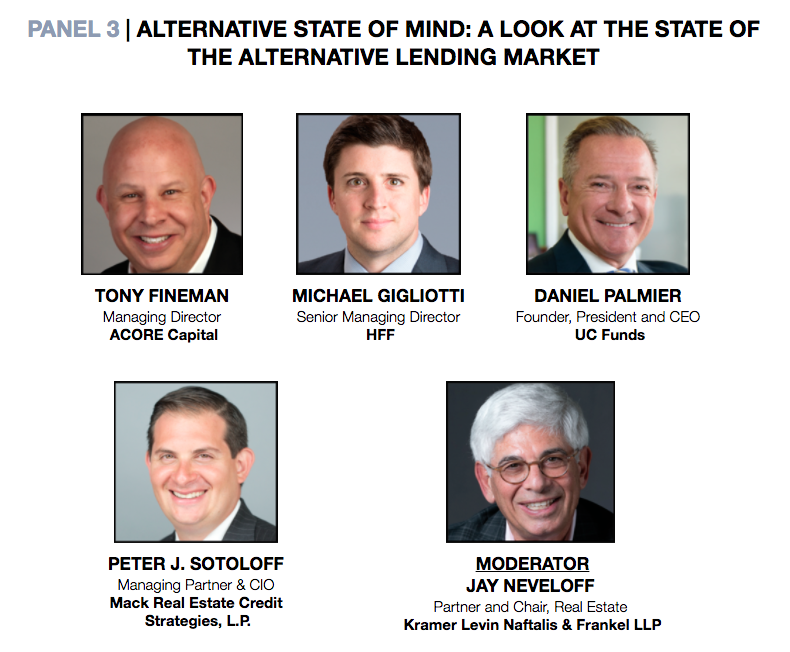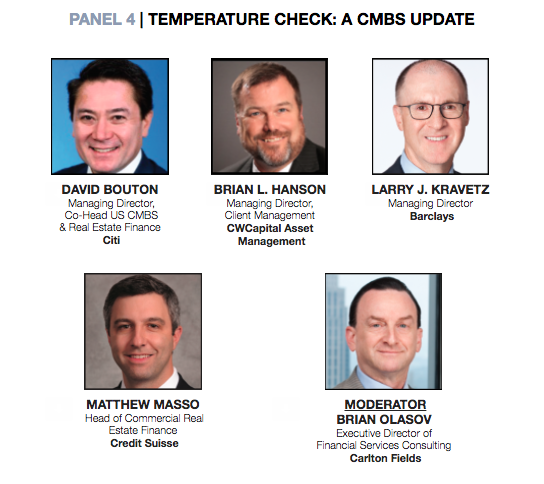 ACORE CAPITAL, LP
ACORE Capital is a leading, privately-held commercial real estate finance company exclusively focused on lending on transitional commercial real estate. With $6.5 billion of AUM in real estate credit strategies1, ACORE is one of the largest-scale and most active private debt lenders. ACORE specializes in providing borrowers with customized financing solutions for large, complex transactions, while providing attractive risk-adjusted returns for its investors. A one-stop shop, ACORE lends through the entire capital stack on loans from $30 million to $300+ million. With offices in New York, Los Angeles, San Francisco, and Dallas, ACORE provides financing on most property types through its robust platform and 65+ seasoned professionals, led by commercial real estate finance veterans Boyd Fellows, Warren de Haan, Chris Tokarski and Stew Ward. www.acorecapital.com

1 "Assets under management" are comprised of a number of components, including certain subordinate debt investments and capital commitments related thereto, a whole loan facility commitment, and certain other whole loan investments and senior debt investments. Certain assets under management are managed on a non-discretionary basis for an institutional investor, while others are managed on a discretionary basis for another institutional investor. Figures include both funded and committed unfunded amounts, as of June 30, 2017.

FRIED FRANK
Fried, Frank, Harris, Shriver & Jacobson LLP's Real Estate Department is the top in its field. With broad experience in all aspects of commercial real estate law, we are capable of successfully representing our clients in all facets of commercial real estate transactions. Our clients are industry powerhouses that are responsible for contributing to the development and reshaping New York City's skyline and other major cities around the world. Our team advises on the acquisition and disposition of single assets and portfolios; mortgage, mezzanine, and construction financing and restructuring on behalf of borrowers and lenders; leasing on behalf of landlords and tenants; joint ventures; real estate investment trusts; real estate litigation; environmental; and land use and development. We work closely with, and regularly advocate before, various NYC agencies. By collaborating with our tax, restructuring and insolvency, and litigation attorneys, we are able to address all challenges that impact a transaction. The Firm advises the world's leading corporations, investment funds and financial institutions on their most critical legal needs and business opportunities. Our approximately 500 lawyers are based in North America and Europe.
HFF
Holliday Fenoglio Fowler, L.P., HFF Real Estate Limited (collectively, "HFF"), HFF Securities L.P. and HFF Securities Limited (collectively, "HFFS") are owned by HFF, Inc. (NYSE: HF). HFF and its affiliates operate out of 24 offices and are leading providers of commercial real estate and capital markets services to the global commercial real estate industry. HFF is a one-stop, single resource offering clients a full range of capital solutions including debt placement, investment sales, equity placement, funds marketing, M&A and corporate advisory, loan sales and loan servicing.

HFF's capital markets platform is vertically integrated within its business and production lines and as a result, clients benefit from instantaneous access to the most aggressively priced conventional and structured debt/equity products. The combination of traditional investment sales execution with capital markets expertise allows HFF to present clients with a full spectrum of capital markets solutions through strategic financial alternatives.
J.P. MORGAN
Our industry leading teams provide commercial real estate financing to owners and operators of multifamily, retail, mixed use, industrial and office properties across the nation. Nothing is more important to us than getting it right from day one with an extraordinary lineup of financial products and services, exceptional people knowledgeable in your market, driven by your success, and dedicated to executing every step of your financing journey flawlessly. Call us today to learn more. Call (866) 548-4070 or visit www.chase.com/cre
KRAMER LEVIN NAFTALIS & FRANKEL LLP
Kramer Levin has one of the largest and most sophisticated real estate and land use practices in New York City. We've been involved in many of the city's major development projects over the past 40 years. Whether developing, repositioning, buying, selling or financing a property; creating a condominium structure; or devising a tax-efficient strategy, clients rely on our real estate, land use and environmental lawyers to provide results-oriented counsel.
MACK REAL ESTATE CREDIT STRATEGIES, L.P.
Mack Real Estate Credit Strategies, L.P. ("MRECS") is the commercial real estate lending and debt investment business affiliated with Mack Real Estate Group ("MREG"), an integrated real estate investor, developer and operator. MRECS has established itself as a preferred alternative lender and capital provider for sponsors of high quality commercial real estate across the U.S. MRECS is led by Richard Mack, Peter Sotoloff and other senior team members and is supported by deeply experienced investment, asset management and originations professionals.

MERIDIAN CAPITAL GROUP
Founded in 1991, Meridian Capital Group is America's most active deal maker and one of the nation's leading commercial real estate finance and investment sales firms. In 2016, Meridian closed $35 billion in loan volume and sold over $2 billion in commercial properties. Since inception, the company has closed more than $270 billion in financing with the full complement of capital providers, encompassing local, regional and national banks, CMBS lenders, agency lenders, mortgage REITs, life insurance companies, credit unions and private equity funds. Meridian represents many of the world's leading real estate investors and developers and the company's expansive platform has specialized practices for a broad array of property types including office, retail, multifamily, hotel, mixed-use, industrial, healthcare, student housing and self-storage properties. Meridian is headquartered in New York City with offices in New Jersey, Maryland, Illinois, Ohio, Florida and California. www.meridiancapital.com

MORRISON & FOERSTER LLP
With approximately 1,000 lawyers in 16 offices across the U.S., Asia, and Europe, Morrison & Foerster offers clients a comprehensive platform of global legal services, including extensive capabilities in the areas of real estate, real estate finance, REIT'S, corporate finance, mergers and acquisitions, tax, regulatory & compliance, litigation, and project finance, among many others. Morrison & Foerster's Real Estate Group provides legal services for all aspects of real estate acquisition, investment, development, financing, ownership, leasing, and operation. In particular, we regularly assist our clients in debt and equity transactions covering virtually all real estate product types. In an era in which the real estate industry has become increasingly global and oriented towards capital markets, we are able to provide our clients with the most effective legal representation, notwithstanding the location, size, staffing needs, or time constraints of any transaction. To ensure effective geographic coverage for our clients, real estate lawyers are resident in most of the firm's major offices. Additionally, the lawyers in our Real Estate Group work in cooperation with our colleagues in the firm's financial transactions, tax, securities, corporate law, bankruptcy, litigation, and other practice areas to bring the full resources of the firm to bear in addressing the needs of our clients.

PGIM REAL ESTATE FINANCE
PGIM Real Estate Finance, the commercial mortgage business of PGIM, the trillion-dollar global investment management business of Prudential Financial, Inc. (NYSE: PRU), is an international full-service, commercial, multifamily, and agricultural mortgage finance business with $88.9 billion in assets under management and administration as of June 30, 2017. Leveraging a 140-year history of real estate finance, the company offers one of the most comprehensive lines of real estate finance products and originates loans for Fannie Mae DUS®, Freddie Mac and specialized affordable housing programs; FHA; Prudential's general account; and other institutional investors. For more information, please visit pgimref.com
TD BANK
TD Bank operates in more than 1,200 locations Maine to Florida, and offers a wide array of corporate, commercial and small business banking and loan products including business checking accounts, corporate credit cards, cash management and payment processing, working capital loans, commercial real estate mortgages, bond purchases and equipment leases. Visit www.tdbank.com for more information.

UC FUNDS
Founded in 2010 by Daniel Palmier, UC Funds is a vertically integrated specialty finance firm that originates, structures, underwrites and asset manages commercial real estate investments. A national balance sheet provider of both debt and equity capital solutions, UC Funds has provided over $2 billion of capital solutions to date. One of the nation's most entrepreneurial lending institutions, UC Funds focuses on multifamily, retail, office, hotel, industrial/warehouse, adaptive reuse and construction assets nationwide. The team is composed of highly skilled and seasoned professionals that demonstrate reliability, creativity, service, and expertise. UC Funds' core in-house disciplines, which include asset structuring, underwriting, asset managing, servicing, and screening, make them one of the most highly sought after alternative lending firms in the United States. UC Funds recently launched their industry leading non-recourse commercial mortgage bridge loan UC GO, now available at 85 percent loan to value and 0.5 debt service coverage ratio. The variable rate product is available for loans as little as $5 million. With the introduction of UC GO, UC Funds' has become the nation's top lender for creative capital solutions. For more information on UC Funds and UC GO, visit www.UCFunds.com
LOOKING TO REACH THIS AUDIENCE?
For speaking and sponsorship information, contact Barbara Ginsburg Shapiro at bshapiro@commercialobserver.com or 212.407.9383 For all other inquiries, contact rsvp@commercialobserver.com