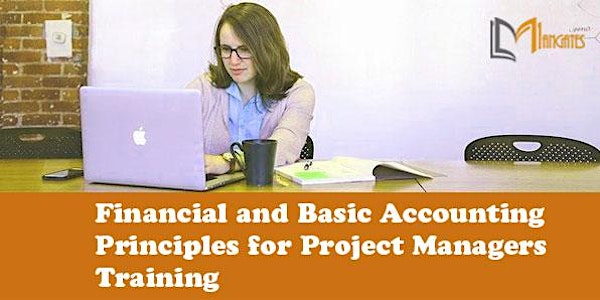 Financial&Basic Accounting Principles for PM 2Day Online Session-Gold Coast
Catering to the demands of busy professionals, our virtual training programs are as effective as face-to-face learning.
Refund Policy
Refunds up to 7 days before event
About this event
Course Overview:
This course provides participants with information and tools on how to get a better handle on the important area of financial management. The course addresses finance-related concepts and techniques to effectively manage projects and programs. The course also provides understanding about corporate finance and basic accounting principles. The course covers techniques related to project reporting and decision making, as well as financial indicators and corporate financial reports.
Target Audience:
Project Managers
Project practitioners
Individuals taking part in managing budgets
Individuals who seek to improve their knowledge in basic accounting and financial concepts
Learning Objectives:
At the end of this course, you will be able to:
Articulate to stakeholders the financial status of the project
Explain aspects of corporate accounting
Gain focus on and maintain control over project estimates, profitability and performance
Show the connection between corporate finances and the impact on projects
Analyze the financial aspects of projects
Make informed decision with respect to pricing, contract, progress and project risks
Use financial information within a project environment to predict/influence final results
Recognize the project manager's financial responsibilities
Prerequisites:
It is recommended that the participant has basic knowledge/understanding of project management foundations and principles.
Course Materials:
Students will receive a course manual with presentation slides and reference materials.
Examination:
There is no exam for this course.
Technical Requirements:
For eBooks:
Internet for downloading the eBook
Laptop, tablet, Smartphone, eReader (No Kindle)
Adobe DRM supported software (e.g. Digital Editions, Bluefire Reader)
eBook download and activation instructions
Agenda:
Introduction and Overview
Benefits of project management
Project contracting and procurement
Key terms
Financial cycles
Project Accounting and Financial Basics
Determine project's financial needs
Roles and responsibilities
Financial statements and balance sheets
Income statement, revenues and expenses
Cash flow statement
Basic accounting
Depreciation
Financial Justification and the Project Business Case
Portfolio management: aligning strategy and projects
Project decision points and gating
The project business case
Measure, Control and Forecast - Financial and Profitability Measurements
Financial principles and common financial metrics
Review of purposes, measurements and sentiments
Applying Finance and Accounting Principles to Project Management (including a review of Earned Value Management)
Project cost estimates and forecasting
Measuring project performance
Project financial performance and profitability
Status reports
Earned value management
Recap