Financial Transformation: Lesson 5 - INVESTMENT STRATEGIES FOR BEGINNERS

Tuesday, April 22, 2014 from 8:00 PM to 9:00 PM (EDT)
Event Details
INTERESTED IN INVESTING?
Whether we want to create wealth, maintain our financial lifestyle when we retire, or leave an inheritance for our family ... it is imperative that we INVEST! Investing can be relatively painless and the rewards are plentiful if it's done correctly and wisely.
However, before you jump into the "Investment" Pool, there are some things to consider. Join us to get some Investment Tips for Beginners from an Investment Expert.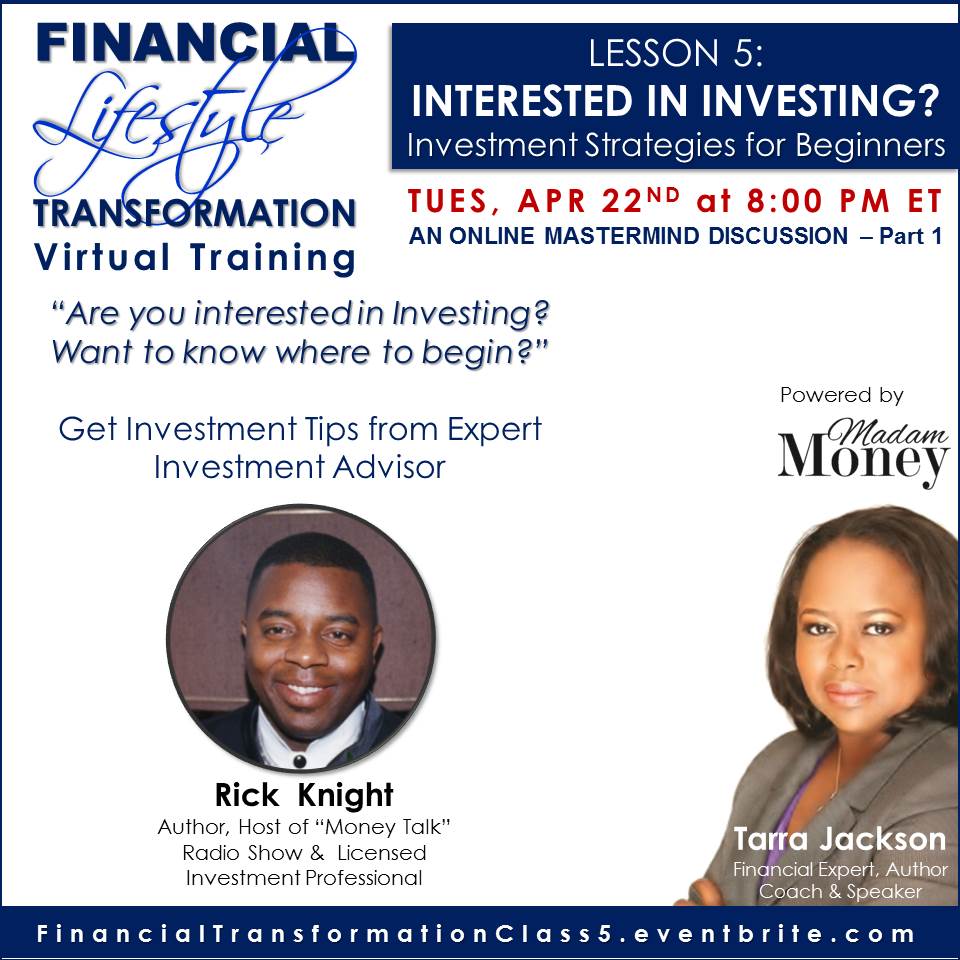 What is the Financial Lifestyle Transformation Program?
7 week virtual coaching, educational and counseling success system designed to help participants achieve their prosperity goals.
Don't miss this opportunity to get your finances and credit back on track! .
This Financial Lifestyle Transformation Program is the ideal for you to get these answers and make lucrative financial decisions. Over the course of 7 weeks we will focus on seven key areas: Money Mindsets, Goal Setting, Money Management, Credit Improvement, Investment Strategies, Prosperity Protection, and Estate Planning.
Get started at www.MadamMoney.com.
Organizer
Tarra Jackson aka Madam Money
Tarra Jackson, known as Ms. Madam Money, is an energetic & charismatic speaker that shares real life experiences to help educate her audience about personal finance, including budgeting, saving, investing, credit, insurance, and business start up.  Tarra has over 20 years of financial industry experience and is a national and international keynote speaker, facilitator and educator.  Tarra's passion is to help people through information and education. .
What is Madam Money Class?  
Madam Money Class provides practical strategies to help people succeed in the areas of:
Personal Finance
Wealth Creation & Protection
Business Owner Success Strategies
Monetizing Social Media
Brand Exposure
Stay tuned for upcoming Madam Money Class (MMC) via Facebook LIVE.
Contact Tarra Jackson at www.MadamMoney.com by emailing Info@MadamMoney.com.