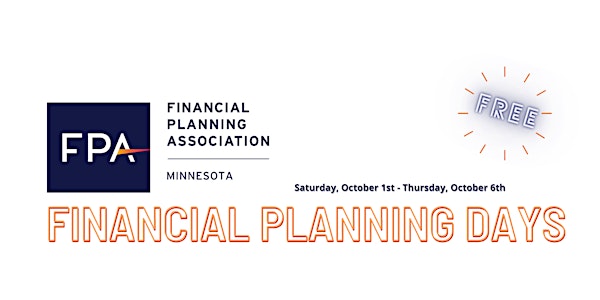 Financial Planning Days 2022
The Financial Planning Association of Minnesota invites you to participate in the 2022 Minnesota Financial Planning Days! October 1 - 6
About this event
This free virtual event gives you the opportunity to meet one-on-one with Certified Financial Planner™ professionals to discuss your personal finance questions, concerns and interests. Please note that the 2022 event has been changed to all virtual meetings.
Don't miss this opportunity for a free, private consultation with experts on a wide variety of personal finance issues, including debt management, retirement planning, investment strategies, income taxes, insurance, and estate planning, among many others!
And best of all, there are no strings attached! Financial planners volunteer their time and do not pass out business cards or tout products or services. They meet with one individual or one couple at a time.
In addition to one-on-one consultations, there will be a series of on-demand informative videos available; presented by top financial planners on a wide range of financial topics.
Available time-blocks for 30 minute one-on-one consultations:
Saturday, October 1 :: 10:00 am - 1:00 pm :: Zoom
Tuesday, October 4 :: 11:00 am - 1:00 pm :: Zoom
Wednesday, October 5 :: 5:00 pm - 8:00 pm :: Zoom
Thursday, October 6 :: 11:00 am - 1:00 pm :: Zoom
Sessions this year are being held online using Zoom. In order to join the one-on-one meeting you should ideally have access to a computer connected to the internet. There is also an option to join via phone if so desired.
We focus on clients with little or no assets and incomes at or below 80% of the local median income, clients referred by our non-profit partners and all branches of the deployed military.