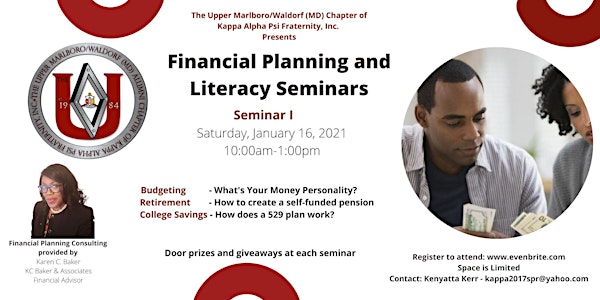 Financial Planning and Literacy Series
This is a free event sponsored by the Brothers of the Upper Marlboro/Waldorf (MD) Chapter of Kappa Alpha Psi Fraternity, Inc.
About this event
The Financial Planning and Literacy Series will be held in two (2) parts. This event is being held to assist individuals with ensuring they are financially savvy and have access to the tools required to build financial wealth and knowledge.
Both sessions will be facilitated by Karen C. Baker of KC Baker and Associates. Ms. Baker has been recognized for her work by the business and financial services industries with a series of prestigious awards and activities. These include the FFS Rising Star Award, the FFS Success Society Membership Award, and the Prince George's County Chamber of Commerce Excellence In Business Award. She has served as Ambassador for the Prince George's County Chamber of Commerce for ten years, and she has published business and financial articles each quarter during that time in its quarterly "It's Your Business Magazine."
The sessions will cover the following topics:
Session I (January 16, 2021):
Budgeting - What's Your Money Personality?
Retirement - How to creae a self-funded pension
College Savings - How does a 529 plan work?
Session II (January 23, 2021):
Life Insurance - Life Insurance v. Death Insurance
Wealth - What is it?
Door prizes and giveways at each session
A link to access the seminar, will be sent out 24 hours prior to scheduled date