Description
Overview
Funded in part by a grant from Synchrony, NJIT EDC and Greater Newark Enterprise Corp (GNEC) are proud to present Financial Modeling Essentials for Raising Capital! This two-day workshop module, led by certified financial trainer Ron Quintero, covers all the key aspects of developing a financial model which is defensible to all types of investors. You will build your own model, make the assumptions, learn about P&L, balance sheets, cash flow statements, and apply valuation techniques for your business. In addition, you will also be able to demonstrate the impact of alternative capital structures on the value you create over time.
Instructor Bio
Ron has more than 30 years' experience in mergers & acquisitions, valuations, and financial restructuring. He has served more than 750 clients of all sizes in a diversity ofindustries. Ron is an award-winning lecturer, writer, and scholar who has taught more than 10,000 professionals and graduate students in more than 50 cities throughout the U.S., and on 5 continents and more than 20 countries outside of the U.S. He has also testified as an expert witness on more than 60 occasions in courts throughout the U.S.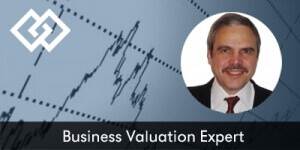 FAQs
What is the workshop length?
February 3rd to February 4th, 9am to 4:30pm both days. Registration at 8:30am
Are fees per company or attendee?
Workshop fee is per attendee.
What are my transport/parking options getting to the event?
Complimentary parking will be provided in NJIT's Lot 16 located at 269 New Street. The NJIT EDC is also conveniently located near the NJIT Light Rail Station for those wishing to take public transportation.
Is lunch included in the workshop fee?
Yes! Refreshments and lunch will be provided.
Are there other financial education workshops such as this?
Yes! This Financial Modeling workshop is part of the Technology Business Support Initiative (TBSI), a cohort based training for high-growth businesses in the region funded in part by Synchrony. Future cohort modules will cover Capital Sources, Negotiating Investor Contracts, The Art of Pitching, and more! For more information, contact Chike Uzoka of GNEC at cuzoka@gnecorp.org or 973-242-4129.
We look forward to equipping you and your team with the financial skills necessary to valuate your business, discuss financial details with investors, and negotiate with different capital sources for success.