Financial Modelling Training
About this event
Below are the details of our next Financial Modelling and DCF Valuation training to take place in Lagos. Thanks for your interest!
Our lead trainer is a certified Advanced Financial Modeler (AFM), a chartered stockbroker (ACS, Nigeria and ACISI, UK) who has built financial models, investment portfolio risk models, stocks analysis models, automated financial reporting templates, loan schedules, FX tracker, market indices tracker and many other financial projects for corporate clients within and outside Nigeria. He is not going to share book knowledge with you but real world expertise and templates you can readily use. He is also one of the few Africans that have been vetted and accepted as a Financial Modelling and Valuation expert on TopTal whose client base span fortune 500 companies and other big companies across Europe, Americas, Australia and Asia. You can view his TopTal profile here
He is the sole developer of the only Nigerian financial markets analysis tool on Microsoft office store, developer of Nigerian stocks analysis dashboard and the brain behind the Nigeria Market Data platform. He has also published an Amazon bestseller on Microsoft Excel: Microsoft Excel and Business Data Analysis for The Busy Professional and another bestseller on Power BI Power BI for the Busy Professional book. He is the type of all-rounder you would want to be trained by.
This training is aimed at making you proficient in building Financial Models and carrying out Valuation for existing businesses, startups and capital projects. You will learn to create financial models from scratch using Microsoft Excel and build one during the training on a real Nigerian company. You will also learn how to apply them in real world situations so as to help friends with their business valuations, help your company with financial planning and advise clients on equity funding. The training is strictly targeting people with accounting background and basic knowledge of corporate finance.
You will get lunch, a branded DVD with training materials and templates, weekly/monthly practice tasks, training notepad with pen, a hardcopy comprehensive training reference materials, a training certificate from us (a registered Microsoft Partner & FMI approved training provider), access to our online community and after training support.
Our trainings have had participants from Guinness Nigeria, Nigerian Breweries, Schlumberger, Chevron, Periscope, Brains and Hammers, GfK, Palladium Group, First Bank, Citi Bank, Dalberg, PMI, EatNGO, NLNG, GSK, Promasidor, SaveTheChildren, Mobil, FMDQ, NSE, Biofem Pharmaceuticals, Total, Vodacom, Nestle, Nigerian Breweries, Delta Afrik, LATC Marine, Broll, Habanera (JTI), SABMiller, IBM, Airtel, Diamond Bank, ECOWAS, Ministry of Finance, Transmission Company of Nigeria, Nokia Siemens Networks and DDB.
Date: 6th - 9th December 2021, (9pm - 4pm Daily).
Venue: UBizEdge Limited, 70b Olorunlogbon street, after Banex Hotel, Anthony, Lagos. https://goo.gl/maps/JAYPvyfPYvyw7bndA
Cost: N120,000 (Discounted 20% from N150,000 standard cost)
Try to pay early to secure your spot and send us your name as you would like it to appear on your certificate.
Payment Details
Account Name: URBIZEDGE LIMITEDBank: FCMBAccount No: 2888666014Branch: Onipanu
The training outline is:
1) Introduction to Financial Modeling and Valuation a. Refresher on the fundamental accounting principles b. Trial Balance c. Building the Income Statement from the Trial Balance d. Building the Balance Sheet Statement from the Trial Balance e. Building the Cash Flow Statement from the Trial Balance f. Introduction to Financial Ratios
2) Building a Financial Model Template from Scratch
a. Template Building from Scratch i. Creating the Required Sheets and Having an Index Sheet ii. General Model Structure Design iii. Working Across Multiple Sheets at Once iv. Linking Sheets v. Absolute and Relative References vi. Template Building Tricks
b. Required Excel Tools and Formulas
3) The Financial Model Core
a. Modelling Stage One: Projection Ratios and Scenarios (Optimistic, Base and Pessimistic) i. Income Statement Drivers Projections – from schedules or moving averageii. Balance Sheet Drivers Projections – from schedules or moving average
b. Modelling Stage Two: Financial Statements Forecasts i. Income Statement Forecast ii. Balance Sheet Forecast iii. Cashflow Statement Forecast – extracting the Cashflow from Income Statement & Balance Sheet
c. Extracting the Unlevered Free Cashflow
4) Different Types of Valuation Models a. Discounted Cash Flow (DCF) Model b. Comparative Company Analysis (comps) Model (and precedent transaction valuation multiples)c. Sum-of-the-parts Model d. Leveraged Buy Out (LBO) Model e. Merger and Acquisition (M&A) Model f. Book value Model g. Depreciated Replacement Cost (DRC)h. Dividend Discount Model
5) DCF Valuation a. Enterprise Value = Discounted Cashflow of Explicit Forecast Period + Discounted Terminal Value b. Calculation of WACC, CAPM and Cost of Debt c. Practical Reality of the Nigerian Economic Space d. Extracting The Equity Value from The Enterprise Value e. Sensitivity Analysis: WACC vs Perpetuity growth f. Practical Use of The Results g. Company Valuation: Sell-side, Buy-side and Advisory h. Business Unit or Subsidiary Valuation i. Capital Project Valuation
6) Financial Ratios a. Liquidity Ratios b. Asset Management Ratios c. Leverage Ratios d. Profitability Ratios e. Valuation Ratios f. Financial Project Planning Excel formulas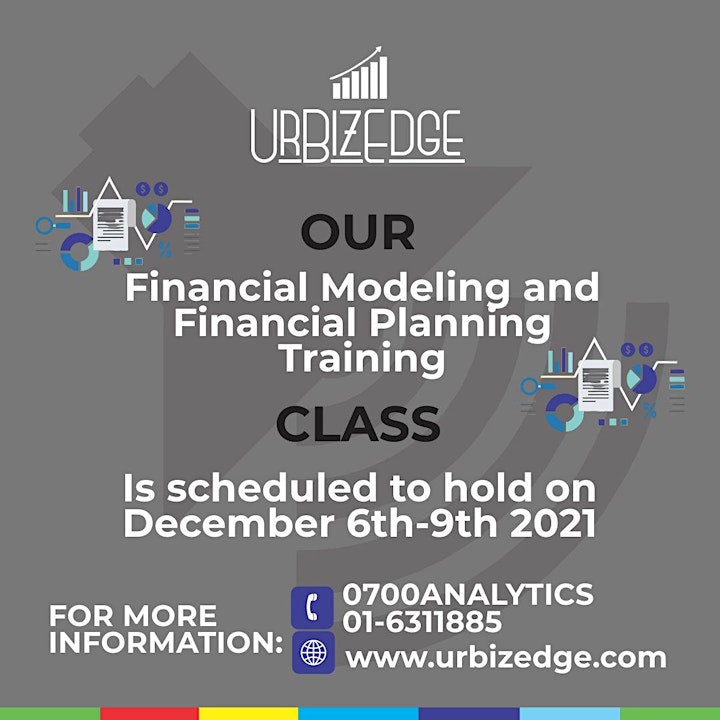 Organizer of Financial Modeling and Financial Planning Training
UrBizEdge is a registered business data analysis and consulting firm in Nigeria. We specialise in helping companies be on top of their business data. We focus exclusively on the world's most used and most flexible business intelligence tool: Microsoft Excel. We have the only Microsoft Excel Most Valuable Professional in Africa. And there are just about 125 in the whole world. It's the highest recognition Microsoft gives an independent industry expert.
MISSION: To give our clients the business intelligence edge they need using tools they already have.