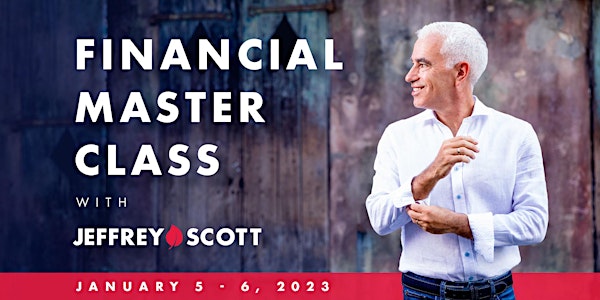 Financial Master Class - Roll Up Your Sleeves and Dig Into Your Numbers
Financial Master Class Jan 5 - 6, 2023
About this event
Financial Master Class: For Landscape Professionals - Roll Up Your Sleeves and Dig Into Your Numbers
Virtual Event - January 5 - 6, 2023
This third-annual 2-day virtual Financial Master Class will give you the financial tools and benchmarks you need to greatly improve the performance of your lawn and landscape company.
This event runs for 4 hours each day, with interactive breakout sessions so you can share and learn from other smart attendees in my community.
This will be 95% Jeffrey Scott, learning my latest thinking on all things financial.
If you attended last year, you will benefit from these new elements:
The impact of inflation and scarcity (labor, fuel, equipment and materials) on the industry and on your revenue and profits.
Insights into a better budgeting strategy
Predictions on the 2023 economy
Using our template, you supply us with your numbers (Nov '21 to Oct '22) and we do the rest.
Register before Dec 1st to enjoy the early bird discount. Each attendee needs their own ticket.
THIS 2-DAY FINANCIAL MASTERCLASS WILL EQUIP YOU WITH THE FOLLOWING TOOLS:
2022 PROFIT/LOSS AND BALANCE SHEET BENCHMARKS: Each participant will receive benchmarks by revenue segmentation and by "best in class." You will also receive benchmarks from the previous 2 years, to see how your numbers have changed!
DIVISIONAL BENCHMARKS BY GROSS PROFIT: You will learn where you are excelling and where you can do better in terms of "GPM, Throughput, and Net-Of-Subs."
PRICING/MARK-UPS OF LABOR & SUBS: You will see how much you are marking up labor and materials compared to others, and where your hourly pricing compares to others; this is critical in the time of inflation.
OVERHEAD BENCHMARKS: You will learn how fat or lean your "overhead is compared to production staff", and how you compare with other companies.
INCREMENTAL PROFIT ON INCREMENTAL SALES: You will learn how to drive net profit on the incremental sales using my newly revised "profit pyramid."
MISTAKES TO AVOID: Learn which key mistakes to avoid as you navigate fluctuating demand, inflation, labor supply and material scarcity
CREATE SKIN IN THE GAME... with your team members by successfully implementing incentives and open book management. Avoid the classic mistakes that Jeffrey has uncovered. Learn the best ways to share financial reports to better educate your team.
SAVE $250 PER PERSON PER TICKET
Register by December 1st to get the earlybird discount, and to get your numbers in on time.
DURING THIS EVENT, YOU WILL ALSO LEARN MY LATEST THINKING HOW TO:
Use a weekly scorecard to drive business performance.
Use incentive programs, what works and what doesn't.
Set budgetary goals for 2023 that will improve your company financial health and business growth.
Keep your team informed along the way, as you deal with any ups and downs in the economy
Each attendee needs their own ticket.
Email us for the "5 FOR 4" Group Discount: corine@jeffreyscott.biz
THREE BONUSES -
BONUS 1 - Receive our new analysis on "growth vs profit", to find out which size companies grew their net profit faster?
BONUS 2 - Jeffrey Scott will sit on the hot seat and answer your questions and solve your challenges. In fact if you share your incentive system with Jeffrey during this event, you will get instant feedback from the master.
BONUS 3 - Enjoy a cocktail zoom at 7pm on first day of this virtual event, for extra networking and asking me questions directly.
DETAILED AGENDA
January 5, 2023
11am ET - Review the bench marking reports (full P/L and Divisions) and do Q&A with audience. ,
12:30 - Breakout Rooms (in small virtual groups, share your insights and ask other questions)
1:15 - What changed from last year's results? The impact of Inflation, Scarcity of equipment and materials.
2:00 - Jeffrey on Hot Seat
2:50 - Wrapping up today, what questions do you want answered tomorrow.
3:00 ET - END
4-5pm - Extended Zoom Breakouts, for those who want to network further.
7pm ET - Cocktail Zoom Hour
January 6, 2023
11am ET - Review hourly rates, labor markups, and overhead/labor ratio vs industry standards vs last year's results.
12:30 - Lunch Break (in small groups, so you can network)
1:00 - Jeffrey On Hotseat - he will review your incentive plans and other questions.
2:00 - Small group breakout discussions, Set your 3 key actions
2:45 - What's next?
3:00 - End
4-5pm - Extended Zoom Breakouts, for those who want to network further.
Register by Nov 30th to get the early bird. Email us for the "5 FOR 4" Group Discount.
9 ADDITIONAL BENEFITS OF ATTENDING
Stay on top of inflation, keep your pricing/thinking ahead of the curve.
Learn where you are leaving money on the table.
Determine your 2023 growth plans with confidence
Avoid being blind sided by the the coming financial hiccups that could damage your business
Improve your company's valuation should you decide to sell.
Gain perspective on your company's financial health.
Learn how to increase profits, owners take-home pay and employees pay/bonuses alike.
Learn to operate as an investor in your own business, and improve your ROI
Expand your network and learn that you are not alone
And for some: Sleep better at night knowing you are in better financial shape and meeting your long term financial goals!
TESTIMONIALS FOR JEFFREY'S EVENT
"Don't miss this exceptional event run by one of our Industry's most insightful leaders, Jeffrey Scott provides an honest and clear path to understanding the financial and management components of the Landscape Industry". - Kevin McHale, CEO of McHale Landscape Design, MD
" There is always room to improve your financial prowess and profitability by teaming up with Jeffrey Scott. In this event he brings ideas that you can put to use right away."- Frank Mariani, President, Mariani Landscape, IL.
ABOUT JEFFREY SCOTT, MBA
Jeffrey Scott is the leading authority on growth and profit maximization in the landscape industry. He is the inventor of Green Light Selling (a profit-driven sales approach), and founder of the Destination Company® culture program, both of which have been adopted by hundreds of landscape firms across the continent. He has helped full service companies reach 20% net profit margin, and will show you how to run a more successful enterprise that you can scale, while better enjoying the life you deserve.
Thanking our Exclusive Media Partner