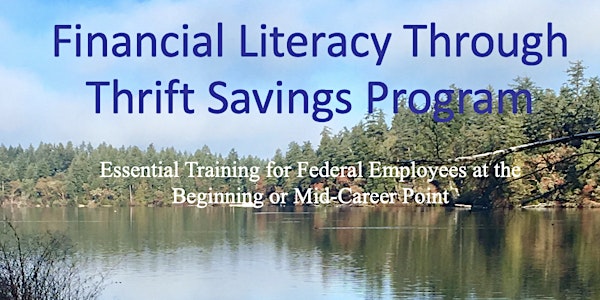 Financial Literacy Through the Thrift Savings Program
Plan for retirement from a financial perspective. Understanding how TSP fits into the overall picture. Federal employees & military members
Refund Policy
Contact the organizer to request a refund.
Eventbrite's fee is nonrefundable.
About this event
Financial Literacy Through The Thrift Savings Program
for Federal Employees, Uniformed Services Members
and their Spouses/Partners
No outside vendors, financial planners or advisors please. PPS/FBS pride themselves on not soliciting attendees or selling any type of financial products/services. These sessions are 100% instructional training and are
**limited to federal employees and uniformed service members.**
Featuring Deborah Hatch, CEO and primary instructor for both Pinnacle Personnel Services, LLC., and its subsidiary Federal Benefits Services, LLC. Presenter brings experience garnered from working in and with the federal government for over 24 years. First as a federal benefits and human resources specialist within Departments of Defense, Air Force, and Veterans Affairs; then as a government contractor. She has presented hundreds of retirement seminars, for dozens of federal agencies worldwide. She has trained thousands of employees: special provisions and traditional, title 5, 10, 32, and 38. This is the same information normally presented in the classroom but being provided virtually because of the current social situation and COVID-19 pandemic.
Each session includes:
Background and creation of TSP
TSP's part in your overall retirement planning
Determining financial needs for retirement
Sources of contribution: employee and agency contributions
Investment options within TSP
Fund risks
Roth considerations
Allocation and inter-fund transfers
Loans & in-service withdrawals
Post separation options
Death & taxes
Session is open to federal employees under any retirement system but newer employees and those at the mid career point will find it most beneficial.
You may find it helpful to have a small notebook as well as a copy of a current pay stub and your most recent TSP quarterly statement, in front of you for the training. You will receive a copy of the slides handout prior to training.
This session will occur at the following times, based on time zone.
4:00 - 7:30, Hawaii time
7:00 - 10:30, Pacific time
8:00 - 11:30, Mountain time
9:00 - 12:30, Central time
10:00 - 1:30, Eastern time
This is a live virtual session.  Not a pre-recorded webinar.  You will have an opportunity to ask questions during the session via a chat room.  I will email a link to the virtual classroom the day you sign up, 24 hours and again 1 hour prior to training. You will receive copies of the slides / handout the day prior to training.
You may find it helpful to have a small notebook as well as a copy of your Social Security statement, a current pay stub, and one or two recent SF-50 personnel actions, in front of you for the training. 
Should you have questions about the training, feel free to email me at debbie@pinnaclepersonnelservices.com