Financial Literacy Series: Understanding Investments
Learn how making the right investments can lead to passive income and more.
About this event
Join us for session two of our Financial Literacy Series. This webinar will showcase three powerhouse speakers that will explain how investments can help you earn passive income, assist you in becoming financially secure, and allow you to build personal wealth and generational wealth for your families.
This event is free but registration is required.
Get the latest information on PGCAC programs, events, and activities. Visit our website and subscribe to our newsletter today!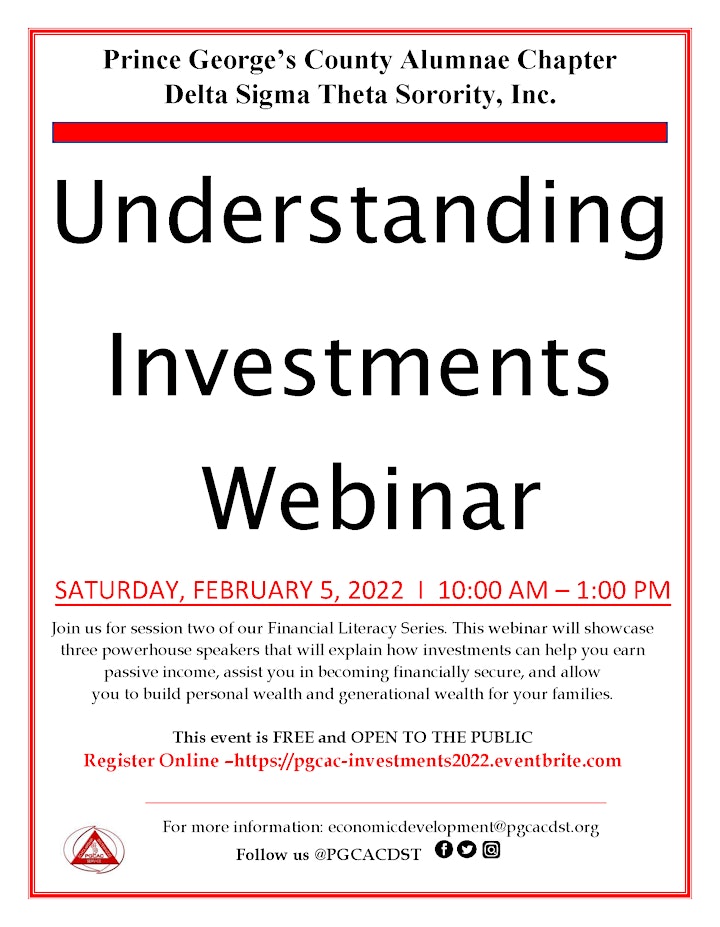 Organizer of Financial Literacy Series: Understanding Investments
The Prince George's County Alumnae Chapter of Delta Sigma Theta Sorority, Inc. was chartered on March 31, 1974.  Delta Sigma Theta Sorority, Inc. is a private, non-profit organization whose purpose is to provide assistance and support through established programs in local communities throughout the world. Founded on January 13, 1913 by twenty-two collegiate women at Howard University, the Sorority is currently a sisterhood of more than 200,000 predominately Black college educated women. This includes over 900 chapters located in the United States, England, Japan (Tokyo and Okinawa), Germany, the Virgin Islands, Bermuda, the Bahamas, and the Republic of Korea. The major programs of the sorority are based upon the organization's Five Point Programmatic Thrust: Economic Development, Physical and Mental Health, Educational Development, Political Awareness and Involvement, and International Awareness and Involvement. 
For more information, visit our national website at: www.deltasigmatheta.org