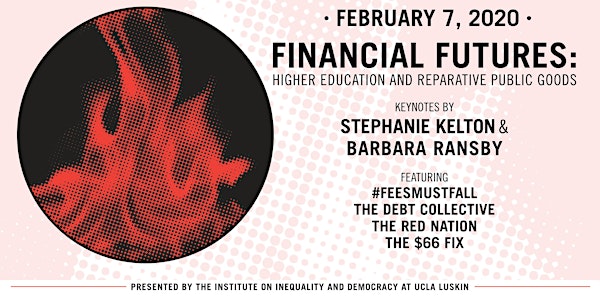 Financial Futures: Higher Education and Reparative Public Goods
Location
UCLA Luskin School of Public Affairs, Room 2355
337 Charles E Young Dr
Los Angeles, CA 90095
Join the Institute on Inequality and Democracy at UCLA Luskin for an all-day conference.
About this event
On Friday, February 7, 2020, we will be joined by keynote speakers Barbara Ransby and Stephanie Kelton. Additional participants include Wendy Brown, Dylan Rodríguez, Andrew Ross, Astra Taylor, and scholars and activists from #FeesMustFall, The Debt Collective, The Red Nation, The $66 Fix, Puerto Rico's anti-austerity struggle, and more.
This event will be livestreamed via the Institute's website, as well the the Institute's Facebook page.