Soledad Ramirez is hosting a Financial Freedom Lunch & Learn at Downtown Works in Little Italy.
About this event
Come find out about:
- How to eliminate ALL debt, mortgage included, in less than 9 years.
- How to accumulate wealth on any income.
- Why investing in the stock market isn't for everyone—learn smarter ways to retire wealthy.
- Why your 401(k) may not be enough and what experts will never tell you about saving for the future.
- How to cut your tax burden by up to half!
You can also request your free, no-obligation analysis on 9-30-21.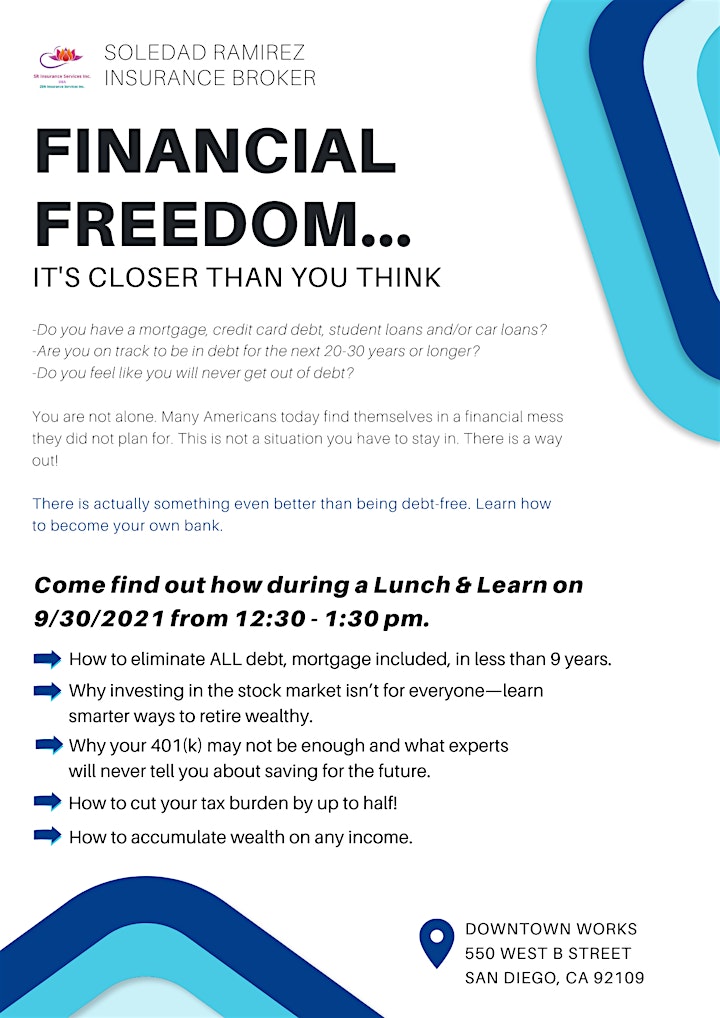 Organizer of Financial Freedom with Soledad Ramirez
 At Downtown Works, you'll connect with a vibrant community of motivated change-makers open to sharing resources and encouraging one another. Our full-service support staff, productivity-boosting amenities & industry-expert workshops keep members motivated; while diverse networking events foster collaboration.
And while we are a hub for focused, driven professionals, you'll hear plenty of laughter, around our bean-to-cup coffee machine and witness members enjoying craft beer by the keg during our weekly hosted happy hour.
We encourage you to spend the day as our guest alongside like-minded creatives, techies & entrepreneurial spirits who are sometimes joined by their 4-legged friends at Downtown Works!
--
A premium coworking community built by entrepreneurs for entrepreneurs who want to reach higher.
Instagram: https://www.instagram.com/downtownworks/
Facebook: https://www.facebook.com/downtownworks/
Twitter: https://twitter.com/downtownworks
Linkedin: https://www.linkedin.com/company/downtonworks
www.downtownworks.com
info@downtownworks.com
619.535.9675