Financial Fluency: Critical Keys to Economic Freedom

Monday, October 2, 2017 from 2:00 PM to 7:00 PM (CDT)
Event Details
One million dollars is the average missing income from a family's wealth at retirement. Why? The female wage gap. 
Both women and men make and accept decisions that unknowingly result  in negative long-term family wealth. However, financially fluent women can close the wage gap.
50 ACTION 50 is leading this annual experiential workshop. Join us in our mission to Activate Women's Full Economic Potential and Contribution. Speakers will inform us on the key issues, and we will work together to develop actions we can immediately implement to:
Raise girls with equivalent financial literacy as a boy. Perhaps raise the bar for both.

Enhance women's education and career choices based on understanding future skills and earnings. Knowledge allows choice.

Skip the need for "training" on confidence and negotiation by arming women with financial capability. Wage and Benefit transparency.

Connect financial fluency as a goal at the start of career so attaining upper management and C-suite positions is a possibility. 
Why Come? Because fixing the family wealth challenge requires women and men to move to action together. 
Schedule
2:00 Registration & Networking
2:30 Welcome
2:45 "Defining Action. Why We Have Redesign How to Solve for Economic Equity"        
   Karen Gordon, Founder WE Design Think & 50 ACTION 50
3:00 Discussion "Financial Fluency: Your Path to Freedom"          
   Tracy Frizzel, Executive Director, Economic Awareness Council
4:00 Workshop: Design Actions to Achieve Financial Fluency
6:00 Networking: Food and Beverages
7:00 Goodnight
Workshop
We need young women to be on the track to achieve financial literacy by the end of college with a path to financial fluency within the first 5-7 years of work.  In this workshop, we will collaborate to design actions we can implement towards this and the overall goal of achieving financial fluency to lead a life with economic freedom.
If you want to work with other people to change the trajectory towards economic freedom while networking in a great space with powerful minds while sharing delicious food and beverages, then join us! You'll work in teams to ideate and propose ACTIONs that can be taken immediately as well as in the long-term. 
Yes, this Workshop is for Women and Men!
We focus on women's financial fluency because families are hardest hit by wage inequity, and men and women need to be financial partners to break out of the cycle.  This is serious stuff but it doesn't have to be difficult - we will simplify it together. No Fear, only Possibilities!
What is Financial Fluency?
Financial Fluency maximizes possibilities to achieve economic potential. For women this mean that professional women should have budget oversight and profit & loss portfolios; as well as ensure a more secure retirement for her family.
At the end of the Workshop will I have ACTIONs to achieve Financial Fluency?
Yes. In a workshop format, attendees will work in teams to explore the problem and ideate on Actions that can be taken (1) the next day (2) in six months, and (3) in a year.
Join Us To ACT!  Change in an Evening.
WORKSHOP CO-HOST
50 ACTION 50 selects Global Furniture Group & Rightsize Facilities to co-host this forum.
 We want to thank Global Furniture Group for Rightsize Facilities co-hosting on this important workshop. At 50 ACTION 50 we seek partners who actively believe in the mission to Activate Women's Full Economic Potential and Contribution.  As you will discover we will be in a unique enviroment of contemporary and modern workspaces. We believe creative workspaces enhances our aiblity to solve problems.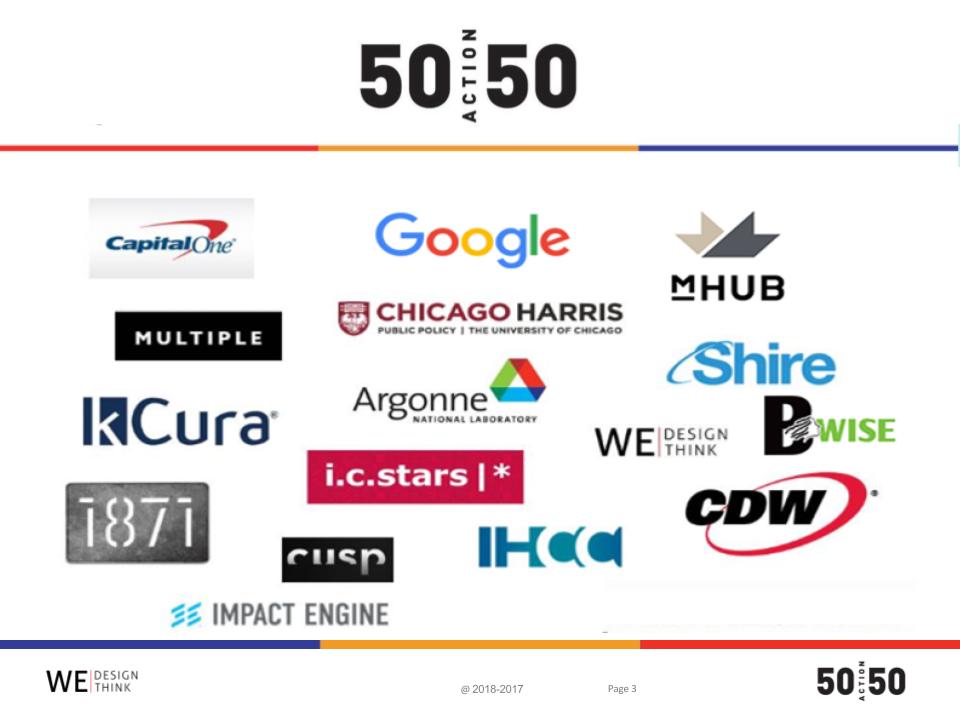 When & Where

1871
2222 Merchandise Mart
12th floor
Chicago, IL 60601


Monday, October 2, 2017 from 2:00 PM to 7:00 PM (CDT)
Add to my calendar
Organizer
ACTIVATE WOMEN'S FULL ECONOMIC POTENTIAL AND CONTRIBUTION
50 ACTION 50
WE Design Think's social impact division selects an issue that has been at the forefront of private and public discussions and moves a willing coalition of change makers to action. 50 ACTION 50 was born to address how to ACTIVATE WOMEN'S FULL ECONOMIC POTENTIAL AND CONTRIBUTION. 50 ACTION 50 brings innovation principles and human-centered design to this economic issue. We foster discussion between women and men while framing the problem using the entire picture: actions that matter in the family, community, and workplace.
WE Design Think
WE Design Think is a community of leaders and innovators who believe that human-centered design can positively impact organizations, communities, and families by helping them adapt and remain competitive in a rapidly shifting global economy.  WE Design Think works with companies to train employees in innovation mindset and skillset to create new economic value. Yes, we help you innovate new products and services.
Financial Fluency: Critical Keys to Economic Freedom