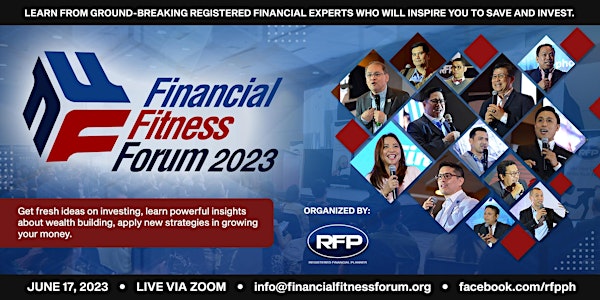 Financial Fitness Forum 2023
Join us with the RFP Philippines' top personal finance experts at the 11th Financial Fitness Forum
By Registered Financial Planners Philippines
About this event
Financial Fitness Forum is a premier online event that offers expanded leadership and learning opportunities to accelerate and advance your success. This event brings together top RFP advisors for a series of fresh ideas and breakthrough presentations all under one roof!
About the organizer
RFP Philippines was officially introduced to the public through the first ever Financial Planning Expo that it organized in 2006 which was attended by more than 15,000 people from all over the country. RFP Philippines also organized a forum for the financial services community which was attended by professionals from different industries.
RFP Philippines promotes its professional certification program in financial planning which leads to awarding of the Registered Financial Planner or RFP designation to the successful candidate who meets the membership requirements.