Event Information
Location
McGruder Family Resource Center
2013 25th Avenue North
Nashville, TN 37208
Description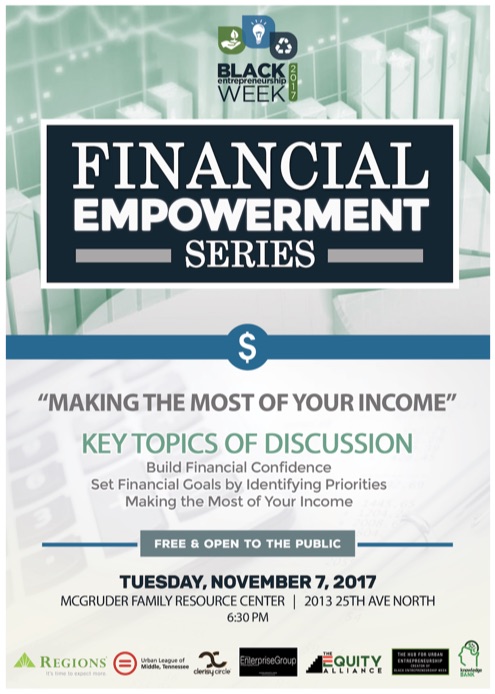 The third installment of the Financial Empowerment Series takes place during the 2nd annual Black Entrepreneurship Week. The Hub for Urban Entrepreneurship has partnered with Regions Bank and several community organizations that support African Americans to provide resources aimed at achieveing financial freedom.
The Financial Empowerment Series is hosted in partnership with Clerisy Circle, The Hub for Urban Entrepreneurship, Knowledge Bank, The Equity Alliance, Urban Enterprise Group, and the Urban League of Middle Tennessee. It will be held at the McGruder Family Resource Center (2013 25th Ave North | Nashville, TN 37208) on Tuesday, November 7 at 6:30pm.
Taught by Regions Bank, the workshop titled "Money Matters" will discuss banking, building financial confidence, setting financial goals, identifying priorities, making the most of one's income. The workshop will include a hands-on exercise and technology tools by Knowledge Bank.

The Financial Empowerment Series will be held once a quarter in the four major quadrants of Nashville. The first one workshop was held in North Nashville on April 29, and the second in South Nashville on August 15. The series will conclude with the final workshop in February 2018.

Date and time
Location
McGruder Family Resource Center
2013 25th Avenue North
Nashville, TN 37208