Description
Malaysia's Largest Financial Education Event


About the Financial Education Convention 2017
The Financial Education Convention 2017 promotes the effective delivery of financial education, consumer financial products and services by hosting a national event for professionals providing these services. The Convention is a showcase for financial education success stories, offering participants proven strategies, tips and techniques to achieve financial freedom through financial education and funding for start up businesses.
About the Financial Education Excellence Awards
This is a prestigious award presented by PORTMAN International College. The Financial Education Excellence Awards is presented to individuals and organizations that have shown exceptional innovation, contribution and commitment to the field of financial education. To learn more, visit www.portman.edu.my
About PORTMAN COLLEGE
PORTMAN College is Malaysia's first and only business education specialist that provides a structured financial education, entrepreneur, business & professional skills development. PORTMAN's core purpose is to educate and produce business leaders that will make a difference in the world.
Convention Attendees
The Financial Education Convention 2017 provides individuals learning opportunities to achieve financial freedom through various business and investment opportunities. In addition to being a critical networking event for financial educators, the Convention offers attendees the opportunity to learn about current trends, develop funding strategies and advance the cause of financial education.
Who Should Attend?
Anyone seeking to achieve financial freedom

Financial Educators

Financial Executives

Banking & Investment Executives

Financial Service Providers

Government Officials and Staff

Financial Aid Officers

Others Committed to Providing Financial Education
SPONSORSHIP
The Financial Education Convention 2017 offers many levels of sponsorship and we are certain to meet your needs and exceed your expectations.
The following are the sponsorship packages: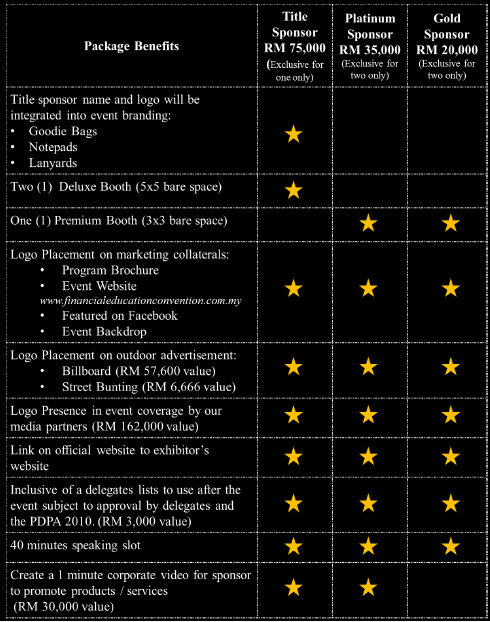 If your company is interested in becoming a sponsor for the Financial Education Convention 2017, kindly contact Pohyi, Project Manager, at 017-389 0658.
Sponsorship Benefits
Provides an opportunity to broaden your competitive edge by improving your company's image, prestige, and credibility with financial educators from across the country
Differentiates your company from competitors
Showcases services and products
Develops stronger relationships with financial educators