Financial Calculator Workshop - November 18 in Palm Desert

Saturday, November 18, 2017 from 8:30 AM to 6:00 PM (PST)
Event Details
"Discover How Properly Using a
Financial Calculator Can Make your
Fortunes in Every Real Estate & Note
Deal You Make!"
Let Me Show You How To Use This Money Making Machine to
Bodyguard EVERY Transaction You Invest In!
(This is Not the Stuff Your Teacher Taught You in Class...Guaranteed!) 
Imagine being able to close ANY Deal and feel very comfortable knowing that you have the fundamental skills to create the most money possible...PERIOD!
My name is Bill Tan & I've been a Real Estate Investor for over 30 years.  I have successfully completed over 400 deals in the last ten years alone.  One thing that has made me successful is knowing what the numbers mean and what they mean to Your Bottom Line – Your Real Estate & Note Deals are based on specific calculations and learning the easy to learn fundamentals will Turn you into an Overnight Seasoned Pro!
Spend a Day with me and I promise you'll Discover:
The 5 Buttons on the calculator that will change the way you look at every transaction!
Why your lender might be

Ripping You Off

and how you can know In 3 Simple Steps!
How knowing the SIMPLE Formula PMT, PV,  _______ & _______ can get you out of debt!
The Easiest way to learn how notes work and how you can purchase notes knowing you have the skill set to invest them.
What App you can buy for Less than 6 Bucks on your smart phone that will be your Personal Financial

Bodyguard…Anywhere…Anytime!

And that's Just the beginning…
PLEASE NOTE!
WE KEEP THIS CLASS SMALL…NO MORE THAN 15 ATTENDEES…
Every person who attends will confidently know how to use this money making machine
 By the end of the workshop…Guaranteed!
 JOIN US Saturday November 18, 2017 at 8:30 AM in Palm Desert
            Your Investment to Learn How to Make Money With Every Real Estate Transaction is…
ONLY $249
I'll Also throw in the Calculator I use For Every Real Estate Investment (A $50 Value!)
Bill Tan has been called the "Teacher's Teacher".  He is the President of one of the largest Real Estate Clubs - San Diego's Creative Investors Associations (SDCIA) & LAREIA. He's a Nationally Recognized Real Estate & Mortgage Investor,  an Exchanger and a regular Speaker and Instructor at National Real Estate & Note Conventions all around the nation.  Bill has a special ability to turn real estate jargon into easy to understand skills you can implement right away for any real estate transaction you come across. 
Sign Up NOW…Before All Seats are Taken!
Registration Process
1.   Registration is 'first come, first served' and limited to 15 students.
2.   Please send an email with the information below to:  bill@billtaninvestments.com
      A.  Name
      B.   Email Address
      C.   Telephone
      D.  Mailing Address
      E.  Have you ever used a financial calculator?
      F.   Are you familiar with a financial calculator?
3.   You will receive a personal reply acknowledging your registration request.  If space is available and you have provided the information requested above in full, you will be asked to mail your payment.  If you do not receive a personal reply, your email did not go through.
4.   Make sure you can receive emails from "billtaninvestments.com".  If you use spam protection software, add "billtaninvestments.com" to your list of unblocked domains.
5.   The cost is $249 per person.  Please submit payment of cash or check made payable to "Bill Tan Investments" within 10 days of receiving your confirmation email.


      Mail your payment to:       PO Box 231864
                                                Encinitas, CA 92023-1864
Or go online to with a credit card to:        www.billtanclasses.eventbrite.com
6.   QUESTIONS?  Email bill@billtaninvestments.com or call 760-634-0492
Location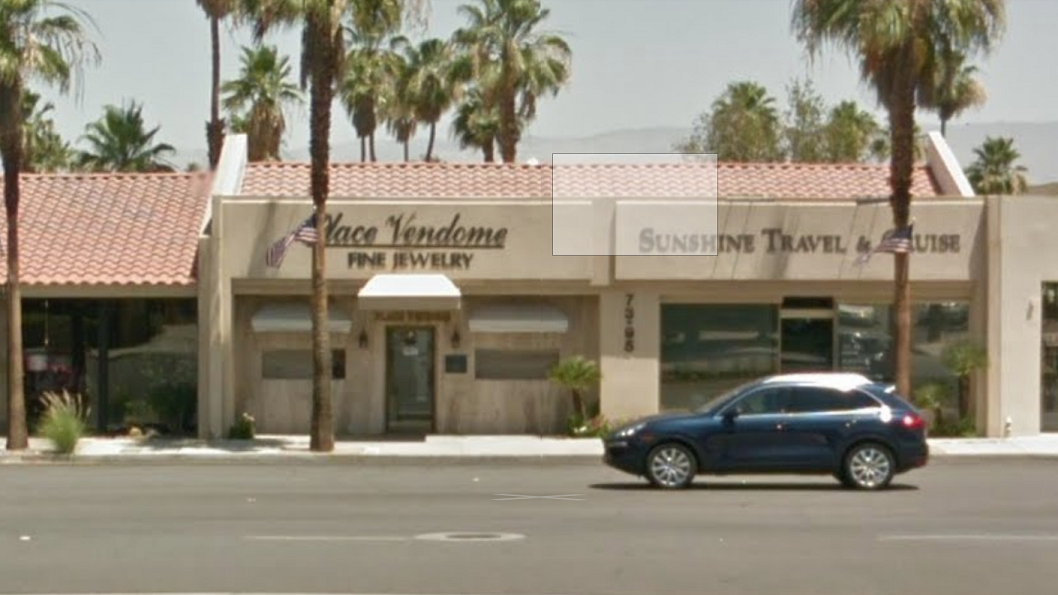 73-950 El Paseo, Palm Desert, CA 92260
Directions from Los Angeles                                                   
10 Freeway East, take exit 131 Monterey Ave., turn RIGHT, then turn LEFT at any major intersection before El Paseo (Frank Sinatra Drive for instance), turn RIGHT on Portola Ave., continue past Hwy 111 until you see the Circle K store (on your left) and turn RIGHT into the parking lot. El Paseo Barbers will on your left. (the picture is looking from El Paseo and the barbershop is BEHIND Place Vendome fine jewelers)
Directions from San Bernardino/Riverside
215 Freeway South, 10 Freeway East, see directions above 
or 60 Freeway East, 1- Freeway East,  see directions above 
Special thanks to Andy Teasley & his wife, Cynthia, of El Paseo Barbers for the use of their office! I hear she's a very good barber!
Have questions about Financial Calculator Workshop - November 18 in Palm Desert?
Contact Bill Tan
When & Where

El Paseo Barbers
73-950 El Paseo
Palm Desert, CA 92260


Saturday, November 18, 2017 from 8:30 AM to 6:00 PM (PST)
Add to my calendar
Organizer
About the Instructors:
Bill Tan
1.    President of LAREIA - Los Angeles Real Estate Investors Association
2.    Nationally recognized Real Estate & Note Investor & Exchangor
3.    Speaker & Instructor at National Conventions for Real Estate & Mortgages
4.    California Real Estate Broker and Hard Money Lender
5.    Past President of San Diego Creative Investors Association (SDCIA)
6.    Acknowledged expert on notes and solutions-based financing.
Bill has over 30 years experience in real estate and mortgage investments.  He is an acknowledged expert on financing and the note business.  His students give glowing testimonials. He is the past president of the San Diego Creative Investors Association, one of the largest real estate investors groups in the country, and president of the highly regarded LAREIA.
Andy Teasley is The Wizard of Wobbly Boxes