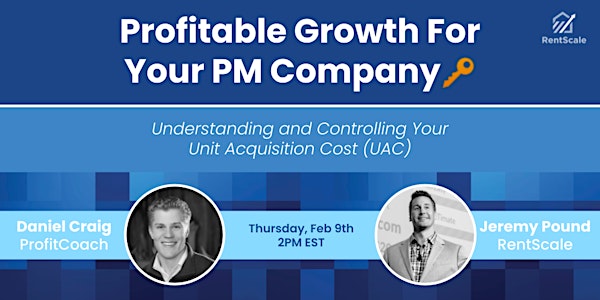 Financial Benchmark Deep Dive - Unit Acquisition Cost (UAC)
Join Daniel Craig and Jeremy Pound as they discuss ways to optimize your Unit Acquisition Cost for new PM clients.
Date and time
Thursday, February 9 · 11am - 12pm PST
About this event
Why is Unit Acquisition Cost So Important?
Managing and optimizing the growth of a PM company is one of the most difficult tasks for any entrepreneur. It's difficult, in part, because spending more money doesn't always result in adding significantly more doors.
Unit Acquisition Cost (UAC) is the best way to measure the overall financial and operational efficiency of your growth machine. Any efficiencies gained on cost per lead, conversion rates, and sales/marketing labor spend will result in a lower UAC.

How Much Does a New Client Cost You?
If I was selling dollar bills for a quarter each, how many would you buy?
The answer, of course, is as many as you can.
In property management terms, this is equivalent to knowing that your average lifetime value of a client is $10,000, and that your business reliably attracts new clients at a fraction of that cost.
The Unit Acquisition Cost (UAC) is not just a number that needs to be optimized, but more importantly, a number that needs to be understood and measured within the context of other key benchmarks.
When you have a healthy balance of your unit acquisition cost and your lifetime customer value, you can make profitable, confident, and bold decisions to scale. If you can afford to pay more for a lead than your competition and still make a solid profit, you have a powerful competitive advantage.