About this Event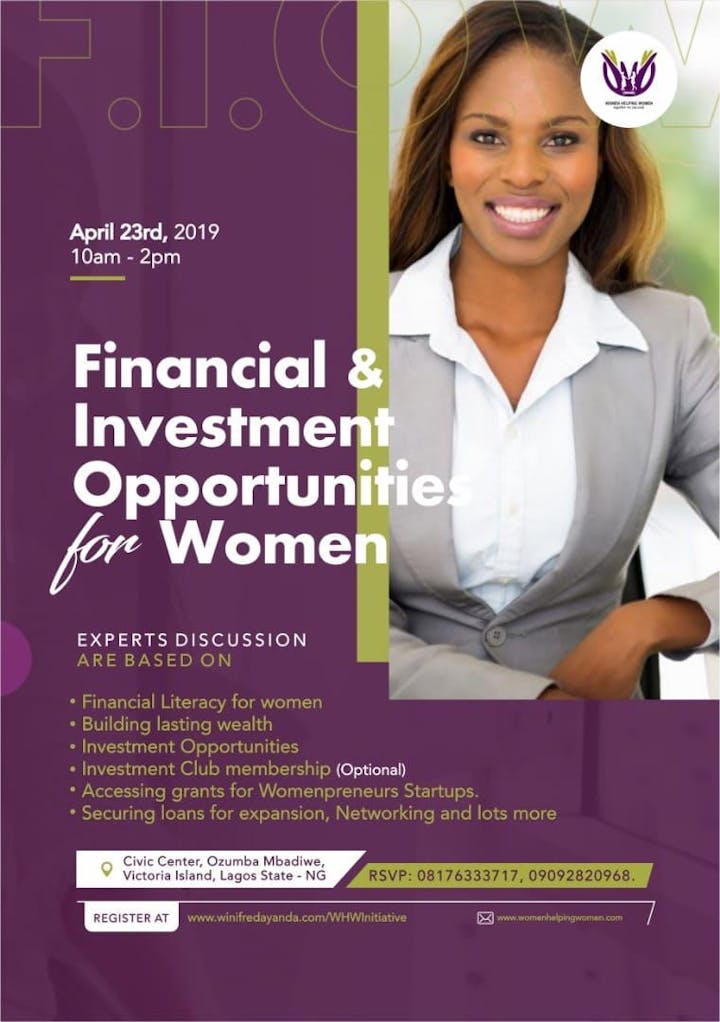 Dear Woman, Dear Lady,
Financial emancipation of women is central to improving the family, society and economy. As a result of extant gender inequality wealth generation and investment management activities have so far eluded women, much until the last decade. Women have been a distant minority on the financial and investment ladder in the Nigerian society. We believe that creating holistic and sustainable financial and investment opportunities for women are, therefore, essential.
Nigeria has the largest percentage of women owned businesses in the world. This means that helping women grow their businesses is important to Nigeria's development. Women face many obstacles in growing their businesses from social and cultural barriers to funding. Therefore, Identifying and understanding the opportunities to help women navigate the business landscape is vital.
The main aim of the conference is to engage 100 women in career and businesses, teaching them how to attain financial freedom via managing and building wealth through effective investment choices, access to grants and loans for their start-ups and existing businesses. The conference presents the opportunity to advocate and educate for the positive socio-economic advancement of the woman.
Under the overall theme, 'FINANCIAL AND INVESTMENT OPPORTUNITIES FOR WOMEN', the conference program will be expertly driven by these key themes:
Financial literacy for women
Building Lasting Wealth
Investment Opportunities
Investment Club Membership(Optional)
Accessing Grants for Womenprenuers Startups [WE-Funds]
Securing loans for expansion, Networking and lots more.
VENUE: Civic Center, Ozumba Mbadiwe, Victoria Island, Lagos
DATE: Tuesday 23 April 2019
TIME: 10am - 2pm Prompt
ADMISSION FEE: N6,000
After payment ensure to write an email with details of your payment to info@winifredayanda.com to obtain/validate your tickets
We look forward to welcoming you at the venue!
#FinancialLiteracy #WealthCreation #WomenEmpowermentInNigeria #TakeoffGrants #WomenStartups #FinancialFreedomforWomen #GenderInequality #GenderEquality #TrainingInLagos #TrainingInVictoriaIsland #WomenInBusiness #ConferenceInNigeria #ConferenceInLagos #FIOWConference2019 #Lifeshift#TradersballNigeria #InvestmentManagement #Lagos #Nigeria