Finance for Non-Financial Managers (New York, N.Y.)
Description
This program includes a comprehensive course manual for all participants and outlines the following:
Overview of Key Financial Decisions: Financing and Investment
Review Financial Statements: Balance Sheet, Income Statement
Discuss Pro Forma Financial Statements and Estimating External Capital Requirement
Learn About Raising Capital: Debt and Equity Securities and Markets
Review Dividend Policy and Internal/External Capital
Analyze Capital Structure Policy - Risk, Taxes and Financial Distress
Evaluate Investment Decisions: NPV and IRR rules
Determine Risk Considerations: Expected cash flows and risk-appropriate discount rates
Why Should You Attend This Seminar?
Many employees struggle with understanding the financial jargon and documentation within their companies. This seminar will help participants develop a deeper understanding of financial information and documents so that they can make better decisions within their companies.
Who Should Attend?
Staff
Supervisors
Managers
Directors
Vice Presidents
General Managers
Presidents
Lunch will be provided.
ABOUT THE LECTURER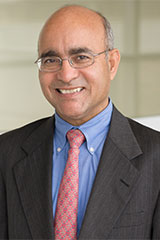 Ravi Shukla is an associate professor of finance at the Martin J. Whitman School of Management at Syracuse University. Mr. Shukla teaches undergraduate and graduate courses in finance and investments. His teaching awards include the Dean's citation for Excellence in Teaching (1998), MBA Student Association Outstanding Faculty (1998, 2002, and 2003), Beta Gamma Sigma Faculty Member of the Year (2001), and the Oberwager Prize (2002). Mr. Shukla has been a consultant to Inficon, Inc, The United States Mint, PaineWebber, Inc., and the pension fund management firm of Balch, Hardy, Schienman and Winston.
Mr. Shukla's research interests are in the area of investments. Specifically, he has worked in the areas of asset pricing, portfolio selection, and mutual fund performance evaluation. His work has been published in leading academic finance journals including the Journal of Finance, Journal of Financial Research and Journal of Economics and Business. Mr. Shukla's work has been cited in The Wall Street Journal, The New York Times, The Los Angeles Times,The Economist, Money, and numerous other newspapers and magazines. He has also made guest appearances on Financial Fitness, a personal finance program on WCNY TV. His recent work deals with attributes, composition, and performance of mutual funds. Mr. Shukla was an editor of Journal of Economics and Business and serves on the editorial advisory board of International Journal of Managerial Finance.