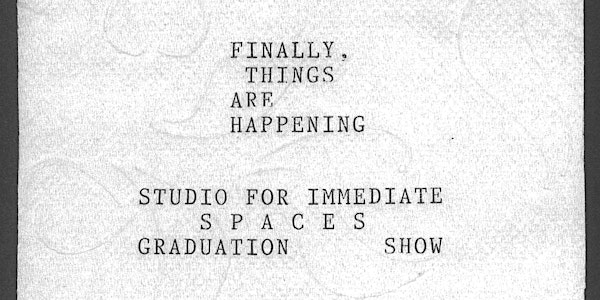 FINALLY, THINGS ARE HAPPENING
Studio for Immediate Spaces 2021 Graduates June 22–27, daily 12–20 hrs
When and where
Location
Maison Descartes Salle André Citroën 644I Prinsengracht 1017 KV Amsterdam Netherlands
About this event
With works by:
Daphné Keraudren, Valentine Hhevâh Langeard, George Mazari, Eleni Papadimitriou, Perf Group, Maria van der Togt, Diego Virgen, Mathias Vincent, Hannah Rose Whittle, Mariel Williams, Zane Zeivate, Jun Zhang
Curated by Kristoffer Zeiner
With FINALLY, THINGS ARE HAPPENING Studio for Immediate Spaces is proud to present works of its 2021 graduates. Through experimental and material research into the meanings and possibilities of coming together, sharing knowledge, caring for another – be it humans or nature – all works unite under the ambition to create or critically reflect on spaces to facilitate a new sociability. Through various media, ranging from film, performance to sculpture and environment, the works manifest as signs and symbols of a new normal that has changed the way of living together in recent months, creating novel perceptions of space, imagining alternative rituals and practices.
For the past months Reneenee / Maison Descartes and Kristoffer Zeiner gave refuge to the Studio for Immediate Space in times of harsh social regulations. For FINALLY, THINGS ARE HAPPENING Reneenee / Maison Descartes will once again host the Studio to showcase the results of its graduates' works, which to a large part were conceived and fostered in this magical place.
Book a time for the performance here:
https://www.eventbrite.co.uk/e/authentic-template-22021-tickets-159840391915