FINALE - The Open Mic Proving Grounds -Presented By Keep Moving Forward USA
An open mic series competition where YOU the artist get to prove you have what it takes to win over an unbiased crowd & a chance to network.
About this event
IT'S FINALE TIME! Over the last 10 weeks 70+ artists have made their way to San Antonio, Texas to compete in the first ever Open Mic & Proving Grounds hosted by Keep Moving Forward USA (@keepmovingforwardevents) on IG. We have successfully acquired 12 winners over 4 shows and on 8/24 they are back on stage, competing with a vengeance! The goal is and was to find artists with a special gift that could not only perform a dope song, but who could captivate the crowd, set the tone, keep their attention, and win them over! This is a competition series built on integrity. This show, winners will be chosen by the crowd casting a vote. Fans in the crowd will vote via DM by sending the name(s) of the artists they want to see win and or perform in the next round. Doors open @630pm, event ends at @10pm, its $10 to get in and this is an event you CAN NOT MISS!!!
Hosted By: @Cwilltooill & @Crystal Ravon
DJ: Jefe (@caffeine_papi)
Media: XCQ Shots, Dreads and Subarus, Blum TV
** This Eventbrite is for the August 24th FINALE show only.**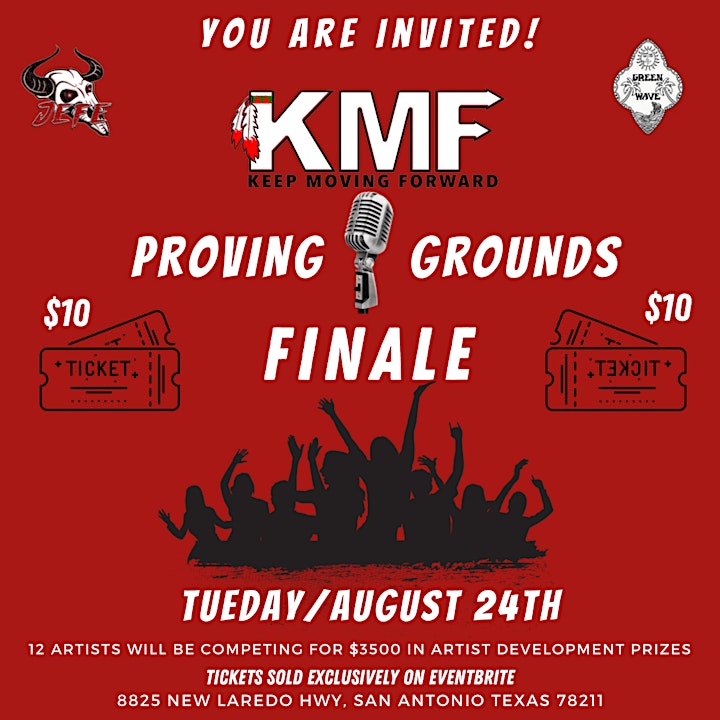 Organizer of FINALE - The Open Mic Proving Grounds -Presented By Keep Moving Forward USA