Description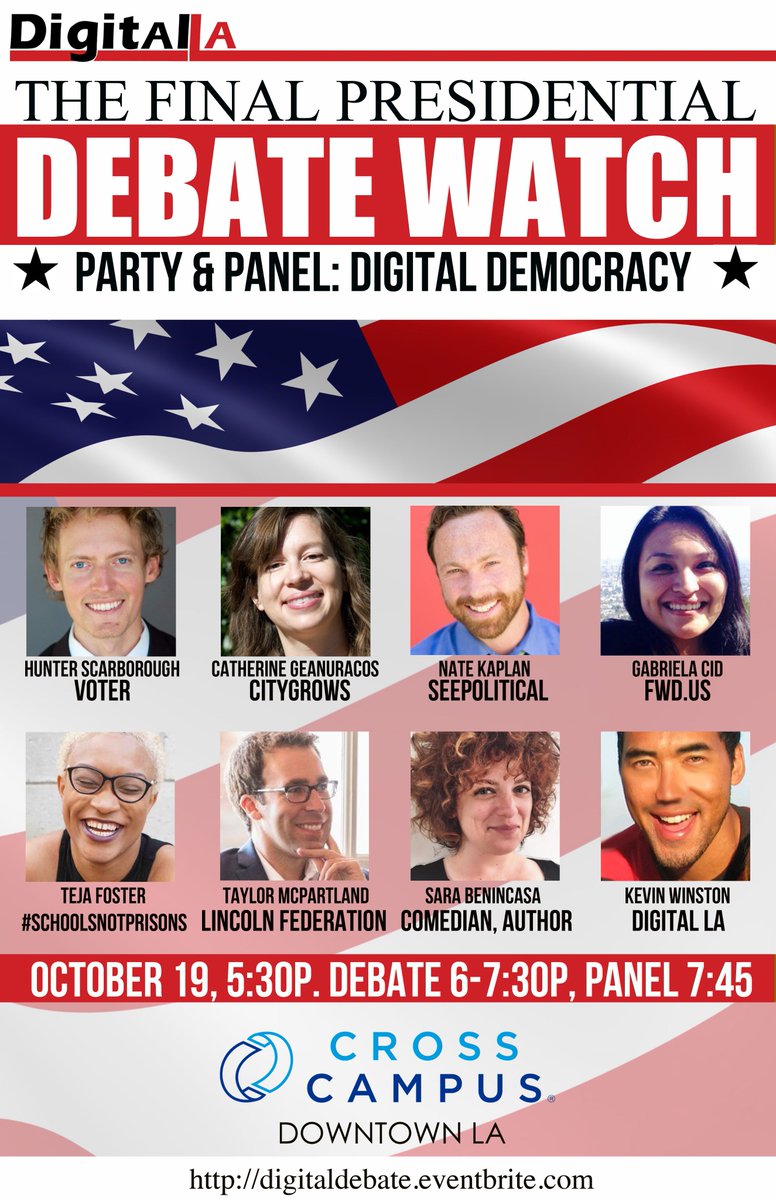 Join us to watch the Final Presidential Debate, followed by a panel with digital experts and leaders at Cross Campus Downtown. Our panelists will discuss how to use tech tools to increase voter registration, turnout, awareness, inspire action, from social media to influencers to increase awareness. We will also discuss startups /tech that are impacted by legislation such as immigration in this debate or ongoing, and what statups/ tech can do to get involved. Part of Innovate LA events Oct 6-23. FREE to attend!
AGENDA
- 5:30p-6p: Check-in and Registration. BBQ chicken and roasted potatoes provided by Clean Living Club
- 6-7:30p Third Presidential Debate
- 7:30-7:45p Comedian
- 7:45-8:45p Panel with experts, moderated by Kevin Winston, Digital LA
- 8:45-9:30p After Networking
PANEL SPEAKERS
Catherine Geanuracos, CityGrows, Chief Operating Officer. As COO of CityGrows, a workflow and transparency platform for local governments, Catherine manages business development, customer relations, marketing and communications, and business operations. Catherine has been engaged in digital political campaigns since 2004. She has managed voter engagement data and evaluation for two national political cycles for MoveOn.org and received two Pollie Awards for her work on Eric Garcetti's mayoral race. @Geanuracos,
Nate Kaplan, SeePolitical, Founder. SeePolitical is a 501c3 nonprofit producing fun, unbiased animations demystifying ballot measures and creating original content explaining the electoral process to increase civic awareness. SeePolitical animations have been distributed through online and major media distributors like ABC California affiliates, Univision, the LA Times, and NPR stations. Over 4 million Californians viewed SeePolitical animations in English and Spanish during the November 2014 elections cycle on the web and on television. Its mission is to get people interested and energized about voting. @seepolitical
Hunter Scarborough, Voter, Founder & CEO. Named the "#1 up-and-coming app" of 2016 by Newsweek, Voter is a platform to find the politicians, corporations, and causes that support your views. Often dubbed, "Tinder for politics," Voter analyzes big (political) data, including candidates' speeches, voting history, and campaign finance records, to give you complete confidence in your vote. He is a lead proponent on leveraging technology in the political process, speaking most recently at Mark Zuckerberg's foundation on immigration reform, FWD.us, and NPR's "Hack the Vote." @HuntaJames @Voter
Gabriela Cid, FWD.us, Southern CA Associate. Since 2013, FWD.us has been mobilizing the tech + business community in support of policies that keep the American Dream achievable in the 21st century, starting with commonsense immigration reform. With field offices all over the country, and through the use of digital platforms, FWD.us is helping shape this important political conversation. Gabriela has been working on the issue of immigration for close to 10 years, and is a graduate of UC Santa Barbara and the USC Sol Price School of Public Policy. @FWD_us
Teja Foster, #SchoolsNotPrisons. Teja has built her Digital Media presence in California through music, fashion and corporate events with her enthusiastic nature and personality. The growing environment of digital media helps her specific expertise in PR, social media, branding, search engine optimization (SEO) and blogging. Working on projects with the #SchoolsNotPrisons Tour, Weaving Movements of the San Diego Foundation, Revolve Impact, PBS Socal, Clear Channel, Griffith Observatory, Children Uniting Nations, guardNOW and the LA Travel Show has built her strong connections in the Los Angeles media. Teja is a graduate of California State University Northridge, and also studied at the University of Modena in Reggio Emilia, Italy. She is a passionate traveler who has visited over 10 countries to date. @TejaFoster
Taylor McPartland, Lincoln Federation, Director. The mission of the Lincoln Federation, often referred to as "Lincoln," is to advocte for entrepreneurs on relevant policy issues and inspire positive change throughout our community. @LincolnOrg @TayMcPartland
Moderator: Kevin Winston, Digital LA, Founder CEO
COMEDIAN: Sara Benincasa is a comedian and the author of "Real Artists Have Day Jobs" (William Morrow 2016) as well as the books "DC Trip" (Adaptive 2015); "Great" (HarperTeen 2014); and "Agorafabulous!: Dispatches From My Bedroom" (William Morrow 2012). She also wrote a very silly book called "Tim Kaine Is Your Nice Dad" (2016). She is currently adapting "DC Trip" as a film with producers Albert Berger and Ron Yerxa ("Little Miss Sunshine," "Nebraska," "Election"), Van Toffler, and Adaptive Studios; "Agorafabulous!" for TV with Diablo Cody; and "Great" for TV with Muse Entertainment. She has been a talk radio host and producer, a freelance writer covering whatever anyone would pay her to do, a schoolteacher, a writing tutor, a janitor, a party store employee, a legal assistant, an editor, a bathtub talk show host, a sports blogger, and a ton of other stuff. In 2008, she was a citizen journalist for MTV News. She got to be on TRL. It was awesome. Recent roles include "The Jim Gaffigan Show" on TVLand (2016) and the critically acclaimed short film "The Focus Group" (2016) which she also wrote. @sarajbenincasa
HOST COMMITTEE: Thanks to our Host Committee
- Lora O'Connor, Cate Park and Cookie Parker, former Co-Chairs, So Cal Tech4Obama
- Kevin Winston, Digital LA
To be part of our Host Committee or Community Partners, email info@digitalla.net with DEBATE as subject
PARTNERS: Thanks to our partners:
Innovate LA is a two week, countywide celebration of the breadth of innovation and creativity within our region Oct 6-23. From cleantech to gaming, aerospace to digital media and beyond, Los Angeles is a leading global center for innovation and entrepreneurship and we're showcasing and celebrating that with a series of events, lectures and talks all over LA. http://innovate.la #InnovateLA
Cross Campus is a leading collaborative, on-­demand work space and business event venue. Its vision is to re-­imagine the office by creating a more inspiring, productive and socially connected environment for startups, entrepreneurs and creative professionals. @CrossCampusLA
Clean Living Club provides subscription-based healthy organic meals, a day's supply of food (breakfast and lunch) every day to small businesses and startups. Eat healthy while you're working on your startup! @CleanLivingClub To get 50% off your first month, use code DIGITALLACLC by Friday Oct 21 at http://cleanlivingclub.com
Organizer of Final Presidential Debate Watch Party and Panel: Digital Democracy - Making a Difference with Tech
Digital LA is the largest digital networking group based in LA, reaching more than 80,000 professionals weekly via its newsletter and social media.  Digital LA organizes weekly panels and mixers for digital professionals, including startup CEOs, VCs and investors, entertainment including Hollywood movie and TV studios, music labels, agencies, video games, VFX, social media, digital advertising, developers, designers, marketing and and more. Digital LA is the founder of Silicon Beach Fest, the original and largest multi-day startup / entertainment conference. Follow @DigitalLA.  Digital LA has been recognized by Forbes and the LA Times as keeping LA's tech community together via its fun and friendly events.