Description
Final Fridays will be making its way to the shaded oaks and immaculate grounds surrounding the Rose Bowl Stadium. Bring a blanket, ball, and the family to Pasadena's premiere 5-star park – The Greens at the Rose Bowl. Additional activities to include foot golf, outdoor games, moon bounces, photo opportunities, and tours of the Rose Bowl Stadium.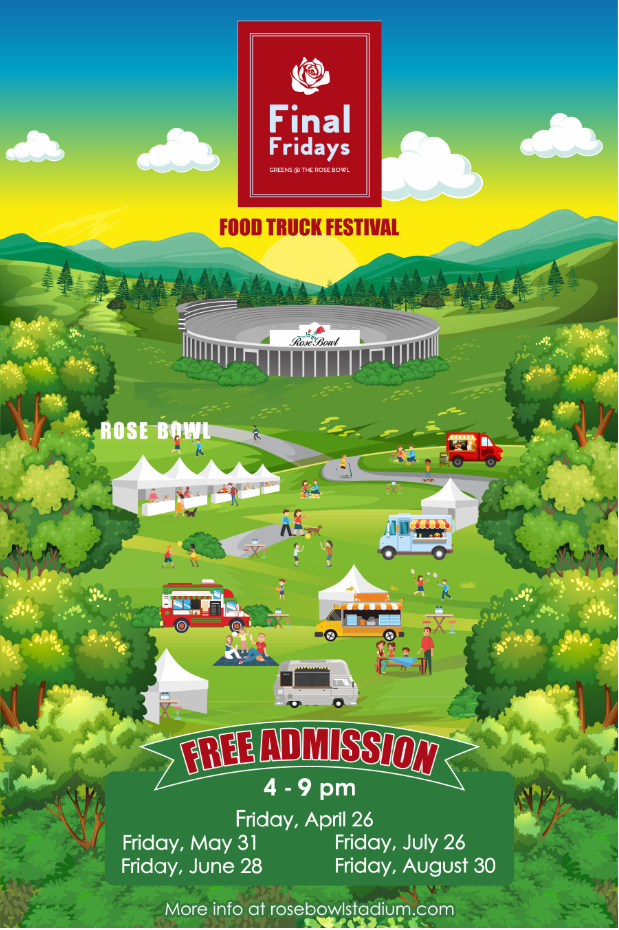 Admission and parking is free for all attendees. Entry to the event is through north Lot K. Final Fridays will take place on the following dates:
Friday, May 31st from 4:00 – 9:00 PM

Friday, June 28th from 4:00 – 9:00 PM

Friday, July 26th from 4:00 – 9:00 PM

Friday, August 30th from 4:00 – 9:00 PM
FOOD: Border Grill, Rice Balls of Fire, Belly Bombz, Hungry Belly, The Chicken and Rice Guys, Robin's Wood Fire BBQ, Triple Threat Truck, The Tropic Truck, Chicken Tenders, Pizza, Fish Tacos, Dreamy Creations, Auntie Anne's, Kona Ice and Gelato Vegan popsicles!
MUSIC: Dylan Dunlap, Flavia and Undecided Future!