| | |
| --- | --- |
| Final Extension Pmts 1 & 2 for The Ultimate Weekend Getaway Bahamas Cruise | |
Event Details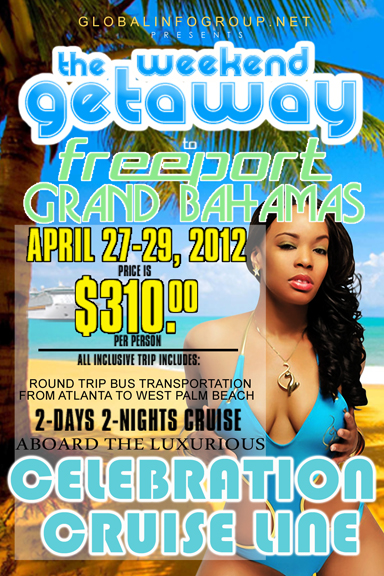 Don't miss your chance to enjoy... 
THE ULTIMATE WEEKEND GETAWAY
  Atlanta/West Palm Beach/Bahamas Day Cruise Weekend
Cruise Fee $310.00**
April 27th - April 29th 
Party in West Palm Beach Florida & Cruise to the Bahamas
...DUE TO OVERWHELMING RESPONSE BY ATTENDEES THE DATE FOR PAYMENT OF CRUISE DEPOSIT HAS BEEN EXTENDED...YET AGAIN DON'T DELAY!!!
$70.00* "NON-REFUNDABLE" Down Payment Per-Person Due by March. 30th
*Includes $10.00 One Time Split Fee
Non-Bus Rider Rates Available
Oceanview Cabin Upgrade an additional $20.00
**Does Not Include Optional $20.00 Cruise Protection Fee
EVENT ITINERARY
Fri.  April 27   Bus Departs ATL - West Palm Beach                       12:00AM
Fri.  April 27    Ship Departs West Palm Beach                                5:30PM
Sat.  April 28   Ship Docks in Grand Bahama Island, Bahamas         9:00AM - 5:00 PM
Sun. April 29   Ship Docks back in West Palm Beach                       8:00AM
Sun. April 29   Bus Departs West Palm Beach - ATL                       9:00AM 
2-Night Cruise

Celebration Cruise line is the exclusive cruise line sailing out of the Port of Palm Beach, FL and the only 2-Night cruise anywhere sailing to the Bahamas. It also has the best vacation entertainment value anywhere. Come onboard and join the fun!

Day 1
The Celebration 2-Night Cruise departs every other day of the week from the Port of Palm Beach at 5:30pm. While passengers have until 4:30 to board the ship, the fun begins at noon with early boarding with a delicious buffet lunch, drinks by the pool and a full slate of fun poolside activities. Don't miss a moment of fun.

Kick off the evening with an amazing treatment at the Fountain of Youth Spa, followed by dinner in one of Celebration's four restaurants. After dinner, it's off to The View for a Las Vegas influenced live show with plenty of great entertainment. Now it's time to get serious about the fun and if traveling with children, dropping them off at one of the three supervised and age-appropriate Kid's Clubs is good option. Try your luck at the spectacular Wynmore Casino with slots, blackjack, poker and many other games of chance and skill. From there it's back to The View, which is now the hottest nightclub at sea! Dance the night away to the best of live and recorded music.

Ready for bed? We didn't think so. There is more live music and partying going on under the stars poolside. And lots more delicious food to eat. The Wynmore Casino and The View are open to the early morning hours and await your return visit. There is fun going on in the various lounges on the ship including the Karaoke in the Ocean Breeze. And speaking of karaoke, if you can sing be sure to sign up for Celebration's $250,000 Caribbean Idol Karaoke Contest.



Day 2
The Bahamas Celebration arrives in Grand Bahama Island at 8am, allowing for a full day of fun and exotic activities. To get the most out of your day in paradise, we strongly suggest signing up for one of our fun and affordable add-on shore excursions. The beautiful 4-star, 372-acre Our Lucaya Beach & Golf Resort is the hub for your Bahamas experience. Enjoy beautiful white sandy beaches, seven pools, a delicious buffet lunch, lots of water sports and so much more at one of the prettiest resorts you'll ever visit. Snorkel with tropical fish above the coral reefs, take a glass bottom boat tour, swim with dolphins or choose another great memory making excursion!

Select a different restaurant for your second night on the ship, for a completely different dining experience. A visit to the spa beforehand will help you look your best, as well as sooth any tired muscles - this is cruise life at its best!

After dinner, be sure to do all of the things you didn't have time for the first night and repeat all of the things you enjoyed most. The show in The View will be new, and the music throughout the evening will get you off your seat and out on onto the dance floor. There's plenty of time to sleep the next night when you get home so take advantage of everything on your last cruise night.

 

Adult Fun

You had a great day, dinner was terrific, the sun has set, it's now time to indulge your playful side and experience adult fun at its finest!

The Wynmore Casino
"We have a winner!" Your adrenaline will soar as you join lady luck in our plush and friendly Las Vegas style casino. Open day and night until 3 A.M while out at sea, you can find treasure at the slots, double down on a hand of black jack and play your favorite lucky numbers on our roulette tables. And with baccarat, poker and more, there's never a dull moment on our casino floor! Be sure to ask about the free "Match Play" when entering the casino; and if you're new to gaming we have instructional classes as well. Good Luck! Visit Wynmore Casino.

The View
You'll find entertainment at its finest in our stylish club, The View. This spectacular two-level room venue is the perfect place for incredible live entertainment, fantastic live music and an all-night dance party! It's sure to become your hot spot. The enjoyable after-dinner shows will appeal to family members of all ages. The shows are constantly changing with talented singers, dancers, comedians, magic and acrobats performing amazing fears. Afterwards, it's time for the adults to party - because once the music starts pumping, everyone hits the dance floor. It's a "Tropicool" South Beach atmosphere, without the bouncer, and you're on the list! And no matter what your listening pleasure, the wide variety of music played is certain to include some of your favorites. Best of all no need to worry about who's driving home; your pillow will be just steps away! Visit The View.

A Club or Pub for Everyone's Taste
Whether you're a beer and wine drinker or enjoy exotic drinks, we have all the beverages you'll love in an atmosphere to match! Enjoy live music in an English pub, sip a Bahama Mama poolside with beautiful ocean views and head-bopping island music or watch your favorite team in the sports bar where sports betting is permitted. How about showing off your singing talent in our Karaoke lounge with your "newest" friends and if you're good, you can win up to $10,000!  Have fun and enjoy all your favorite drinks in the The View and casino.




Grand Bahamas Islands Excursions

Our Lucaya Beach Resort Day With Lunch Option
Our guests' favorite experience includes a scenic drive by air-conditioned bus to the "Our Lucaya Beach Resorts," a stunning 372 acre resort complex situated on one of the finest beaches in the Caribbean. Enjoy the day at this stunning 4-Star resort with its 7 acres of pristine white sandy beaches. It's the perfect beach to enjoy the radiant sunshine of the Bahamas, build sand castles, or splash about the warm crystal clear blue waters of the Caribbean. Here you will have full access to two adjacent, breathtaking resorts; including 6 refreshing pools, relaxing jacuzzis, and adult swim-up bars. Kids can enjoy a family friendly, along with poolside games, crafts and athletic competitions. Adults that want to stay dry can play some basketball, tennis and volleyball, or head over to the Port Lucaya Market Place for some great duty-free shopping. And, after all this fun in the sun, enjoy a nice buffet lunch at the Portobello's Restaurant. Your experience also includes changing facilities for your convenience. It's an incredible fun-filled day!
Transportation, Chair and Towel Included
Also available without Lunch
Adults: $37 / Children: $19 
With Lunch Buffet Included, Total Price: $51/ Children: $23


Glass Bottom Boat Tour (1.5 Hours Approx) 
Breathtaking views and exciting discoveries await you while cruising around the shallow coral reefs surrounding the Grand Bahamas Island. View landmarks of beauty such as Cooper's Medieval Castle while sailing onboard the "Ocean Wonder," a 60 foot double-deck glass bottom boat that offers a sun deck, as well as a shaded area.
Professional crew members will provide information regarding the multi-colored sea life, coral formations, and other wonders of the underwater world. You will even have the opportunity to feed the tropical fish. Then you will be taken to Brit's Wreck, submerged in the waters near Treasure Reef.
Limited Space, Weather Permitting
Adults: $51 / Children: $22 / Ages 2 and under free.
With Our Lucaya Beach Resort Lunch Adults: $71 / Children: $33


SNORKEL ADVENTURE TOUR (2 Hours approx.)
This unforgettable snorkeling adventure presents a unique experience for all levels. You will discover a whole new underwater world abundant with flourishing reefs and fascinating tropical fish. Snorkel equipment, snorkel jackets and instructions by an experienced and professional staff are all included.
Children under 10 years old must remain on the boat supervised by parent
Limited Space, Weather Permitting
Adults $51 / Children: $21
With Our Lucaya Beach Resort Lunch Adults: $71 / Children: $33


CITY TOUR (2 Hours approx.)
Millionaire's Row as the name implies, is Grand Bahama's version of Beverly Hills. See the commercial commerce area located downtown which houses many businesses. While there, visit one of the conch vendors and find out
just how to make conch salad, experience the open air fruit market and a little further west, see our deep water harbor. See the home where the international entertainer, Count Basic once lived. Before ending the tour don´t miss shopping at Port Lucaya Market Place where many souvenirs can be purchased.
Limited Space
Adults $38 / Children: $14
With Our Lucaya Beach Resort Lunch Adults: $71 / Children: $25



GARDEN OF THE GROVES (2 Hours approx.)
The tour will commence with a bus ride through the City of Freeport, past the International Bazaar with its Tori Gate, along Church Row and the endemic Pine forest. Upon arrival at the Botanical Gardens of the Groves you will have a guided tour and be able to explore on your own, Interpretive signs will highlight this lush tropical landscape
with trees and flowers from the Bahamas and around the world. You will find a replica of the original chapel from the early logging days, tranquil lagoons with cascading waterfalls, a spiritual Labyrinth for meditation, and an open-air café deck. In the family area, children will be able to enjoy a magnificent cedar play set. Walk down into the cool fern grove and marvel at the magnificent limestone boulders that tower both sides of the trail! You may also want to relax on the "Cafe" deck where cool Bahamian drinks and local delicacies can be purchased. Visit the arts and crafts village where you may purchase souvenirs produced by local artisans utilizing native materials on the island. After your visit at the Garden you will be transported to Port Lucaya Marketplace for one hour of shopping and return to the ship.
Due the popularity of this activity and limited space, online booking is not available. We apologize for the inconvenience. Please see our Shore Excursion Desk located on Deck 3 upon boarding the ship to book this activity.
Adults $47 / Children: $21
Purchase at the Shore Excursion Desk on deck 3.

HORSE BACK RIDE (ECO TOUR) (2 Hours approx.)
A two hour guided trail ride will take you through the endangered pine forest and hardwood coppice, past Cooper's Castle, along the beach and into the ocean. Literally you will get wet. The guides will tell the story of Freeport as you ride from the Stables. Along the bridle path the guides will point out the trees and spices, butterflies, birds and bush medicine plants. They will tell tales of movie stars and pirates. No experience is necessary. Leisurely pace on experienced trail horses with friendly guides. Long pants and shoes that can get wet are recommended. Helmets are available. Bring a small camera and the guides will take your pictures for a memorable experience.
Minimum rider age is 8 years
Weight Limit 200 Lbs
Not advisable for pregnant women
Due the popularity of this activity and limited space, online booking is not available. We apologize for the inconvenience. Please see our Shore Excursion Desk located on Deck 3 upon boarding the ship to book this activity.
Adults $141.00 Children: $108.00 
Purchase at the Shore Excursion Desk on deck 3.

DOLPHIN CLOSE ENCOUNTER (2 Hours approx.)
This tour will commence with a short ferry boat ride to The Dolphin Experience Lagoon. Then you will take a seat on the dock for a quick orientation. The dolphins will swim by your feet while our friendly animal care staff will tell you interesting facts about these wonderful creatures. This is a good opportunity to ask them anything you ever
wanted to know about these amazing animals. You will then take turns stepping down onto the platform in waist deep water and stand facing each other. The
dolphins will swim to a position between the participants. You'll be able to touch the dolphins while the staff member answers any questions you may have.
Due the popularity of this activity and limited space, online booking is not available. We apologize for the inconvenience. Please see our Shore Excursion Desk located on Deck 3 upon boarding the ship to book this activity.
Adults $116 / Children: $89
Purchase at the Shore Excursion Desk on deck 3. 

DOLPHIN SWIM (2 Hours approx.)
A short ferry boat ride will take you to The Dolphin Experience Lagoon where your adventure will begin. You will break into groups of 6 and each group will take turns swimming with the dolphins. As you swim with the dolphins, you will be given an opportunity to give them a few hand signals and they will show off their trained behavior. As you swim and interact with the dolphins, our animal care staff provides you with facts about these wonderful animals. While others are in the water, you can take photos from our deck of the dolphins or of your family and friends. Each group will be in the water for approximately 20-25minutes. Swim fins are provided, which will assist you during your swim.
Children must be at least 55 Inches in height
Not advisable for pregnant women
Due the popularity of this activity and limited space, online booking is not available. We apologize for the inconvenience. Please see our Shore Excursion Desk located on Deck 3 upon boarding the ship to book this activity.
Adults $202 / Children: $174
Purchase at the Shore Excursion Desk on deck 3.

JEEP ADVENTURE (ECO TOUR) 
This jeep adventure is one of the most exciting things to do on Grand Bahama Island. It has something for everyone: sightseeing; beach time and swimming; a light lunch and shopping. It also includes many points of interest that would normally be part of a separate tour. On this tour you drive your open top 4X4 jeep while being led in a convoy by an experienced island guide. At various stops your guide will narrate the history of the island from its first inhabitants, the Lucayan Indians, to the modern day founders of the city of Freeport. The Lucayan National Park is the turn around point and also the stop for lunch and a visit to beautiful Gold Rock Beach and the historic Lucayan Indian caves. Don't forget to wear your swimsuit and bring a towel. After lunch you will be dropped off at Port Lucaya Marketplace for shopping and return to your ship.
Must have driver´s license, Must be 25 years or older to drive, four persons per jeep
Duration: 4hours approx
Adults $81 / Children: $54
Due the popularity of this activity and limited space, online booking is not available. We apologize for the inconvenience. Please see our Shore Excursion Desk located on Deck 3 upon boarding the ship to book this activity.

JEEP ADVENTURE (ECO TOUR) & SNORKELING ADVENTURE TOUR
Must have driver´s license, Must be 25 years or older to drive, four persons per jeep
Duration: 4hours approx
Adults $97 / Children: $63
Due the popularity of this activity and limited space, online booking is not available. We apologize for the inconvenience. Please see our Shore Excursion Desk located on Deck 3 upon boarding the ship to book this activity.

OUR LUCAYA BEACH RESORT DAY WITH LUNCH & JEEP ADVENTURE (ECO TOUR)
Must have driver´s license, Must be 25 years or older to drive, four persons per jeep
Adults $97 / Children: $69
Due the popularity of this activity and limited space, online booking is not available. We apologize for the inconvenience. Please see our Shore Excursion Desk located on Deck 3 upon boarding the ship to book this activity.

DISCOVER SCUBA DIVING 
You will learn how to use scuba gear in the swimming pool. The scuba diving instructor will go over basic information with you about pool diving. Then you will get in the pool, and they will teach you how to use the equipment while diving underwater. Then the instructor will take you on your first dive. You will dive in 20ft. of water. The dive instructor will guide you around underwater on a reef.
Due the popularity of this activity and limited space, online booking is not available. We apologize for the inconvenience. Please see our Shore Excursion Desk located on Deck 3 upon boarding the ship to book this activity.
Equipment included
Duration: 3.5 hours approx
Adults $135 / Children: $135

ONE TANK DIVE
Dive The Bahamas - "Voted One of the Top Dive Destination in The World." With fascinating shipwrecks, rich tropical sea life, and lush coral gardens, you can experience the dive adventure of a lifetime. Come dive the best of The Bahamas. Sign up now and dive today!
Water Depth: Usually a Reef/Wreck in 30-40ft. of ocean water.
Must be Certified Diver with dive card
Due the popularity of this activity and limited space, online booking is not available. We apologize for the inconvenience. Please see our Shore Excursion Desk located on Deck 3 upon boarding the ship to book this activity.
Tanks and Weights Included
Duration: 2.5 hours approx
Adults $92 / Children: $92

TWO TANK DIVE
The first dive of the day is at a maximum depth of 80ft. Some of the most glorious and ancient corals have formed in these dive sites and give you an amazing view of this incredible work of nature. Small blue holes, plate corals, star corals, schools of Creole wrasse, paired with groupers, jacks, Bermuda chubs, and every other reef fish are a usual part of the first dive. After a surface interval spent on the boat traveling from one dive site to the other, you will then be able to enjoy a second dive on one of our many reefs. Experience your second dive at a maximum depth of 60ft, cruising around the scattered coral.
Must be Certified Diver with dive card
Due the popularity of this activity and limited space, online booking is not available. We apologize for the inconvenience. Please see our Shore Excursion Desk located on Deck 3 upon boarding the ship to book this activity.
Tanks and Weights Included
Duration: 4hours approx
Adults $141 / Children: $141

SHARK DIVE
UNEXSO pioneered this existing dive almost 20 years ago and was the first to offer shark diving on Grand Bahama Island. Our staff are considered experts in shark behavior and conservation and will organize an up close and personal experience with the sharks at UNEXSO´s shark junction. The expanded pre-dive briefing dispels the misconceptions about sharks, covers information about shark behavior and highlights interesting facts about these misunderstood creatures. During the dive you´ll observe these magnificent creatures as our experience staff feeds and interacts with sharks of all sizes. You will come away from the experience with a new appreciation of these beautiful animals and understand the need for increased conservation measures.
Must be Certified Diver with dive card
Due the popularity of this activity and limited space, online booking is not available. We apologize for the inconvenience. Please see our Shore Excursion Desk located on Deck 3 upon boarding the ship to book this activity.
Tanks and Weights Included
Duration: 2-3hrs approx
Adults $141 / Children: $141

SAIL BOAT
Come aboard the 42ft catamaran FantaSea on our relaxing Coastal Sailing Tour. Enjoy the scenery of the crystal clear turquoise water, swaying coconut trees and remote sandy white beaches. Relax on deck as the sails are hoisted as we cruise along the Southern Coastline. Sip on the local unlimited Rum punch or Fruit Punch which ever you wish as you listen to the ocean's sounds as you lay back on the sun deck or enjoy a shaded seat. Included: Unlimited Rum or Fruit Punch beverages.
Wear/Bring: Sunscreen, hat, sunglasses, waterproof camera.
Not recommended to children under 10 years old
Limited Space, Subject to scheduling
Duration: 2hours approx
Adults $48 / Children: $28


BOTTOM REEF FISHING
Try your hand at bottom fishing aboard a 47 ft Key West boat. In the turquoise water in Freeport. Catch a variety of shallow water fish like Snappers, Porgies, Jacks and Trigger Fish just to name a few, using light bait, tackle, ice and cooler.
Not recommended to children under 10 years old
Due the popularity of this activity and limited space, online booking is not available. We apologize for the inconvenience. Please see our Shore Excursion Desk located on Deck 3 upon boarding the ship to book this activity.
Duration: 3hours approx
Adults $78 / Children: $50

Our Lucaya Golf Day
Our Lucaya Golf & Beach Resort offers two championship golf courses, each distinctively unique. The Our Lucayan, designed by Dick Wilson, boasts 6,824 yards of lush, championship golf, featuring tree-lined doglegs and elevated tropical greens. The Reef Course, a 6,290-yard Robert Trent Jones, Jr. signature design, is the first Bahamian course to open since 1969, featuring water playing off 13 holes. If that's not enough to convince you, both the Our Lucayan and The Reef have been named as "Number One in the Bahamas" by LINKS Magazine as well as honored in the "Top 100 Golf Resorts in the World" by Golfer Magazine. One is long with plenty of water hazards throughout. The other is well-guarded with bunkers at the greens. Choose to play 18 or 9 holes. Golf clubs are permitted aboard the ship at no additional cost as well as for rent on both courses.
9 Holes: Adults $65 / Children: $65
18 Holes: Adults $95 / Children: $95


LUCAYAN NATIONAL PARK KAYAK TOUR
This tour is packed with several features that would normally be sold as separate tours. From the moment you leave the harbor you will be treated to a narrated tour of Freeport highlights that is usually sold as a separate tour. Your destination is the Lucayan National Park that was the home of the original Indian inhabitants-the Lucayan's. The gentle flowing creek in the National Park is safe and enjoyable in any weather for a kayak trip. Paddling with the current is easy and the accompanying guides provide you with instructions. This is not a "wet" tour you can wear your street clothes. Our kayaks are wide and stable and easy to get in and easy to get out. The trip is 90 minutes long which is just right for most people. A large shelter on a beautiful beach at the Park follows the kayaking-time to relax and enjoy a light snack. There is a moderate amount of walking along boardwalk nature trails but no special footwear is required. The tour includes a visit to the Lucayan Indian caves in the Park (usually sold as a separate tour). Bring along a bottle of water for refills. Shorts, tee shirt or pullover and a hat are
recommended. The salt waters of the creek inhibits insect growth but repellent is available if needed
Limited Space, Subject to scheduling, Weather Permitting
Duration: 4.5hours approx
Adults $81 / Children: $26



Grand Bahama Yacht Club with Lunch
You will be picked up from the ship in a luxury vehicle and driven to Grand Bahama Yacht Club in The Lucaya area of Freeport. A special lunch will be served at The Pool Bar named "THE CONCK GALLEY". Grand Bahama Yacht Club is the only five star marina in the Bahamas. After lunch, we will take you on a canal tour along the inter coastal waterway where you will see "The rich and famous" people of Freeport live. Starting with the famous "BOAT HOUSE", a twelve million dollar mansion built for the largest tanker ship owner in the world. You will be cruising through two marinas where you will see many Mega Yachts valued up to fifty million dollars each. Port Lucaya Marina and Grand Bahama Yacht Club have become a frequent port of choice for many of these large boats as well as many
Sport Fishing boats that come here to catch Tuna, Wahoo, Mahi Mahi, Blue Marlin and Sailfish. Large fishing ornaments are held at Port Lucaya Marina which is located in the middle of more than 80 shops, restaurants and the most gorgeous white sandy beach. The canal tour will take you through the crystal clear canal, make a short stop at the famous "Dolphin Experience" (Not the program) and continue down "Millionaire Row" with its many beautiful homes. After the canal tour, we will take you back to the ship or we can drop you off at Port Lucaya for shopping and after words back to the Bahamas Celebration.
Limited Space, Weather Permitting
Free WiFi Available
Adult $ 115 Child $ 95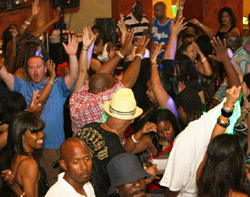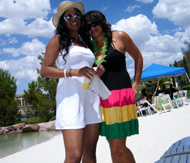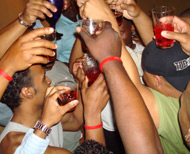 For bus schedule & complete event itinerary email AHASEN99@YAHOO.COM  or contact Marc @             770-885-7909
Where

Freeport, City of Freeport
Bahamas