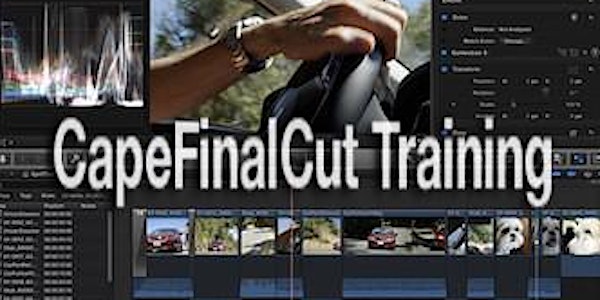 Final Cut Pro X (FCPX) Creative Editing Workshop | Cape Town, South Africa
Final Cut Pro X (FCPX) Creative Editing Workshop | Cape Town, South Africa
When and where
Location
Lagoon Beach Hotel 1 Lagoon Gate Drive Lagoon Beach Cape Town, WC 7405 South Africa
About this event
 CapeFinalCut Training 
Creative Editing Courses 
Massively Increase you video editing Productivity ! 
Final Cut Pro X is an industry leading nonlinear editing software for broadcast and corporate video. Our FCPX training courses give you the tools to edit your footage to a professional standard. This is the only course in Cape Town (FIlm Schools included) that focus on the create aspect of post production.
What you get with this course is a Professional Editor (Who Makes his living from FCPX) giving away his tricks, tips and workflows on mastering this incredibily powerful Application.
We offer courses to suit every level of FCPX user, so whether you're new to the software and are looking for introductory courses or want to improve your current way of working with one of our more advanced courses, we have a workshop to suit you.
1 Day Course
Time: 10.00am - 3.30pm
Price: R 1,500
2 Day Course
Time: 10.00am - 3.30pm
Price: R 2,500
To start your Final Cut Pro X learning simply Book Tickets and share link:  EVENTBRITE
or Alternatively PAY NO BOOKING FEES BY BOOKING DIRECT: CAPEFINALCUT 
• FINAL CUT PRO X ESSENTIAL TRAINING WORKSHOP
Start editing your video professionally with Final Cut Pro X ! If you are looking for a video editing application that will allow you to edit videos however you want them with lightning speed, Final Cut Pro X is the best answer. FCPX is used by professionals across the world for every type of production from business ; marketing videos, music videos to documentaries, feature films. Saving hundreds of thousand in Post-.
This Workshop is the best way to jump right in and start editing. It is also great for editors migrating from Final Cut Pro 7 or Premier Pro to get a hang of this Revolutionary interface or even just use it as an extra powerful app for media management and transcoding.
Session 1 - (10:00 - 12:00)
Overview of Interface
Keywords and ratings
Different kinds of edits Using markers
Clip Appearance Tools
The Precision Editor
Transitions
Titles
Transforming
Built-in Video Effects
Clip Effects
Generators
 Session 2 - (12:30 - 15:30)
Generators
Compound Clips
Storylines
Auditions
Retiming Clips for Slow motion
Clip Analysis
Colour Correction 
Importing
Exporting
Sharing Projects
Managing media and Projects
By the end of this course we will have gone through all of FCPX's powerful features and completed a full edit with Titling, colour grading and sharing the video into multiple formats.
When the course starts you will receive detailed notes of the basicsand advanced editing tips, Keyboard Shortcuts for FCPX plus links to further yourstudies.
We also include tricks and tips for filming (Shooting for the Edit), lighting, audio for video and DSLR filmmaking Fundamentals.
This is more than just an editing course !
" Cut with the Gut !  Art in the interpretation "