Sales Have Ended
Registrations are closed
You will be asked for a $5.00 donation at door.
Sales Have Ended
Registrations are closed
You will be asked for a $5.00 donation at door.
Description
lacpug meets are now made possible by

Next lacpug Meet is Wednesday, January 24, 2018
beginning at 6:45PM
- till we drop at the Gallery Theatre in Hollywood Ca.

Final Cut Pro X 10.4 Night
We intend to devote the entire night to Final Cut Pro X 10.4

There will be an Apple presentation
PLUS the new iMac Pro. will be in the house.
Also - A real world case study on how to shave an absurd amount of money off your next film or documentary with the new features in FCPX 10.4.
This study was just battle tested by 3 teams of filmmakers inlcuding LumaForge, We Make Movies, Hollywood High School, and The Mobile Film Classroom. And these 3 teams of filmmakers will be here to show and tell.
If you are at all interested in FCP X 10.4 or use 10.4, then this is the event you can't miss.
---
Agenda (subject to change and availability)
6:45- 7:15PM - Stump the Gurus
Join Gurus Patrick Southern, Michael Matzdorf, Charlie Austin and Bill Davis as they will attempt to answer all of your questions and solve all of your problems concerning Resolve and FCPX, Avid, Premiere Pro and anything else you can think of. If they can't solve your problem or answer your question, then you go home with a problem, but you still got out of the house, so that's not a bad thing.
7:20PM - 7:25PM - Announcements
This is your time, assuming we have time. New to LA? Say Hello. Got a movie you want people to see? Tell us about it. Looking for a job? Tell us. Offering a job? Tell us.

7:30PM - 8:30PM - Final Cut Pro X 10.4 - Apple
We welcome Apple back to lacpug. They intend to show off some of the cool new features of Final Cut Pro X 10.4. What features remain to be seen.

8:30- 9:00PM - Break
This is the most important part of the show. It's networking time. This is a great opportunity to not only ask questions and get problems solved, but to meet people that just might change your life. Edit5 Consoles will be in lobby showing off Editing tables and chairs. Also teh new iMac Pro will be in the lobby. Plus much more I cant say. Get to the Gallery early for this one. Snack bar wil be open for sodas, water, wine, chips and beer.


9:00PM - 9:55PM - Final Cut Pro X 10.4 Short Film Project.
A real world case study on how to shave an absurd amount of money off your next film or documentary with the new features in FCPX 10.4. This study was just battle tested by 3 teams of filmmakers inlcuding LumaForge, We Make Movies, Hollywood High School, and The Mobile Film Classroom. And these 3 teams of filmmakers will be here to show and tell. Sam Mestman of LumaForge will host.


- We Make Movies - "The Dancer" - Krista Amigone

About Krista Amigone
Originally from Buffalo, NY, Krista Amigone graduated from Butler University magna cum laude with a BFA in Dance Performance. Krista danced and choreographed in New York City while performing long-form improv and completing the two-year Meisner program at the William Esper Studio. Later she worked with The Collective NYC originating many roles for the stage, and also produced her own play, Anna Abock, which was a finalist in The Network NYC's One Act Film Festival. Notable film credits include Blink, Left Bank Bookseller, 95 Decibels, Logan's Power, and Julian Got the Part, which she co-wrote with Maayan Laufer and is currently on the festival circuit.
Now in Los Angeles and a stay-at-home-mom, Krista writes, acts, and directs with the help of a supportive husband, an awesome kid, and the inclusive filmmaking community We Make Movies. There Krista has had multiple comedy sketches produced, acted a lead role in the pilot Off the Grid, and wrote and directed her own web series, She's So Right! Recently Krista wrote and directed the short film Luck, currently in post-production, and is now in pre-production for her Twilight Zone inspired short film Of Christmas Past. "It's an honor and a privilege to be a part of the Apple Film Challenge and she hopes The Dancer touches many and helps push the narrative that women, and moms, can and are forces within the filmmaking community."


About Sam Mestman
Sam Mestman is the CEO of LumaForge, maker of the Jellyfish and the ShareStation, the world's most advance shared storage for media and entertainment. He is also Founder of We Make Movies, the world's first community funded production company. As a professional editor and colorist, he has worked for Apple, ESPN, Glee, and Break Media (to name a few), and has edited or colored hundreds of shorts, features, web series, and just about every other type of content you can think of. He is also one of the world's leading experts on Final Cut Pro X Workflow, and is responsible for some of the largest FCPX professional integrations in the world.
- Hollywood High - "The Box" - Antonio Manriquez
by Celine Gimpirea
Eight-year old Tommy wanders away from a family gathering when no one will play with him. He finds a mysterious cardboard box in the middle of a trail. While inspecting it, the box takes him on a journey, teleporting him to strange new places. Fearing that he's getting further away from his family, Tommy must find a way to get back to safety.
Crew"
Celine Gimpirea - Writer/Director
Kais Karram - 1st A.D.
Zane Karram - D.P.
Jozeven "JJ" Tolibao - 1st AC
Karla Martinez - 2nd AC
Polina Dubkova - Script Supervisor
Chela Roppolo - Production Sound Mixer
Aldo Jimenez - Gaffer
Olivia Quevado - Grip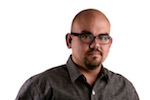 About Antonio Manriquez
Antonio Manriquez is the video production teacher for the New Media Academy at the world famous Hollywood High School in Los Angeles, California. He is an Apple Distinguished Educator, an Apple Certified Trainer, and an Avid Certified Instructor. His education and career in video and cinema production began at the age of fourteen when he directed a feature length film that premiered at 1997 Sundance Film Festival. He is the executive director of Media Educators of Los Angeles, a networking organization founded in 2009 created to educate and empower media arts educators in the greater Los Angeles area. Manriquez also chairs the CUE Video in the Classroom Learning Network.
- La Buena Muerte: Directed by Jean Balest, Cinematography by Elle Schneider, Produced by Manon Banta & The Mobile Film Classroom
This film explores how Dia de los Muertos, the Mexican tradition of families and friends gathering to remember their departed loved ones, is celebrated in Los Angeles. Set amid the Dia de los Muertos Festival at Hollywood Forever Cemetery, this film tells the story of a mother-daughter team whose Ofrenda (altar), asked all of us to contemplate the question: What is a bad death, a good death and a great death?



About Manon Banta
Manon Banta, produces kids' films for a living, as head of the Mobile Film Classroom, a Los Angeles based nonprofit that develops the next generation of storytellers by bringing digital media instruction to underserved youth. Manon directed a short documentary on the world of thoroughbred horse racing, Probable Odds, filmed during the 2003 Breeder's Cup at Santa Anita Race Track. She has worked as a Field Producer for the Associated Press at the 2007 Sundance Film Festival, a Red Carpet Interviewer for the AFI Film Festival and as Line Producer for numerous short films. Manon is a graduate of Louisiana State University (BA), American Conservatory Theatre (MFA), and Stanford's Graduate School of Business' Executive Program for Non Profit Leadership.



About Elle Schneider
Mixing a love of genre filmmaking with an education in classical storytelling. A graduate of USC's School of Cinematic Arts, Elle has directed and shot more than 50 short and feature films, music videos, fashion films, and commercials, and her work has been covered by Indiewire, MovieMaker, No Film School, Vanity Fair, and Maxim, and played festivals including SXSW, Sitges, Slamdance, Sidewalk, and Tallgrass. In 2014 she was named one of IndieWire's "8 More Cinematographers" to know, and in 2015 she became a founding member of the International Collective of Female Cinematographers (ICFC), which promotes the work and awareness of professional-level women behind the camera.


About Jean Balest
Jean is a writer, director and part time youth mentor for the Mobile Film Classroom. Jean holds a degree from the USC School of Cinematic Arts in critical studies. While attending USC, she received a grant from the Academy of Motion Picture Arts & Sciences. After graduating in 2012, Jean served as a development executive for International Television studio, Sonar Entertainment and Aid+Abet Films. The team she worked under sold television series to AMC, MTV & NBC networks. Jean has shot music videos and live event footage for indie and psychedelic bands and written multiple scripts rooted in cinematic history, music, and the arts. Her work has evolved from super 8, 16mm and 35mm formats to recent works shot on high end digital cinematography. Her works blend surrealism, pop art, and karmic exploration of her subjects.
10:00PM - World Famous Raffle
---