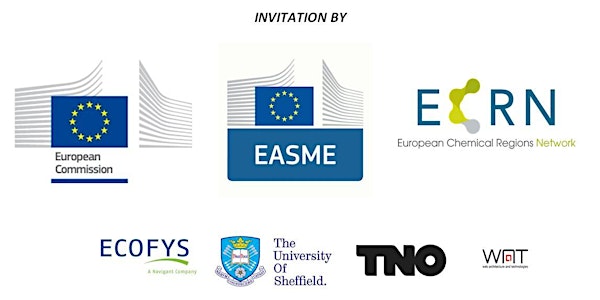 Final Conference of "European Sustainable Chemicals Support Service – Phase 2" - Exploring how capturing and re-using currently emitted industrial gases could be stimulated through industrial symbiosis
When and where
Location
Sint-Michielslaan 80 80 Sint-Michielslaan 1040 Etterbeek Belgium
Description
The European Commission DG GROW, in cooperation with EASME (Executive Agency for SMEs) and the European Chemical Regions Network (ECRN), are pleased to invite you on 27 September to a Conference to explore together how capturing of emitted industrial gases and re-using them as feedstock for the manufacturing of sustainable chemicals could be stimulated on the regional and European level. This can contribute to a more sustainable chemical industry (circular economy), to a reduced dependency on imports, and to a stronger integrated (chemical) industry in the regions.
The conference builds on a project that a consortium led by Ecofys (supported by Sheffield University, TNO and WAAT) has executed for EASME under the powers delegated by the European Commission.
The conference aims to stimulate the re-use of gases, such as CO2, CO, H2, SOx and NOx by the industry. To do so, the event will present the outcomes of the project, followed by presentations and panel discussion of the key policy lessons as learnt by the selected Model Demonsrator Regions - Antwerp (Belgium), Limburg (the Netherlands), Lodz (Poland) and Varna (Bulgaria). A self-assessment tool, developed within the project, will also be presented and you can learn how to apply this tool to your region.
During the conference:
The possibilities and potential for re-using industrial gases will be presented;

Presenters with appealing opportunities for and experiences with re-using emitted gases will present their approach to stimulate this potential;

You will be invited to share your view and learn from each other in an interactive way;

Representatives from various key DG's of the European Commission will reflect on the way the EU can support and stimulate presented regional efforts.
Please find the draft agenda HERE and register through the Eventbrite page until 26 September.
The conference will take place in ECRN premises (Boulevard St Michel 80 B-1040 Bruxelles) on 27 September, 13:00 – 18:00 (starting with lunch 12:00 – 13:00).
In case you would have any questions, please contact Neli Georgieva (ECRN: office@ecrn.net) and/or Michiel Stork (Ecofys-Navigant: Michiel.Stork@navigant.com).
---
By signing up for this event, you agree that your personal data is collected and managed by ECRN - European Chemical Regions Network, through Eventbrite. ECRN ensures that collected personal data is kept confidential, not being published or become known to an unauthorised person, or being mishandled.
By signing up for this event, you agree that your name and organisation are disclosed in the participants list, whcih will be published after the event.