FINAL BIG WEEK!!! "CELEBRATING" THE CONTRIBUTIONS OF WOMEN"

Multiple Dates
Event Details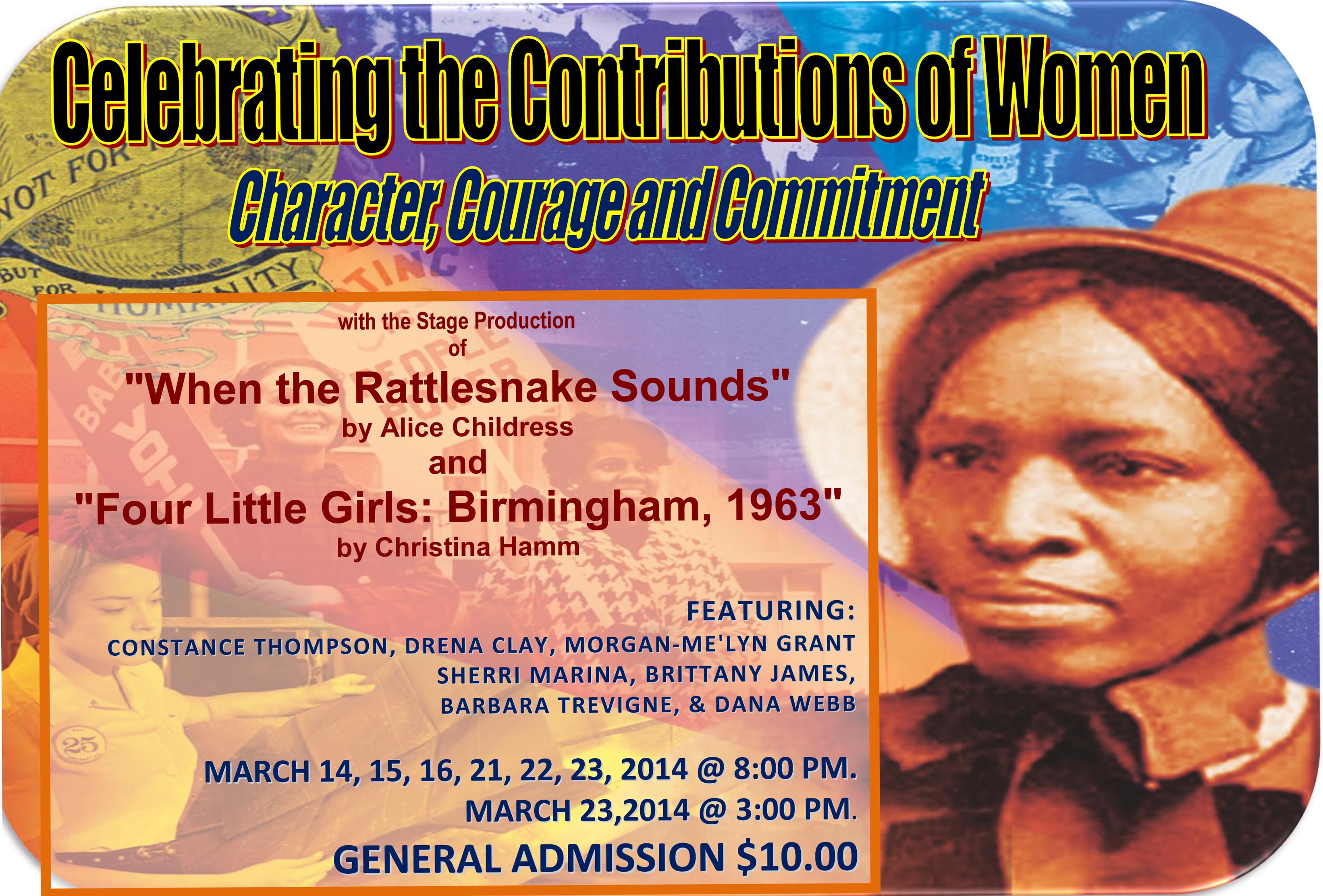 American Theater Project of New Orleans, in partnership with Ashé Cultural Arts Center brings back, by popular demand, THE SECOND BIG WEEKEND of the soul stirring production of Four Little Girls: Birmingham, 1963. This production recently played to sold-out audiences and is returning to the stage with the same extraordinary cast. Also on the bill is the one-act play, "When the Rattlesnake Sounds".  With Special Appeareances by actresses Britteny James, Vinnie Mathews and Barbara Trevigne, and musical direction by Valerie Jones-Francis.
Four Little Girls: Birmingham, 1963 was written by playwright Christina Hamm and is directed by award-winning director Ed Bishop, the production depicts the bombing that took the lives of four young girls at the Sixteenth Street Baptist Church in Birmingham, Alabama. The bombings took place less than a month after the historic March on Washington. In the title roles of the four girls are Brittani Johnson, Morgan-Me'Lyn Grant, Roderica Scorza, and Daranisha Ingram. Also featured are Dana C. Webb,  Jyna Tilton, Karel Sloane-Boekbinder, Imani Francis, Giselle Canko, Max Canko, and Sonya Parker; with Sadik Pazon, Stephanie Suluma, Kairie Brown,  and Nyela Raha Joshua.
When the Rattlesnake Sounds, by Alice Childress, is a one-act play based on the Underground Railroad and Harriet Tubman. Constance S. Thompson stars as Harriet Tubman, with Drena S. Clay and Morgan Me'Lyn Grant.
Following the performance, there will be a post-performance discussion led by the staff of Ashé Cultural Arts Center. For more information, call (504) 957-9283.
Where

ASHÉ CULTURAL ARTS CENTER
1712 Oretha Castle Haley Blvd.,
NEW ORLEANS, LA 70113


Multiple Dates
Add to my calendar
Organizer
AMERICAN THEATRE PROJECT OF NEW ORLEANS
 

American Theatre Project, Inc. (ATP) has as its mission to produce and present professional theater, providing exposure for artists through presentations which heighten the American experience. ATP produces for a broad range of audiences, providing professional theatrical experiences for artists, playwrights, directors and technicians.

Multi-arts, multimedia and interdisciplinary in philosophy and purpose, American Theatre Project provides employment and training in theater management, technical theater, stage performance, production and play writing; producing theatre which highlights artists and technicians, while bulding a network of play-wrights, directors, designers and performing artists to provide through qualitative theatre a venue for artistic focus and freedom, with professionalism and artistic awareness as a major emphasis.
FINAL BIG WEEK!!! "CELEBRATING" THE CONTRIBUTIONS OF WOMEN"