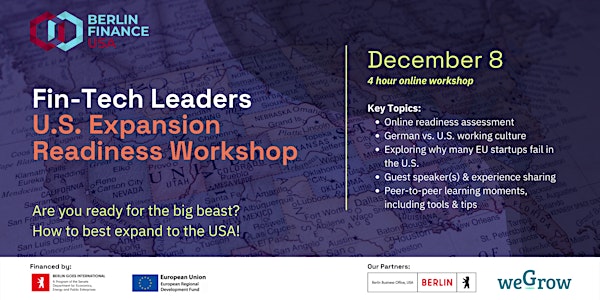 Fin-Tech Leaders: U.S. Market Readiness Workshop (Online, 4h)
Are you ready to enter the U.S. as a Berlin-based Fin & Tech company? This intensive workshop will help guide your US expansion strategy.
About this event
Thinking of expanding to the US, but wondering where to start? The Berlin Finance Initiative, USA supported by weGrow, has your back. This online workshop features opportunities for peer-to-peer learnings with fellow founders, discussions and Q&As with guest expansion experts, and real-life use cases from weGrow's 300+ expansion projects for scaling startups.
This workshop will help you decide whether the U.S. market is ready to conquer!
Agenda:
Learn more about your individual positioning by taking weGrow's readiness assessment before the session (see below).
Explore why the US market is particularly challenging for European startups - and what strategies companies have leveraged successfully
Dive into the differences between German and American working cultures
Reflect on how your value proposition might need 'translation' to American English and begin working it through
Who should participate?
This workshop is an exclusive opportunity for Berlin-based Fin & Tech early-stage and later-stage startups & organizations. Whether you are interested in learning more about U.S. expansion in general or have already decided to go across the Atlantic, this workshop will help you choose or iterate on your expansion plans.
How to participate?
We will send you a meeting invitation directly with the link to join. Please join from a desktop computer to fully engage with our interactions.
Online Assessment Process (Prior Workshop): Take our free readiness assessment here to receive a score out of 10 on your international expansion readiness. Registered workshop participants will receive a more detailed, personalized report! This report is a foundation for the workshop to guide you as you prepare for US expansion.
Register now for free! (Limited spots available)
---
About Us
This workshop is part of the Fin-Tech Leaders* program, a transatlantic initiative launched by the City of Berlin, Berlin Finance Initiative, in cooperation with the Berlin Business Office, USA, to accelerate internationalization and business cooperation between Berlin- and U.S.-based startups and organizations.
Berlin Finance Initiative, USA connects Berlin startups and organizations from the financial technology sectors with key players, decision-makers, investors, and business partners in the US ecosystems.
Berlin Business Office, USA is Berlin's economic development office in the USA and part of the Senate Department for Economics, Energy and Public Enterprises to strengthen the connectivity between Berlin and the USA.
About weGrow:
weGrow helps companies to
-roll out to new Markets ✓
- find the best international Talent ✓
- raise Capital for expansion ✓
- develop a growth mindset with Academy programs ✓
Based in Amsterdam, weGrow International helps to build, scale and expand the most innovative Tech companies. Our focus is Europe and the USA - with a strong footprint in all German-speaking markets, France, Benelux, the Nordics - and a reliable partner network for USA, Asia, LATAM and Middle East.
---
*This project is supported by the Berlin Government, Senate Department for Economics, Energy and Public Enterprises and funded by the European Union´s Corona recovery program #ReactEU!
If you have questions, please get in touch with Alexander Daamen, Head of Berlin Finance Initiative, USA (alexander.daamen@berlin-finance-initiative.de). Learn more about what we do at Berlin Finance Initiative, USA, and join our "Fin-Tech Leaders" network here.