Fin-Tech Leaders Event: "Made in Berlin" meets Miami
Gain exclusive insights into the Berlin & Miami DeFi ecosystems, meet Web 3.0 experts, and exchange ideas with key players
When and where
Location
Solana Embassy 215 Northwest 24th Street Miami, FL 33127
About this event
With Miami and Berlin emerging as two major Web3/Crypto hubs, we want to connect the two ecosystems to foster mutual collaboration and expansion opportunities.
Join us for an engaging afternoon/ evening filled with thought-provoking panel discussions in light of current market developments and high-level networking with more than a dozen participants traveling in from Berlin. Leading FinTech experts and DeFi thought leaders from Berlin and key players from Miami Web3 scene will attend the event. The panels will be followed by drinks and appetizer reception at the same venue.
After two successful events exploring the finance and tech scene in Atlanta and New York, Berlin Finance Initiative, USA's "Made in Berlin" event series is coming to Miami! And with us, leading DeFi / Web3 Fintechs from Germany.
Meet and Listen to our Panelists & leading Fintech experts(subject to change):
Miami:
Berlin: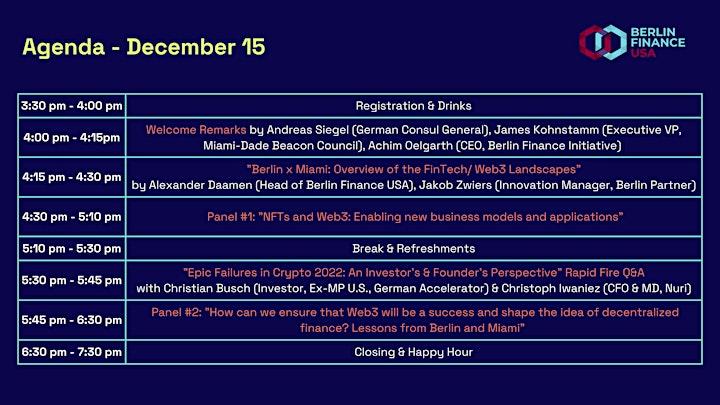 Please note: Video and photo recordings will be made during the event at the event site/online event platform.
Register now to secure a ticket.
We look forward to seeing you there!
---
About Us
This event is part of the Fin-Tech Leaders* program, a transatlantic initiative launched by the City of Berlin, Berlin Finance Initiative in cooperation with the Berlin Business Office, USA, to accelerate internationalization and business cooperation between Berlin- and U.S.-based startups and organizations.
Berlin Finance Initiative, USA connects Berlin startups and organizations from the financial technology sectors with key players, decision-makers, investors, and business partners in the US ecosystems.
Berlin Business Office, USA is Berlin's economic development office in the USA and part of the Senate Department for Economics, Energy and Public Enterprises to strengthen the connectivity between Berlin and the USA.
Berlin Partner for Business and Technology supports companies and scientific institutions that are already established in the Berlin region in their expansion plans and connects them within the strong Berlin Partner network.
---
*This project is supported by the Berlin Government, Senate Department for Economics, Energy and Public Enterprises and funded by the European Union´s Corona recovery program #ReactEU!
If you have questions, please get in touch with Alexander Daamen, Head of Berlin Finance Initiative, USA (alexander.daamen@berlin-finance-initiative.de). Learn more about what we do at Berlin Finance Initiative, USA, and join our "Fin-Tech Leaders" network here.