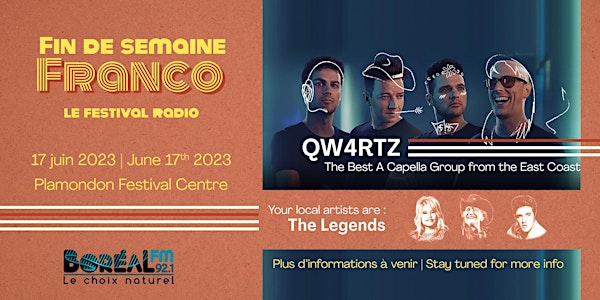 Fin de Semaine FRANCO
Featuring QW4RTZ (Best A Capella Group from the East Coast & Only Stop in Alberta) & The Legends (Over 20 local artists)
Date and time
June 17 · 2pm - June 18 · 12am MDT
Location
9626 101 Ave 9626 101 Avenue Plamondon, AB T0A 2C0 Canada
About this event
Boréal FM is hosting it's third annual La Fin de Semaine FRANCO! This fun-filled "francophone weekend" is a fundraising event to help support our local radio station Boréal FM.
This year, we will be showcasing the legendary Eastern a capella group QW4RTZ. Perfect for the whole family!
To discover QW4RTZ, watch the videos below or visit their YouTube page: https://www.youtube.com/channel/UCIlw1-PDVyCWHCC6iQb9T2w
As you know, we LOVE our local talent. That's why this third edition of La Fin de Semaine FRANCO will feature The Legends. Who are "The Legends"? Our local artists will perform songs from musical icons throughout the day. Expect fantastic impersonations and flamboyant costumes!
_
Pour une troisième année consécutive, Boréal FM organise la Fin de Semaine FRANCO! Ce dynamique festival est une levée de fond pour notre radio communautaire.
Cette année, nous recevons le légendaire groupe a-capella de l'est QW4RTZ. Parfait pour toute la famille!
Pour découvrir QW4RTZ; regarde les vidéos ci-bas ou visite leur page YouTube: https://www.youtube.com/channel/UCIlw1-PDVyCWHCC6iQb9T2w
Comme vous le savez, on aime nos talents locaux. C'est pourquoi cette troisième édition mettra en vedette Les Legends. Qu'est-ce que c'est? Nos artistes locaux interprèteront les légendes de la musique au long de la journée. Attendez-vous à voir et a entendre des imitations et des costumes flamboyants!
_
Fundraising
The "FRANCO Weekend" is our annual fundraiser for Plamondon/Lac La Biche's local community radio station. Given the difficulties that our non-profit organization has encountered with funding, we must constantly develop innovative fundraising solutions to continue offering this service. By purchasing a ticket, you are helping to support an important francophone and cultural service in Plamondon and Lac La Biche.
Levée de fonds
La Fin de Semaine FRANCO est une levée de fonds annuelle pour la radio communautaire de Plamondon-Lac La Biche. Étant donné les difficultés de financement pour notre organisme à but non lucratif, nous devons constamment développer des solutions innovantes. En achetant un billet, vous encouragez le maintien d'un service francophone et culturel important à Plamondon et Lac La Biche.