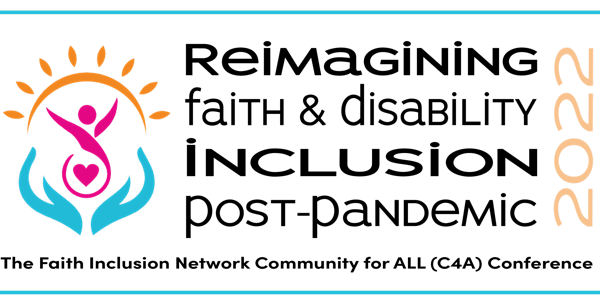 FIN Community For All (C4A) VIRTUAL Conference
Faith Inclusion Network presents this year's Community for ALL (C4A) Conference: Reimagining Faith & Disability Inclusion Post-Pandemic
Refund Policy
Contact the organizer to request a refund.
About this event
This registration site is for the virtual Community for ALL (C4A) Conference only. If you are interested in tickets for the in-person conference, go to C4A In-Person Conference Registration.
Reimagining Faith & Disability Inclusion Post-Pandemic - 2022
We have all been through so much these last two years. The Covid-19 global pandemic has had profound effects on aspects of our lives including faith and disability inclusion efforts. How are we responding? How may we approach inclusion now from shared experiences? We'll explore this and much more at this year's annual Community for ALL conference.
Tickets:
The BASIC ACCESS PASS ($35) - gives you access to all virtual presentations between February 22 and April 30. FOUR live events are planned which are included. Content must be viewed before April 30.
The UNLIMITED ACCESS PASS ($65) - gives you access to all virtual presentations and will be available long after the conference ends. FOUR live events are planned which are included. This access does not expire.
The INSPIRATION MEMBERSHIP PASS ($100) - gives you access to all conference presentations and four live Zoom events, as well as Membership as an Inspiration Circle Member. Access to 2022 Conference presentations does not expire. The Membership status lasts for one year from date of purchase and includes other benefits listed on our FIN Membership page.
The COMMUNITY HOST GROUP ACCESS PASS ($250) is the most exciting option of our Virtual Conference Options. You and 19 friends or colleagues can use the material provided to support faith and disability inclusion efforts - wherever you are in the world! Use the Community Host opportunity as the ultimate excuse to get together to learn and grow together. More information is available on the Faith Inclusion Network website.
Sponsor Opportunities
We welcome individuals, faith communities, organizations and businesses to be a part of Community for ALL-2022 as a sponsor. Sponsor details are included on the ticket options.  A FIN representative will contact you to get your logo and business ad. Please note: to have your business or faith community advertisement included in the printed program, you will need to have your ad to us by January 30. Thank you!
C4A Global Community Sponsor-$1000+
C4A National Community Sponsor-$500
C4A Regional Community Sponsor-$250
C4A Congregational Community Sponsor-$100
Vendor-$50
Accessibility Accommodations:
We will be utilizing Zoom and their accessibility features. If you would like ASL Interpretation during our LIVE virtual events, please contact us by January 30 (or 30 days prior to the live Zoom event) and we will do everything we can to provide accommodations.
Virtual ZOOM Schedule:
Tuesday, February 22, 6:30 PM-7:30 PM EST "The Community for All Initiative" with Shelly Christensen, MA,FAAIDD
Tuesday, March 1, 6:30 - 7:30 PM EST "Reimaging Faith and Disability within Community" Panel with Shelly Christensen, MA FAAIDD, Sehrish Shikarpuriya, Mark Stephenson, and facilitated by Anne Masters, Ph.D, FAAIDD with Anne Masters, Ph.D, FAAIDD
Tuesday, April 5, 6:30pm-7:30 PM EST "Motivation and Strength for the Weary" with Ron Sandison, M.Div.
Tuesday, April 26, 6:30-7:30 PM EST "Believing, Belonging, and the Pathways to Both" with Erik W. Carter, Ph.D.
National Guests and Presenters* 
We are delighted to have an amazing group of National FIN friends joining us this year.
Check out this list of the presentations coming this year:
Elizabeth Barnett "Filling Your Toolbox: Tips For a Successful Service"

Howard Blas "Keeping Our Communities Engaged Virtually During and After the Pandemic"

Howard Blas "Ancient Jewish Sources Informing our Current Disabilities Inclusion Work"

Catherine Boyle "How Special Needs Parenting Prepares You For Ministry…"

Rebekah Dyer "Faith & Disability"

David Eckert "Pastors and their Mental Health"

Kristin Faith Evans "How Caregivers Can Advocate for Their Own Spiritual and Mental Health"

Joanna French "Becoming Enabled: How to Make the Gospel Accessible for All"

Doc Hunsley "Myth Busting: How to get Senior Leadership on Board with Disability Ministry"

Doc Hunsley "Volunteers: The Lifeblood of Your Ministry!"

Samantha Jones "Keeping Ministry Safe for Everyone"

Tom Jones "Siblings - The Forgotten Family Member"

Anne Masters "Raising a Son or Daughter with a Disability - Believing in Possibilities"

Lida Merrill "Care of the Direct Support Professional"

Michelle Munger "The Tension of Accommodation"

Bronwyn Murphy "Equipping People to Thrive: Recruiting and Training Diverse Leadership Teams"

Bronwyn Murphy "What's in a Name? Seeing the Imago Dei"

Jolene Philo "Managing the Long Term Effects of the Pandemic"

Ron Sandison "A Display of God's Glory: Equipping Individuals with Disabilities for Ministry

Ron Sandison "Overcoming the Hopeless Complex - Autism & Mental Health"

Barb Stanley "Relaunching Disability Ministry - Turning Obstacles into Opportunities"

Diane Sturmer "With, Not For 'Valued Roles in Faith Communities for All'"
*Subject to change