Sales Have Ended
Ticket sales have ended
Tickets available at the door! Cash and card accepted.
Sales Have Ended
Ticket sales have ended
Tickets available at the door! Cash and card accepted.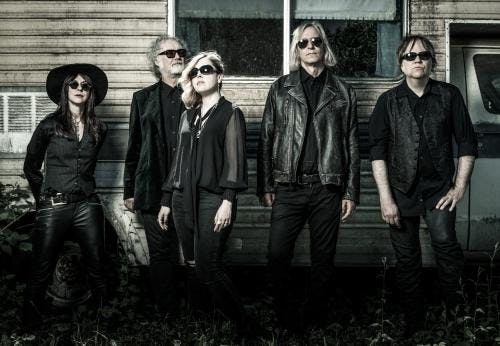 About this Event
Filthy Friends (members of R.E.M., Sleater-Kinney, The Fastbacks, King Crimson)
Filthy Friends is the product of likeminded individuals with nothing to prove getting together and making a heroic racket together that finds space for their many influences and interests. Lead singer Corin Tucker has left an indelible mark on the punk scene through her memberships in Sleater-Kinney and Heavens to Betsy. Guitarist Kurt Bloch has logged a lot of hours as the leader of The Fastbacks, as well as serving as a producer/mentor for up and coming Seattle rock groups. Drummer Bill Rieflin has a fine day job as one of the drummers in King Crimson. Bassist Scott McCaughey keeps plenty busy doing studio work and mining the power pop underground with his long-running band the Young Fresh Fellows. As for the other guitarist Peter Buck…if you're unfamiliar with him, you haven't been paying attention to the last 30 years of alternative/college/indie rock. (Stage whisper: He used to be in R.E.M.)
So far, the world has gotten to know Filthy Friends through a nicely scattershot batch of songs: "Despierata," their entry into the anti-Trump project 30 Songs For 30 Days and the 2017 Record Store Day release featuring their original "Any Kind of Crowd" and a sinister take on Roxy Music's "Editions of You." Now this fierce collective is fanning the flames even hotter with the release of their debut full-length Invitation. Yes, it does slip their already released tracks into the mix, but what surrounds those tunes is oh so much more than you could have ever asked for.
The 12-song collection works through a flurry of different moods and styles, genre exercises and joyous experiments. The intricate guitar knots and blasts of bubblegum pop of Buck's beloved Television are all over the herky-jerky "Windmill." A mashup of '60s downer vibes and rootsy rumblings makes up the marvelous "Second Life" whereas "Come Back Shelley" is all swagger and glitz in the style of a lost glam rock 45. There ain't nothing this band can't do with the wet clay of rock music and what they sculpt out of it is pure art.
Eyelids
Eyelids were formed from members of Guided By Voices, The Decemberists, Malkmus/Jicks & Elliott Smith's band. They've toured all over the world with Dream Syndicate, The Charlatans, Rain Parade, The Cribs, The Drive-By Truckers and Fruit Bats.
For years, John Moen and Chris Slusarenko played and wrote in the company of some of the most legendary songwriters of indie rock including Robert Pollard (Guided by Voices), Stephen Malkmus (Pavement/Jicks), Colin Meloy (The Decemberists) and Elliott Smith. In 2014 they decided that it was time to finally start writing and recording together, adding the talents of guitarist/vocalist Jonathan Drews (Sunset Valley, Damien Jurado), Paul Pulvirenti (No. 2, Elliott Smith) and Jim Talstra (The Minus 5, Dharma Bums). The end result was their debut thirteen song debut album, 854, which gained positive notes from A/V Club, Brooklyn Vegan, BBC6 Radio and MOJO magazine. NPR called them "Portland's best kept secret."
That secret was short lived. Over the course of the next two-and-a-half years, the band has issued recordings at a prolific clip: they've released five 7"s and a 12" EP (which was labeled "EP/single of the year" by legendary East Coast freeform radio station WFMU). Known for their intense live shows, they toured in the States and overseas, as headliners and as openers for Drive-By Truckers & The Charlatans UK (after hearing 854 Charlatans leader Tim Burgess asked to release the album overseas via his O Genesis label).
With or, the band's second full-length LP, Eyelids has created their most emotional record yet. Produced by Peter Buck of R.E.M. and mixed by Thom Monahan (Peter, Bjorn and John, Devandra Banhart, Fruit Bats), or is liberally sprinkled with the hooks, melodies, and charming wordplay that make a certain kind of rock & roll fan fall madly in love with an LP. It's all evident in the opening song, "Slow It Goes" — is that a play on Vonnegut or Nick Lowe? Somehow both feel appropriate — the kind of classic easily slotted between Superchunk and the Raspberries on a mixtape, locked and loaded with a perfectly winsome expression of angst: "She says, 'If I can keep from sighing, why can't you?'"
From there, the sequence dives deeper and deeper into Slusarenko and Moen's love of underground pop: listen to those sparkling "Starry Eyes" - worthy guitars on "Falling Eyes," the psychedelic swirl of "My Caved In Mind," and the Dream Syndicate mysticism of "Tell Me You Know." or is the sound of a band realizing its potential, of old friends connecting creatively and sonically, creating exuberant, nuanced, pop music.