About this Event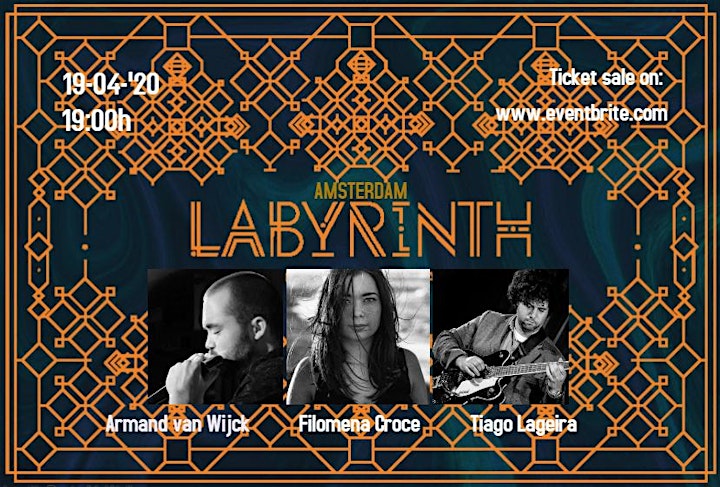 Three of the most talented Jazz musicians of the new generation, arrive at the house of music and poetry, the beautiful Labyrinth in Amsterdam, to perform a wide repertoire of Jazz and Brazilian Classics with refined and unique arrangements for voice, guitar and chromatic harmonica. Filomena Croce, Armand van Wijck and Tiago Lageira will enchant you with their own personal vision of masterpieces byTom Jobim, Thelonious Monk, Toots Thielemans and more.
Filomena Croce (Voice) is an Italian singer and songwriter currently living in Rotterdam. Master of Music in Jazz & Pop Voice at ArtEZ Conservatorium Zwolle, Filomena performs with various duos and bands around the world (Italy, Slovenia, Belgium, United Kingdom, Germany, Brazil, Denmark, The Netherlands, Ireland) in very well known theaters and clubs such as Beco das Garrafas in Rio de Janeiro, Brazil, the Royal Festival Hall and King's Place in London, Het Concertgebouw in Amsterdam, De Doelen in Rotterdam, Tivoli Vredenburg in Utrecht; and Festivals such as the London Jazz Festival in the United Kingdom and Tomorrowland in Belgium. In 2017 Filomena was chosen to represent ArtEZ Conservatorium at the leading Dutch Jazz network event, the InJazz Festival at Theater Walhalla in Rotterdam; in 2018 she represented The Netherlands at the Eurovox, the most important congress for singers and voice teachers in Europe; and in 2019 she performed with multiple Grammy winning orchestra, the Metropole Orkest, at the Ziggo Dome Arena in Amsterdam, The Netherlands. She has been a vocal teacher at the Stedelijk Conservatorium Brugge, Belgium.
Armand van Wijck (Chromatic harmonica) is a composer and multi-instrumentalist from Utrecht. Graduated at Codarts Conservatory in Rotterdam, Armand is the first chromatic harmonica player and Dutch man to graduate in Jazz chromatic harmonica from a full time jazz study at a Dutch Conservatory. He also studied at the Hogskolan for scen och musik, the Academy of Music and Drama of the University of Gothenburg in Sweden, where he focused on free improvisation and picked the willow flute as second instrument. Over the past few years, Armand has played with various duos and bands at important Festivals, such as the North Sea Jazz Festival in Rotterdam, and clubs such as the Blue Note in Amsterdam and Jazzcafè Dizzy in Rotterdam, and has toured in Asia (Hong Kong, China and Macau) with Hong Kong pianist and composer Siu Tin Chi. Armand is the band leader of the CoolHaven Quintet, finalist of awards such as the Erasmus Jazz Price and Leidse Jazz Award 2017.
Tiago Lageira (Guitar) is a Portuguese guitarist and composer currently living in Amsterdam. Graduated in Jazz Guitar at Fontys Academy of Music and Performing Arts in Tilburg, Tiago has won the UK Jazz guitar competition 2020 as a soloist and the Grachtenfestival Concours 2018 with the Klijn Quartet, and has been finalist of several other prizes and awards with various duos and bands such as the Erasmus Jazz Price 2017 and the Leidse Jazz Award 2017 with the CoolHaven Quintet led by Chromatic Harmonica player Armand van Wijck; the Bergen op zoom Jazz Award 2017, Jazz Kaseko Dreams 2016 and the Cantina Music Award 2016. At the moment, he is semi-finalist at the Bucharest Jazz Competition and will perform in Romania in May. He has also played at the North Sea Jazz Festival in 2018 and, besides performing, he is busy composing and arranging for different ensembles.