Join us for a virtual screening In Our Mothers' Gardens and talk back with director Shantrelle P. Lewis and other featured guests.
About this event
Join the Schomburg Center and Caribbean Cultural Center African Diaspora Institute (CCCADI) for a virtual screening of the documentary In Our Mothers' Gardens, a film by Shantrelle P. Lewis. Distributed by ARRAY Releasing, the documentary celebrates the strength and resiliency of Black women and Black families through the complex, and oftentimes humorous, relationship between mothers and daughters. The film pays homage to Black maternal ancestors while examining the immediate and critical importance of self-care, and the healing tools necessary for Black communities to thrive. Join us for this virtual screening and talkback presented in collaboration with ARRAY.
Following the screening, we will have a conversation with the film's director Shantrelle P. Lewis and invited guests featured in the documentary.
ABOUT THE FILM
Featured interviews include: #MeToo founder Tarana Burke; The Roots and Chris Rock tour manager Tina Farris; cultural critic Dr. Brittney Cooper of Rutgers University; Rev. Dr. Theresa S. Thames of Princeton University; holistic lifestyle maven Latham Thomas; photographer Adama Delphine Fawundu and NPR's Senior Director for Programming Yolanda Sangweni.
This program will be streamed on a third-party platform. You must register with your email address in order to receive the link to participate. Please check your email shortly before the discussion to receive the link. Captions will be provided for the talkback.
PARTNERS
The Caribbean Cultural Center African Diaspora Institute (CCCADI), is an arts, culture, education, and media organization that advances cultural equity, racial and social justice for African descendant communities. CCCADI's programs serve children/youth, families, young professionals, elders, local and international artists, and practitioners of African-based spiritual traditions. Through our work CCCADI offers a collective space where African descendants honor the contributions of the global African Diaspora through exhibitions, performances, conferences, educational programs, and international exchanges.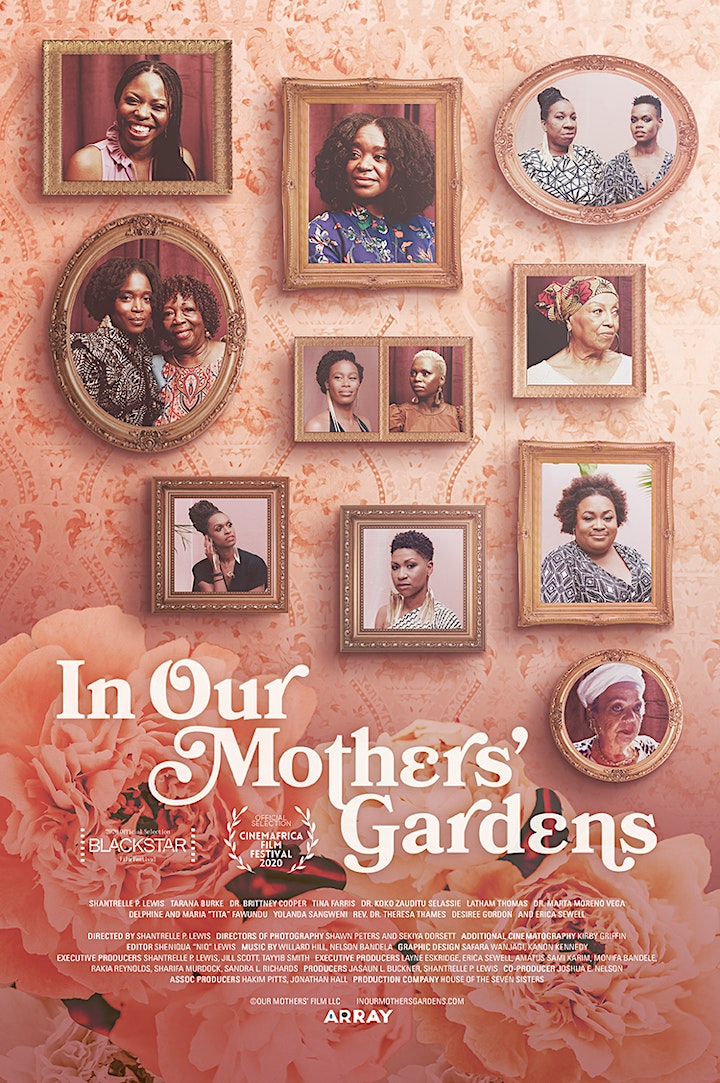 PRESS | Please send all press inquiries (photo, video, interviews, audio-recording, etc) at least 24-hours before the day of the program to Amy Geduldig at amygeduldig@nypl.org.
PUBLIC NOTICE AND DISCLAIMER
This Program uses a third-party website link. By clicking on the third-party website link, you will leave NYPL's website and enter a website not operated by NYPL. We encourage you to review the privacy policies of every third-party website or service that you visit or use, including those third parties with whom you interact with through our Library services. For more information about these third-party links, please see the section of NYPL's Privacy Policy describing "Third-Party Library Services Providers" at https://www.nypl.org/help/about-nypl/legal-notices/privacy-policy.
Organizer of Films with the Schomburg: In Our Mothers' Gardens
Founded in 1925 and named a National Historic Landmark in 2017, the Schomburg Center for Research in Black Culture is one of the world's leading cultural institutions devoted to the research, preservation, and exhibition of materials focused on African American, African Diaspora, and African experiences. From the original 10,000 items provided by Arturo Alfonso Schomburg to the over 10 million items in the collection today, the Schomburg Center features diverse progamming and lifelong education and exploration that illuminate the richness of global black history, arts and culture.
Subscribe to our e-newsletter
Visit: schomburgcenter.org/calendar
Please read our Privacy Policy