Description
Join AAMP as we present a special evening screening and discussion around filmmaker Nefertite Nguvu's must-see film, In the Morning. This screening and conversation is held in conjunction with AAMP's fall/winter exhibition, i found god in myself: the 40 anniversary of Ntozake Shange's for colored girls, which opens on October 1 and runs through January 2.
More on In The Morning:
Set in Brooklyn, In The Morning is a searing journey through the lives of nine smart, fiercely articulate New Yorkers. Friends: Harper, Ravi, Fez, Bly and Amara gather to bid farewell to one of their own moving abroad, and debate the compromise and loss of their youthful ideals regarding marriage, fidelity, life and love. Two lovers: Malik and Cadence, meet to ceremoniously end a whirlwind romance that has collapsed under the weight of fears, obligations and regrets. A couple: Zuri and Leal, sift through the remains of their broken relationship as they try to make a life altering decision. They begin to come to terms with their disintegrated trust, and the possibility of renewal. For everyone, life will be indelibly altered in the morning.
In The Morning is a feature film about love and its inevitable change/decline. It charts the emotional anatomy of the lives, loves, infidelities, and enduring friendships of a group of interconnected New Yorkers over the course of one day. Photographed by award winning cinematographer Arthur Jafa ('Daughters Of The Dust,' 'Crooklyn' and color timed by Malik Sayeed ("Belly"). The film is an intrinsically New York story, a sophisticated adult drama, with both humor and intensity reminiscent of early Spike Lee and Woody Allen films, yet marks the arrival of a bold new voice in filmmaking.
Watch the trailer here: https://vimeo.com/96459266
---
Nefertite Nguvu is a graduate of New York's School of Visual Arts, where she obtained a B.F.A in Film. Her thesis project at SVA won the award for Outstanding Screenplay. Nefertite has written, produced, and directed two short films: a uniquely stylized black and white romance entitled "I Want You," in 2007, and "The End of Winter," an emotional meditation on loss in 2009, both of which screened at numerous film festivals. Amongst other web-based programming, Nefertite also directed a ten-part web series entitled "U.N.I.T.Y Reignited" which chronicles the life of five aspiring female emcees hand picked by, and featuring Queen Latifah for Cover Girl and Flavor Unit Entertainment.
As writer/director/producer, Nefertite recently made her feature film debut with "In The Morning," a film about love and its inevitable change/decline charting the emotional anatomy of several relationships over the course of one day. "In The Morning" debuted at the UrbanWorld Film Festival in New York City and won the Audience Award for Best Feature Film. After a string of successful film festival screenings across the country and in Paris, France, the film also won the award for Best International Film at the Terra Di Siena Film Festival in Italy, Best Narrative Feature at the BlackStar Film Festival in Philadelphia, and Best Feature Film and Best Overall at the Bronzelens Film Festival in Atlanta.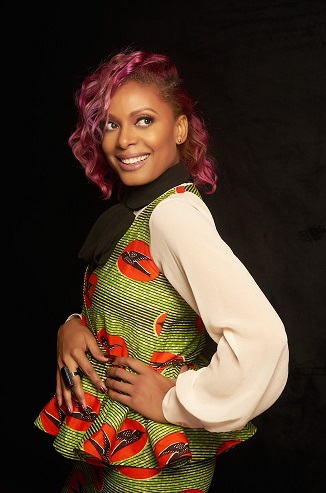 ---


i found god in myself: the 40 anniversary of Ntozake Shange's for colored girls is a two gallery art exhibit celebrating the 40th anniversary of the choreopoem/play for colored girls who have considered suicide/when the rainbow is enuf, curated by Souleo Wright. Learn more at www.aampmuseum.org/exhibitions.

---
Exhibitions and programs at the African American Museum in Philadelphia are made possible due to the generous support of our sponsors:



Date and Time
Location
The African American Museum in Philadelphia
701 Arch Street
Philadelphia, PA 19106