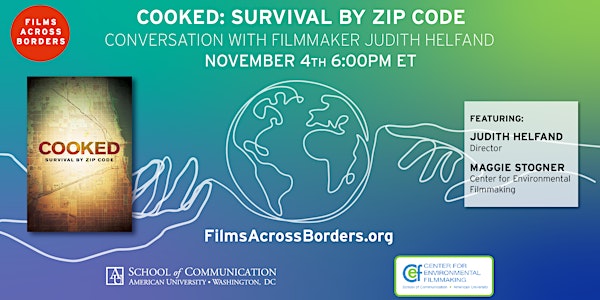 Films Across Borders: "Cooked: Survival By Zip Code"
Films Across Borders: Stories in a Changing World featuring "Cooked: Survival By Zip Code"
By American University School of Communication
Date and time
Thursday, November 4, 2021 · 3 - 4pm PDT
About this event
Join us on Thursday, November 4 at 6:00 pm for a live virtual conversation with filmmaker Judith Helfand about her film "Cooked: Survival By Zip Code" Registrants will be given the opportunity to view the film in advance of the live discussion.
Cooked: Survival By Zip Code is an award-winning feature documentary about extreme heat, the politics of disaster and survival by zip code. In July 1995, a heat wave overtook Chicago: high humidity and a layer of heat-retaining pollution drove the heat index up to more than 126 degrees. City roads buckled, rails warped, electric grids failed, thousands became ill and people began to die — by the hundreds. Cooked tells the story of this heat wave, the most traumatic in U.S. history, in which 739 Chicago citizens died in a single week, most of them poor, elderly, and African American. Balancing serious and somber with her respectful, albeit ironic and and signature quirkly style, Peabody award-winning filmmaker Judith Helfand explores this drama that, when peeled away, reveals the less newsworthy but long-term crisis of pernicious poverty, economic, and social isolation and racism.
Meet the Panelists
Maggie Stogner is the Executive Director of the Center for Environmental Filmmaking and a professor of Film and Media Arts. She brings over 30 years of filmmaking experience to the Center and to the classroom. During her nine years at National Geographic, she produced, directed and wrote numerous documentaries, and was senior producer of the award-winning weekly programs Explorer and Ultimate Explorer. In 2005, she launched Blue Bear Films and directs/produces/writes documentaries, including "Unbreathable - the Fight For Healthy Air" (2020), "In the Executioner's Shadow" (2018), "Gold Mountain" (2016). She also produces films and immersive media for world-touring cultural exhibitions for National Geographic, the Smithsonian, LucasFilms, and others. Her award-winning work includes two King Tut exhibitions; The Greeks; Real Pirates; Afghanistan: Hidden Treasures; Indiana Jones and Adventure of Archaeology; and Roads of Arabia. She is committed to creating opportunities for experiential learning through high-impact creative production labs that embrace diversity and inclusion. Her work embodies the belief that compelling storytelling and multi-format media have the power to inspire and to be a catalyst for meaningful change. Collaborating with the next generation of media makers is a critical part of this endeavor. Her scholarship explores engagement and impact design in film, immersive, and emerging media with a focus on exploring humanistic storytelling through 21st century media technologies. She has published articles in academic journals such as "Curator" and "The International Journal of New Media, Technology and the Arts".
Judith Helfand is the 2020 Bob Allison Endowed Chair in Media at Wayne State University's Department of Communications and is on faculty at SVA's Social Documentary Program. Judith taught at NYU's undergraduate film and television program from 1999 through 2007 and was filmmaker-in-residence at UW Madison in 2007 and 2009 where she taught environmental documentary making to non-film graduate and undergraduate students, including a class built around leveraging the city's environmental film festival.
Judith is best known for her ability to take the dark worlds of chemical exposure, heedless corporate behavior and environmental injustice and make them personal, highly-charged and entertaining. In addition to "Cooked," her films include The Uprising of '34, the Sundance award-winning and Emmy-nominated Blue Vinyl, its Peabody Award-winning prequel A Healthy Baby Girl, and Everything's Cool. Three of those premiered at the Sundance Film Festival, with national broadcasts on PBS (POV), HBO and The Sundance Channel. A committed field-builder and educator, Helfand co-founded Working Films in 1999 and Chicken & Egg Pictures in 2005. She was Producer on the Oscar-nominated, DuPont-winning short, The Barber of Birmingham, and Executive Producer for Brooklyn Castle, Semper Fi: Always Faithful, Private Violence, and Hot Girls Wanted. In 2007, Judith received a United States Artist Fellowship, one of 50 awarded annually to "America's finest living artists," and in 2016 she was invited to join the Academy of Motion Pictures Arts & Sciences. Helfand's most recent production is a first-person, non-fiction feature Love & Stuff, an intergenerational love story about losing her mother and becoming a new "old" mom in her fifties, both at once. Love & Stuff, inspired by the 2014 NYT Op-Doc of the same name, premiered at Hot Docs 2020, was released theatrically and in 2021. Judith lives in NYC with her daughter Theodora.
More Info about overall film series: FilmsAcrossBorders.org.
CO-PRESENTED BY: