Filmmaking With Your iDevice & Legal Issues for Digital Content Creators

Wednesday, June 13, 2012 at 7:00 PM (PDT)
Event Details
Come Celebrate the Los Angeles Post Production Group's 4th Anniversary at Our June Meeting Featuring:
 Filmmaking Apps and Accessories for Your iDevices
&
Legal Issues & Agreements for Digital Content Creators

June 13th, 2012 at 7pm
@ Showbiz Store & Cafe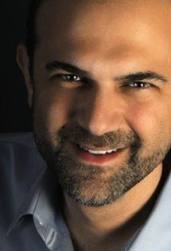 Taz Goldstein of Hand Held Hollywood is returning to LAPPG to bring us the very latest and greatest apps & accessories for iPad and iPhone owning media makers. If you've been using your iDevice simply to check email, and play Angry Birds, you need to come for Taz's presentation, and check out all the amazing filmmaking tools that have arrived for the iOS platform.
http://www.handheldhollywood.com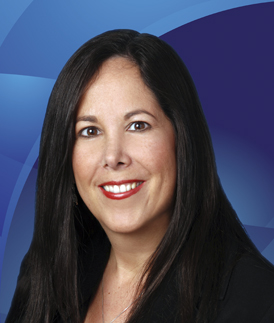 Plus, we will have Transactional Entertainment Attorney Hillary Bibicoff, from Greenberg Glusker Fields Claman & Michtinger LLP offer some pointers on how to avoid legal pitfalls when developing and producing content, including option and attachment agreements, rights issues (including whether you need to get a release), key terms to include in all cast and crew agreements and a basic overview on financing and distribution.
http://www.greenbergglusker.com/people/attorneys/Bibicoff
*We'll be giving away a full install of Mocha Pro in honor of this great occasion plus LOTS more prizes as well as delicious coffee and CAKE plus time to network with other industry pros!
**Plus, in celebration of this milestone and to say thank you, we'll have a special gift for each attendee!
$5.00 kindly requested at the door.
Don't forget the Showbiz Store & Cafe has food for purchase so leave work a little early and come grab a bite before the meeting!

Location: Showbiz Store & Café
500 S. Sepulveda Blvd. Ground Floor
Los Angeles, CA 90049
---
AJA NEWS
New AJA Windows and Mac Plug-Ins for Adobe now support the recently released Adobe CS6, providing tighter integration between Adobe software and AJA I/O devices for easier operation and huge performance improvements. These new plug-ins support the latest KONA's, the Io Express and the Io XT.

Mac Users:
If you haven't already, install the AJA KONA, Io Express or Io XT driver v10.3.1. Then, download and install AJA Mac Plug-Ins for Adobe, v10.3.

Windows Users:
Download and install the AJA KONA or Io Express driver v10.3 for Windows, then download and install AJA Windows Plug-Ins for Adobe, v10.3.

The latest drivers and new AJA Plug-Ins for Adobe are available here. Be sure to read the release notes for information on detailed fixes, improvements and proper installation.

Read more about AJA and Adobe in their press release. Watch the video here.



---
WELCOME NEW PARTNERS!
We want to extend a warm LAPPG welcome to Digital Anarchy and Pro Sound Effects, our newest partners. We thank them for supporting our group and we encourage you to visit their sites and support them as well!

Digital Anarchy just released Beauty Box Video 2.0, it's award winning plugin for doing skin retouching in video. It's significantly faster, works in FCP X (and Adobe CS6), and includes a bunch of new features. LAPPG members can get an extra $10 off the introductory price and get it for only $129 (reg. $199). Use coupon: LAPPG10

Pro Sound Effects is an exclusive licensor and distributor of sound effects libraries. They offer continuously updated, world-class catalogs like Blastwave FX, BBC, Foundation and Killer Tracks, and make them available as customizable hard drives or their PSE online library, which houses their Master Library of 120,000+ sound effects. The PSE website makes it easy to sign up for any complimentary library or licensing consultation you may need, and their specialists are available to chat whenever you have questions, however big or small. Pro Sound Effects combines its innovative technologies and an extraterrestrial creativity with their ever-growing Master Library to deliver Next Level Libraries, Licensing, and Services. 
---
GET FEATURED ON PRODUCTIONHUB!

Take photos on the set or in the editing room this summer with the swag you may win at our LAPPG meeting from ProductionHUB, the Online Marketplace for Broadcast TV, Motion Picture, Pro Video, Live Event, Corporate & Digital Media Production, and you may be featured in ProductionHUB's next newsletter or blog!

---
THE ADOBE ROADSHOW IS COMING TO LA!
If Christine's wonderful presentation from last month's meeting  left you wanting more join Creative Suite video experts for a free, in-depth seminar featuring the new Creative Suite 6 Production Premium. Discover the killer new features, and meet partners with complementary offerings that -- when combined with CS6 Production Premium -- deliver new workflows that work and flow. Space is limited; reserve your seat today!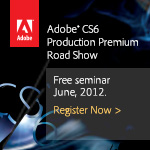 ---
UPCOMING LAPPG MEETING - JULY 11th
Join us next month for our first ever Plugin Showcase! We've invited some of the top plugin manufacturers for a night of demos that will leave you wondering how you ever lived without these products! Plus, you'll see how you can bring added value to your projects. It'll be a night of plugin pandemonium that you don't want to miss!  
Presenters include: Digieffects, NewBlue Fx, Digital Anarchy & more to be announced!
---
CONNECT WITH THE LAPPG

Stay up to date with special member offers, discounts and news!

"Like" our NEW Facebook LAPPG fanpage!
And don't forget to follow us at twitter.com/losangelespost!
---
We graciously thank the following partners for their generosity and support for our monthly meetings:
AJA Video Systems, Adobe, Artbeats, Blackmagic Design, Creative Handbook, Digieffects, Digital Anarchy, Focal Press, GenArts, Imagineer Systems, Intelligent Assistance, Larry Jordan & Associates, Lynda.com, Motion Media, FilmmakingWebinars.com, Noise Industries, Peachpit, Post Production Buyers Guide, Pro Sound Effects, ProductionHUB, Showbiz Store & Cafe, SmartSound, Telestream, UsedAV.com, Video Symphony, WoodysSoundAdvice.com.
We look forward to seeing you on June 13th!
Sincerely,
Los Angeles Post Production Group
Please visit www.lappg.com for member offers, book reviews, job listings, industry news and more. New website coming soon!
For product reviews, how-to's and great interviews with industry professionals visit: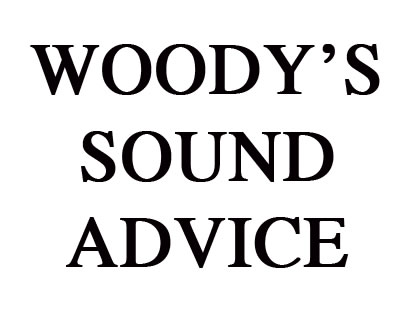 When & Where
500 S. Sepulveda Blvd.
Ground Floor
Los Angeles, 90049


Wednesday, June 13, 2012 at 7:00 PM (PDT)
Add to my calendar
Organizer
Los Angeles Post Production Group
The Los Angeles Post Production Group is a professional organization for people with a passion for film, video and the digital media finishing process.

The LAPPG discusses all aspects of post production, from picture and sound editing to color correction, visual effects, codecs, storage and post workflows.

Expert presenters and leading companies come to our monthly meetings and share new technologies, techniques, tools, products and best practices to aid us in telling great stories.
We also provide our members with great offers and discounts as well as opportunities to network and make industry connections.
Membership is free and you need not live in Los Angeles to take advantage of this great resource.
To become a member please email your name and information about yourself to membership@lappg.com.
Filmmaking With Your iDevice & Legal Issues for Digital Content Creators