Description
This special workshop from Docs In Progress will give Takoma Park residents and those who work for Takoma Park-based nonprofits the opportunity to learn how to get the most out of your smartphones when it comes to video.
Today's smartphones carry with them excellent lenses and high resolution video. You'll learn how to make the most of them just by knowing the devices better. We'll also look at apps and hardware that further improve your video and sound. From pre-production to post-production, you'll be able to produce documentaries or documentary-style videos with the "production studio in your pocket."
Participants should plan on bringing your own Smartphone or Tablet (both IOS and Android devices are acceptable).
DATE
Saturday, November 9 from 10 am - 3 pm.
Bring your own brown bag lunch that does not need refrigeration. There will be a scheduled break.

WHO MAY REGISTER FOR THIS WORKSHOP?
Because this workshop is being supported by the City of Takoma Park, it is being offered exclusively for residents of Takoma Park and/or people working with a Takoma Park-based nonprofit organization (one person per organization please). Docs In Progress also offers this workshop several times a year at our Silver Spring headquarters as a paid workshop. To see what's coming up, visit docsinprogress.org/filmmakers).
Participants must bring their own smartphone or tablet.

ABOUT THE INSTRUCTOR
Larry Engel is an Emmy® award-winning producer, writer, director, and cinematographer now in his fifth ​decade of filmmaking that spans all seven continents. He's worked on over 250 projects for domestic and international broadcasters and cable channels. His career originated in photography, and he studied with Walker Evans. He then moved to film. Currently, Engel is an Associate Professor at American University's School of Communication, Associate Director of the Center for Environmental Filmmaking, and filmmaker-in-residence with the Investigative Reporting Workshop. He teaches both production and theory/history. Several courses carry into the field, including "The Practice of Environmentalism: Galapagos" and a summer session "Classroom-in-the-Wild™: Extreme HD: Alaska."

In pursuit of environmental, wildlife and adventure stories, Engel has flown into hurricanes, been chased by tornadoes, and dropped into ice caves. He's fled wildfires, gotten lost in jungles, and spent three years traveling the globe to come face to face with a lot of mummies.

Engel is also co-author of "The Code of Best Practices in Sustainable Filmmaking." He is a member of the Writers Guild of America East (WGAE), the Directors Guild of America (DGA), Directors-UK, the National Association of Science Writers, the University Film and Video Association, the International Documentary Association, and the Mountaineering section of the Potomac Appalachia Trial Club.

A recent three-part series that he directed and shot, "The Human Spark" hosted by Alan Alda, premiered on PBS nationally and won the prestigious AAAS-Kavli Science Journalism Award for In-Depth Journalism. His short film "Potato Heads: Keepers of the Crop" premiered at the Washington DC Environmental Film Festival and screened at two festivals in Italy and Flickerfest in Australia.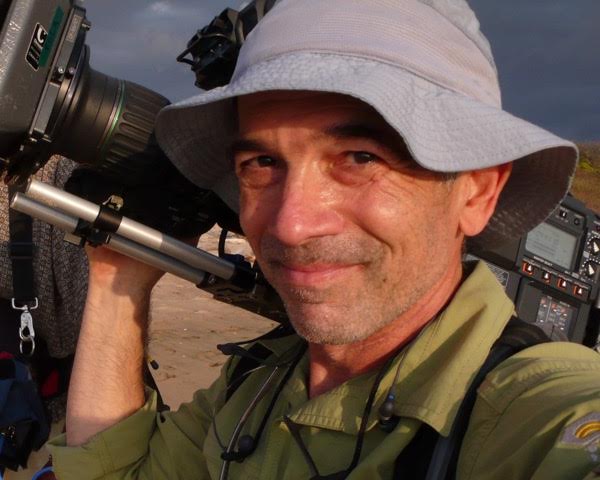 HOW TO REGISTER?
Click the "Register" button towards the top of the page and complete the registration form. Please note that you MUST be a Takoma Park resident or an employee of a Takoma Park-based nonprofit to participate in this program.
CANCELLATION POLICY
If your circumstances change and you must withdraw from this workshop after registering, please let us know as soon as possible since we anticipate there will be a waitlist.

WEATHER POLICY
In the event of seriously inclement weather, we will make a decision by 3 pm on whether to cancel that evening's programs. (For Saturday classes, we will make the decision by 6 pm on Friday). If you have not received a notification from your instructor or the Program Director, call our office at 301-789-2797 (we will have an outgoing message on voicemail).
Organizer of Filmmaking at Your Fingertips: The Smartphone Documentarian (Takoma Park)