Description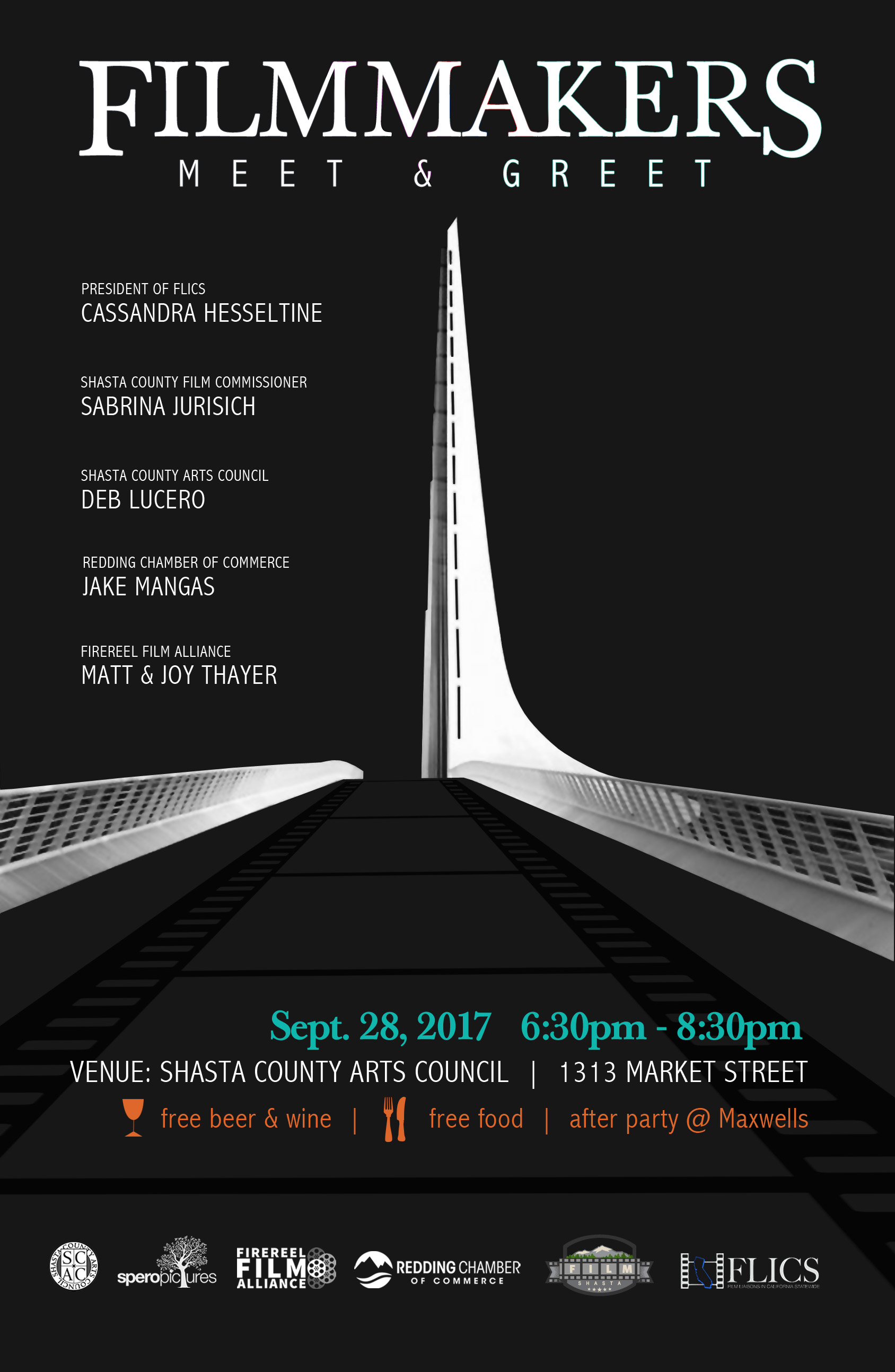 Come one, come all! The 2017 Filmmakers Meet & Greet is a networking event for folks in the area who are involved in film (or want to be!) to get together and meet one another. Before you exclude yourself from the guest list, keep in mind that people in the following careers are needed for film production to be possible in the Redding area…
-Make Up Artists
-Hair Stylists
-Camera Operators
-Gaffers
-Production Assistants (and others with administrative talents!)
-Writers
-Graphic Designers
-Behind the Scenes Photographers
-Drivers
-Investors
-EMT's
-Helicopter Pilots
-Accommodation Providers (including RV's & Hotels)
-Water Truck Operators/Drivers
-Caterers
-Security Guards
-Post Production Skills
...and so many more! Creating a steady flow of film production jobs to our region requires more than just a guy and his camera. We need everyone! Come to this event and you'll hear from Matt & Joy Thayer of Speropictures & the Firereel Film Alliance, Sabrina Jurisich the Shasta County Film Commissioner, Deb Lucero of Shasta County Arts Council, and Jake Mangas of Redding Chamber of Commerce. They'll be speaking on upcoming film opportunities in the Redding area, how the growing film community in Redding is creating jobs and bringing business to our area, when you need a permit to film and the process of obtaining one, and the latest on the rules and regulations of drone usage.
Be sure to stay until the very end! There will be a special screening of the first episode of "The Backpages," a series developed and produced by a local group of filmmakers, "Chaos2Love Productions."
A few more things...
-Please use the parking garage as space is limited on the street in front of the building.
-Doors open 6pm
-After party at Maxwell's following event
-Dress code: business casual
-Beer, wine, and food provided free of charge