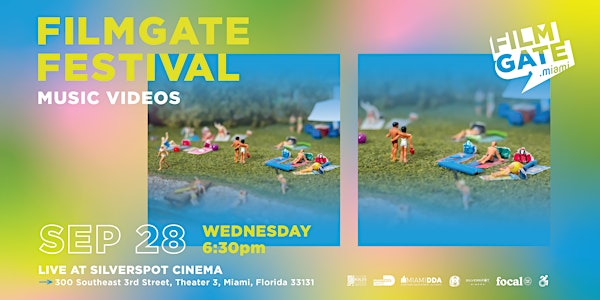 FilmGate Short Film Festival: September 2022 (VIRTUAL TICKET)
FilmGate Miami Presents: FilmGate Short Film Festival 2022 - Music Video (VIRTUAL TICKET)
About this event
FilmGatos!
It's time to get groovy and boogey all night with FilmGate Short Film Festival, Music Videos!
We will be accepting submissions that are Music Videos!
***This ticket version is for virtual admission only!***
About us: FilmGate Miami is a non-profit organization that's goal is to ensure the empowerment and growth of local creators and talent.
Providing them with a platform in which they can showcase their art, reaching new audiences locally and internationally.
FilmGate Short Film Festival is a monthly film festival that has a different theme per month.
Rules:
-Only Florida directors and filmed in Florida can submit.
-For submissions: https://filmfreeway.com/FilmGateShortFilmFestival
- Length of the film must be 15 minutes or less.
-Those accepted must be able to represent their film at the event; failure to do so will remove you from eligibility. (Must be in person).
Starting off the night, we have our Percolator. Sign up and tell the audience your skills, or if you're a creator looking for a professional in particular! You will have 1 minute to pitch.
We will also be having an awards segment, networking after the viewings, and much more!
More information will be on our website at www.filmgate.miami and social media accounts: FB: Filmgate_Miami / INSTA: filmgate_interactive / Twitter: FilmGateMiami
To stay updated, join our newsletter by going to our website!