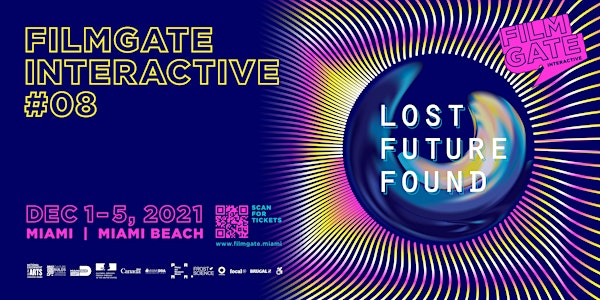 FilmGate Interactive #09
FilmGate Interactive Festival #08
Refund Policy
Contact the organizer to request a refund.
About this event
FilmGate Interactive returns on Dec 3-5, 2021, for its 8th edition in Downtown Miami and Miami Beach. Our Interactive Media Festival highlights how emerging tech developments influence new narratives and entertainment. Over the course of three days, you will experience some of the most innovative local and international virtual and augmented reality projects, interactive installations, provocative fireside chats, and intimate networking events with the industry's most inspiring leaders.
Here is our TICKET BREAKDOWN and FESTIVAL SCHEDULE:
General Admission: Access to our curated program at the Downtown Media Center, O Cinema, and Perez Art Museum XR projects and chats (over twenty VR, AR, and interactive stories from around the world). This does not include access to the opening night, sunset cruise, parties, and networking events.
Opening Ceremony: Access to our opening night at the Phillip and Patricia Frost Museum of Science. For event details, please see below.
Closing Sunset Cruise/Awards Ceremony: Access exclusively to our sunset cruise to Stiltsville, our Stiltsville VR project, and our Awards Ceremony. For event details, please see below.
VIP: This will grant you access to all projects, experiences, events, and meet-ups. All VIP events include complimentary craft/drinks.
*Free admission for children under 12 years of age accompanied by an adult.
Friday, December 3rd, 7 PM - 10 PM:
Frost Science Museum Opening: Enter our immersive world at our Opening Night in the beautiful planetarium of the Phillip and Patricia Frost Museum of Science. Access to this event is included in the VIP package.
7 PM: Reception | 8 - 10 PM: A program of unforgettable experiences.
Vestige: An award-winning documentary that uses multi-narrative and volumetric live capture to take the viewer on a journey into the mind of Lisa as she remembers her lost love, Erik. New memories are triggered as we navigate the space to explore these moments, revealing new pathways through the story.
The Smartphone Orchestra: Imagine that all the phones from the audience are synchronized, and each phone plays a different musical part through its speaker. This experience opens up innovative new ways to engage audiences by telling stories with the audience instead of to.
Ayahuasca, Kosmic Journey: The viewer follows Jan Kounen on a voyage to the Amazon, shifting over into his point of view and experiencing the story through his eyes. For seventeen years, he has been traveling once a year to the Peruvian region of the Amazon to meet indigenous healers and expand his knowledge of their traditional medicine. Journey into the jungle at night and witness the traditional rituals taking place.
Paperwater: We'll close off the night with Miami's electrifying avantgarde music duo, presenting live their latest album: B.E.M. VOL 2.0!
This experience, located outside the PAMM and Frost Science Museum, will be open throughout the entirety of the festival to visit and interact.
Breonna's Garden: An augmented reality garden and sacred space for anyone who wants to hear and share messages of hope and positivity for Breonna Taylor's family or share a message in remembrance of someone they lost. "She who plants a garden, plants hope."
Saturday, December 4th, 10 AM - 8 PM:
We'll take Miami with talks, projects, and events at different locations.
Downtown Media Center:
From 10 AM - 12 PM, we start off with our Fireside Chats and Virtual Portal exhibits moderated by our very own Diliana Alexander.
Then, we open the studios for our audiences to experiment with our unique experiences!
The Thickness of the Atmosphere: This light installation develops a system from processing information extracted from the sky into the materialization of a lighting installation, expanding the unknown about light to new areas of thought. The study of light by rigorous but sensory and poetically experienced scientific means expands our knowledge of the phenomenon of light.
Kaiju Decode, First Contact: This is a story about a girl named Mil who encounters, plays, and interacts with a Kaiju (Big Monster). This project is a VR animation film that can be watched from three viewpoints; the audience's perspective(default), the Kaiju's perspective, and Mil's perspective.
Jailbirds, Bwa Kayiman: Despite his hellish prison cell and the constant suffering, Felix the good giant always seeks the bright side of life. His bullet-proof serenity infuriates the vicious Chief-Warden who has sworn to uncover the inmate's secret and eradicate his happiness once and for all. A fantastic tale on the price of freedom.
Marco Polo Go Around: A comedic love story with a very surreal twist. The user is invited to participate in a couple's relationship as their world actually falls apart around them.
Goliath: Playing with Reality: Through mind-bending animation, award-winning Goliath: Playing with Reality explores the limits of reality in this true story of so-called 'schizophrenia' and the power of gaming communities. Echo (narrated by Academy Award-winning actress Tilda Swinton) will guide through the many realities of Goliath.
The Changing Same: A magical-realistic immersive, room-scale VR experience where you travel through time and space to explore the last 400 years of American history of racial injustice (on the 400th anniversary of slavery in the US). It's a respectful, poetic story infused with magical realism and Afrofuturism.
There You Are: An exploratory narrative game that features stop-motion-inspired graphic design and two endings from the player's choices and actions. In this game, the player will role-play the girl, Su, to deal with her father's relationship to move away from the past and accept the loss of her mom.
Agence: Would you interfere with intelligent life? Agence is an interactive experience that places the fate of artificially intelligent creatures in your hands. In their simulated universe, you have the power to observe, and to interfere. Maintain the balance of their peaceful existence or throw them into a state of chaos as you move from planet to planet.
Wayfinder: Wayfinder is a web-based generative art game that takes the player on a contemplative cause-and-effect journey through nature. Combining artificial intelligence, machine learning, and generative processes, each experience is as unique and ephemeral as nature itself. Players move a mystical character through the landscape in search of poetic tokens which, when activated, reveal words hidden in the wind.
My Day Will Come: Sarahy is a young woman from Honduras who, fearful for her life after being extorted by and receiving death threats from organized crime in her country, is forced to leave home and seek asylum in the United States with her husband and young daughter. Alas, this promise of change is frustrated by one of the Trump administration's most controversial immigration policies.
Music United: An original interactive musical experience that allows audiences to explore themes of togetherness and loneliness while controlling different ensembles in person and remotely. A composition performed across different locations, streamed together creating a unified piece. With the ability to personalize the music, all types of audiences can enjoy the Music United experience. *Live performance on Saturday, December 4th, from 3 PM to 4 PM
O Cinema:
For our VIP guests, after the Fireside Chats, we will be taking a party bus from the Downtown Media Center to O Cinema
From 1 - 3 PM, explore our extraordinary projects and special presentations with new projects by the National Film Board of Canada.
Motto is a playful, one-of-a-kind adventure—an interactive novella that uses thousands of tiny videos to tell the thousand-year tale of a kindhearted spirit named September. Part ghost story, part scavenger hunt, Motto finds a way to be both documentary and fiction—incorporating participants' lo-fi, unstaged footage into its own emotional narrative. Directed by Vincent Morisset of Studio AATOAA .
Brainstream is the story of D., a young girl live-streaming her brain activity in a virtual treatment session. She is giving us a guided tour inside her head. In this interactive film, her thoughts take shape as quirky animations while her mind wanders with our help. Together, we discover memories from the past and meet her anxiety, an annoying music earworm. Empowered by our support, she is letting us guide her along unexplored cognitive paths—her own, but perhaps ours too. Written and directed by Caroline Robert of Studio AATOAA .
Walking a Turtle: A virtual reality experience where players go on a walk following a tortoise, interpreted from Walter Benjamin's accounts of a curious ritual of Parisian flâneurs—"Around 1840 it was briefly fashionable to take turtles for a walk in the arcades." Players endure an obstacle course with an unwavering gaze to be coached into a state of presence. Part game and part quantified-self wellness tracker, "Walking" is a farcical tool for resisting the attention economy.
Stiltsville VR: An interactive narrative experience on the Oculus Quest in which you play a photographer traveling through 100 turbulent years of the highs and lows of a magical place in the middle of Biscayne Bay just off the coast of Miami, powered by a Knight Foundation Arts Challenge Grant.
From 3 PM - 5 PM, we will be presenting our six marginalized genders / sexes creators of the Miami Montreal New Narratives Lab (MMNN). In which they will be doing their pitches to a board of experts. Miami Montreal New Narratives Lab (MMNN) was all made possible by FilmGate Interactive, O Cinema, National Film Board of Canada, MUTEK, the Société de Développement Des Entreprises Culturelles, Miami Dade Cultural Affairs Office and Perez Crearte.
From 5 - 8 PM, for VIP guests: Cocktails at Alacran Studios, Miami Beach. Network, relax and enjoy at the luxurious studio that our partners, Alacran Studios, have to offer. (Negative Covid tests or vaccine cards from upon entrance is required)
Sunday, December 5th
From 10 AM to 12 PM, a guided tour of our interactive exhibits at the Downtown Media Center
Breonna's Garden at Perez Art Museum 1 PM to 1:30 PM: A guided tour of Breonna's Garden by the creator, Lady PheOnix.
2:00 PM to 3:00 PM: A talk with creator Lady PheOnix, Alex Kipman, head of Mixed Reality at Microsoft, Breonna Taylor's partner Kenneth Walker, and Joanna Popper, HP's Global Head of Virtual Reality for Go-To-Market and Location Based Entertainment. All this is followed up with a short interview with Breonna's sister, Ju'niyah Palmer.
At 3 :30 PM, for VIP guests: We'll be setting sail on a sunset boat cruise to iconic Stiltsville. We'll enjoy drinks, a talk by renowned Miami Historian Dr. Paul S. George, an interactive Smartphone Orchestra experience, and the XR project Stiltsville VR, created by FilmGate Interactive, PAMM, and Knight Foundation. Finally, to conclude all the excitement, we will have our Award Ceremony.
**** We will be filming and live streaming throughout the entirety of the event, signage will be up at the filming spaces in advance.
For more information, please go to our website: filmgate.miami
Let's celebrate Miami Art Basel and new technology together!
Thank you to our partners: The National Endowment for the Arts, Miami Dade Cultural Affairs Office, Florida State's Department of Cultural Affairs, The Canadian Consulate Miami, French Embassy in Miami, The Downtown Development Authority, O Cinema, Knight Foundation, Alacran Group, Heiga, Brugal, Dallas Austin Distribution (D.A.D.), Tito's Handcrafted Vodka, Anheuser-Busch and FOCAL Brewery Co.