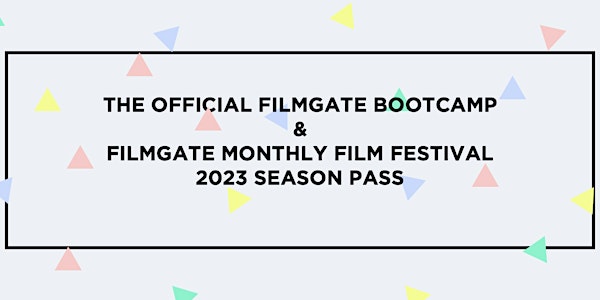 FILMGATE 2023 MEGAPASS - FILMGATE BOOTCAMPS + FILMGATE FILM FESTIVAL 2023
By special request! All Bootcamps, networkers and short film festivals in ONE MEGA SEASON PASS. You asked for it.
When and where
Location
FILMGATE MIAMI / DOWNTOWN MEDIA CENTER 168 Southeast 1st Street 4th Floor Miami, FL 33131
Refund Policy
Contact the organizer to request a refund.
About this event
Here you go! If you are insane or brilliant enough to attend all of FilmGate Miami 2023 Bootcamps & FilmGate Miami Monthly Film Festivals then, you GOT IT.
After 10 years of making some of Miami's most fun and effective film and XR programs and events, we figured, it is time to unleash THE MAGA PASS, a Season Pass beyond all season passes that gives the mighty Miami creatives a deeper, richer feel of the innovative tropical vibe we cultivate in this city.
Here are some of the notable bootcamps and film festivals we host year in and year out!
* we also have some surprise events that come up so be ready for those as well
Making A Feature Film Bootcamp - and how to kickstart your international career with it
Filmmaker Bootcamp - learn this craft, make the movie you want
THE MIGHTY - our flavorful screenwriting bootcamps for writers of film scripts or episodic
Editing Bootcamp - chop up scenes and movies like no other
Acting Bootcamp - do you have acting chops, come to learn and practice
Producing a Film Bootcamp - do you have producer blood, learn to steer a film production efficiently and effectively
XR Bootcamps - a little bit of coding, 3D Modeling, animation, interactive storytelling and more (learning to use this craft for story building)
---------------------------------------------------------------------------------
Here is a list of FGF monthly topics:
FREE FOR ALL - any genre film
WOMEN DIRECTORS - female directed films
COMEDY EDITION
THE SUBTITLE EDITION - foreign language but not really (celebrating our local diversity)
THE MUSIC VIDEO EDITION
The HORROR FILM MONTH
THE DOC MONTH - May the Docs be with you!
WEB SERIES MONTH
* we might change up genres here and there to keep it interesting
THE MEGAPASS - is limited to 8 people and for a limited time!
Thanks again for being on board! Be ready to meet some very creative folks and make some seriously important creative contributions to our region.