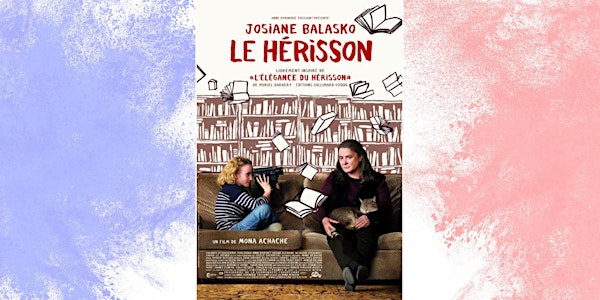 Filmfest DC Series: The Hedgehog (Le Hérisson)
Film screening of The Hedgehog (Le Hérisson) - in French with English subtitles
When and where
Location
La Maison Française Embassy of France 4101 Reservoir Rd., NW Washington, DC 20007
Refund Policy
Refunds up to 1 day before event
About this event
For 36 years, the Washington, DC International Film Festival has brought us the best of world cinema, featuring many new and exciting films from around the globe. Come discover or re-discover the French hits shown at the festival through this delightful series curated by the Filmfest DC staff.
An intellectual concierge (who reads Tolstoy to her cat), a precocious 11-year-old (who documents her environment with her father's Super-8 camera) and a refined Japanese gentleman are the strange trio at the heart of this sometimes uplifting, sometimes cynical film based on Muriel Barbery's bestselling novel. Making audiences feel clever while also delivering an oldfashioned fairytale of unexpected love (and even a dose of social critique), Mona Achache's helming debut unashamedly has it all ways. The result is a basically touching, engaging parable about the importance of unconventionality. Performances are strong, with Josiane Balasko in particular suggesting a wealth of simmering emotion beneath her impassive features. — Karlovy Vary International Film Festival
Doors open at 6:30 and close at 7:00 pm. Due to strict security measures, please arrive on time, and allow extra time for security screening. Registration and valid ID are required. Masks are recommended in the auditorium.
In partnership with Washington, DC International Film Festival
Look for Filmfest DC 2023 April 20 – 30
filmfestdc.org
This event is organized by the Institut Français USA – Villa Albertine and the Resources USA Foundation. Resources USA Foundation, is a 501(c)(3) non-profit organization promoting collaboration between the US and France to encourage Innovation in Science, Technology, Culture & Higher Education. Our organization is able to continue its mission because of your support and generosity to our events at Maison Française, whether it's a one-time gift, a monthly contribution or part of a matching gifts program. Please contact us for donations exceeding 250$.