Description
The FILMAGE ticket lotto is now closed. Winners will be announced later today (August 21st) at VannenWatches.com
Vannen Watches, Epitaph Records, and The Art Theatre of Long Beach are excited to bring FILMAGE: The Story of DESCENDENTS/ALL to Southern California for a FREE fan screening on Sunday, August 25th at 11AM. This is will be the first Southern California showing of FILMAGE, unfortunately space and tickets are limited, so we're holding a lottery and picking people at random to attend. Please register for the lottery by clicking on the Register Button above. Once you register, your name will be added to the lottery list; we will then pick the lucky attendees at random on August 21st, and all winners will be notified by email by August 23rd. If you are not contacted, or not sure that you were contacted, you can go to VannenWatches.com to see the full list of lottery winners.
Please DO NOT submit multiple entries. ONE ENTRY PER PERSON. If you enter more than once, you will be disqualified/removed from the lotto.
Disclaimer: By registering for this lottery it does not guarantee entrance into the screening; you are only registering to be entered into a lottery to win tickets. Winners will be chosen at random. By entering the lottery your info will also be added to our mailing list. If you don't want to be added to our list, please let us know. No purchase necessary, but entries are limited to one per person. Thanks. Good luck!
UPDATE 08.13.13 Please join us Sunday, August 25th for the Official FILMAGE After Party at Alex's Bar with a special live performance from the Last, and the Alley Cats! Doors at 2pm. $10 cover charge. Visit www.Alexsbar.com for more info.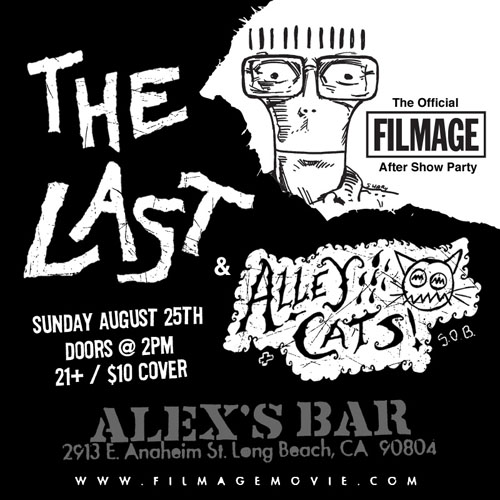 _________________________________________________________________________
FILMAGE: The Story of DESCENDENTS/ALL follows band leader/drummer/square-peg Bill Stevenson and his "caffeinated retardedness" as he pushes his rotating door of bandmates to "achieve ALL," his philosophy of going for greatness at all costs. Stevenson is a force to be reckoned with, proving that not even a grapefruit-sized brain tumor can keep him down.
Interviews with the band, along with Dave Grohl (Foo Fighters), Mike Watt (Minutemen), Brett Gurewitz (Bad Religion) and many more reveal the story of a band – if not THE band – responsible for pop-punk as you know it.
Runtime: 90mins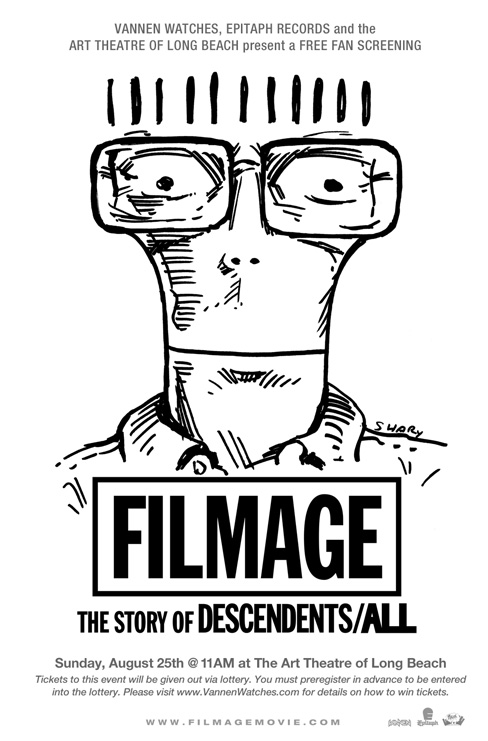 About The Art Theatre of Long Beach: "Voted the number one independent theater in Los Angeles, the Art opened as a silent movie theater and included a pipe organ and orchestra pit. It is the oldest operating single screen house in Long Beach. Our art deco, streamline moderne-style historical landmark is famous for its screening of the most imaginative and stimulating independent, documentary, animated, alternative lifestyle, and foreign language films. After one million dollars of loving restoration, and the addition of a wine bar and coffee bar to round out a full evening experience, we are proud to continue this long-running tradition."




We would like to thank The Long Beach Art Theater for hosting this screening and for helping make this a free event. Please support this historic landmark by generously donating to their cause. Your contribution will help them continue to deliver the best in independent, documentary, alternative and foreign language films. You can donate to one of the marked boxes in the lobby of the theater or you can Donate to the theatre HERE via Paypal. We appreciate your support!