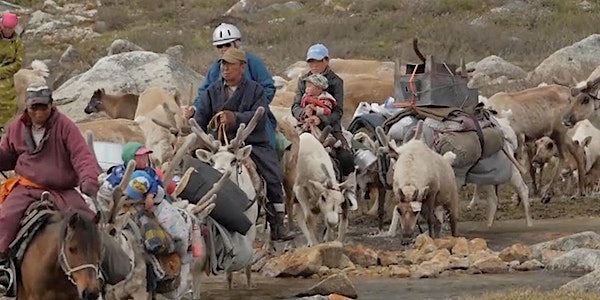 Film Showing: "Migration"
Directed by Sas Carey, 2016, 80 minutes Experience the arduous journey Dukha reindeer herders embark on each year traveling through Mongolia
When and where
Location
Charlotte Library 115 Ferry Road Charlotte, VT 05445
About this event
To the Dukhas of Mongolia, reindeer are the core of their existence. They are ridden, packed with goods, milked, and, when needed, honored and sacrificed for food. Migration travels with the nomads in their annual journey from their spring camp in the taiga forest to their summer camp in the tundra in order to provide rich pasture for the reindeer. When the director observed the loss of nomadic life in another area of Mongolia, she felt compelled to document the Dukha while they still migrated. In this documentary no directions were given. No action was staged or manipulated. This immersion film preserves the unique lives and lifestyles of reindeer herders just as they exist today.
As the film opens inside an urts or Siberian tipi at the spring camp, the viewer feels transported to a different world, watching like a "fly on the wall", a more relaxed way of life. Candid conversations are heard through subtitles; no explanations are provided. The pace is slowed to that of the Dukha community, bringing their age-old traditions to life.
This experiential film shows the traditional aspect of reindeer husbandry, and yet, the viewer will note the contemporary goods. A satellite dish, solar panels, televisions, and chainsaws bring this ancient lifestyle into the modern world. The herders still travel on reindeer and use their reindeer for moving modern items as well as their bedding, dishes, wash pans, stoves, and clothing. The most important goal of their lives remains the same as their ancestors: to share their lives with reindeer.