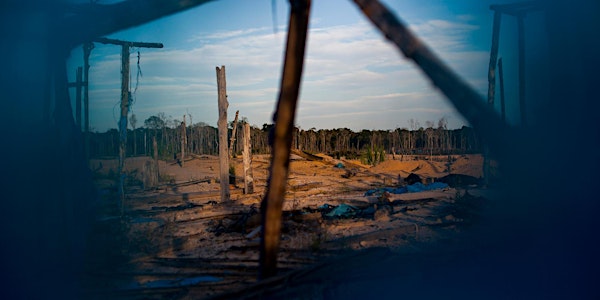 Film Screening: "River of Gold" & Panel on Illegal Gold Mining in Amazonia
A screening of "River of Gold" and panel on illegal gold mining in Amazonia.
When and where
Location
Tsai Auditorium, CGIS South 1730 Cambridge Street Cambridge, MA 02138
About this event
Join us for this in-person film screening of "River of Gold," followed by a discussion with Director Sarah duPont and Brazilian experts Cesar Diniz, Raoni Rajão, and Luiz Eloy Terena on the topics of who profits from illegal gold mining in the Amazon and the consequences of mining on public health, the environment, and Indigenous rights. A reception with light refreshments will be served as of 5pm and the film screening will begin at 5:30pm.
Narrated by Academy Award winners Sissy Spacek and Herbie Hancock, "River of Gold" is the disturbing account of a clandestine journey bearing witness to the apocalyptic destruction of the rainforest in the pursuit of illegally mined gold. "River of Gold" reaffirms the right of the rainforest to exist as a repository of priceless biodiversity and not as the toxic remains of man's greed for gold.
Technical Specifications
• "River of Gold," a film by Reuben Aaronson and Sarah duPont
• Documentary, 63 minutes, 2016, USA
• In Spanish and English with English subtitles
Speakers:
Sarah Dupont, Founder & President, Amazon Aid Foundation
César Diniz, Technical Coordinator, Coastal Zone and Mining Team, MapBiomas
Raoni Rajão, Associate Professor of Environmental Management and Social Studies of Science and Technology, Federal University of Minas Gerais (UFMG) and 2022-2023 Fellow, Wilson Center
Luiz Eloy Terena, Legal Advisor, Articulation of Indigenous Peoples of Brazil (APIB) and Coordination of the Indigenous Organizations of the Brazilian Amazon (COIAB)
Moderator: Marcia Castro, Andelot Professor of Demography; Chair of the Department of Global Health and Population, Harvard T.H. Chan School of Public Health; Chair, Brazil Studies Program - DRCLAS
Presented in collaboration with:
Harvard University Center for the Environment
Harvard University Native American Program
Environment and Natural Resources Program at the Belfer Center for Science and International Affairs